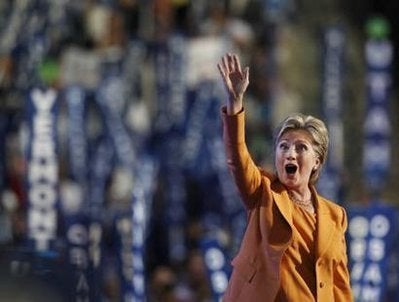 Advisers to Senator Hillary Rodham Clinton said on Sunday that Senator John McCain's selection of Gov. Sarah Palin of Alaska as his running mate would lead to a greater role for Mrs. Clinton as she campaigned this fall on behalf of her former rival, Senator Barack Obama.
Mrs. Clinton's friends said she was galled that Ms. Palin might try to capitalize on a movement that Mrs. Clinton, of New York, built among women in the primaries. And Democrats used strong words on Sunday to rebut the notion: Senator John Kerry of Massachusetts said that women would not be "seduced" by the Republican ticket, and Guy Cecil, the former political director of Mrs. Clinton's campaign, said it was "insulting" for Republicans to compare Ms. Palin to Mrs. Clinton.
Nevertheless, Clinton advisers said they expected that a bloc of her female supporters would give Mr. McCain a second look because of Ms. Palin, and that Mrs. Clinton was probably Mr. Obama's best weapon in response. But asked if the Palin pick would lead to a new political marriage between Mr. Obama and Mrs. Clinton, a senior Clinton adviser, Ann Lewis, said: "Not a political marriage. She is not on the ticket. Senator Obama chose Joe Biden as his running mate. Hillary will do what she can to help."
REAL LIFE. REAL NEWS. REAL VOICES.
Help us tell more of the stories that matter from voices that too often remain unheard.