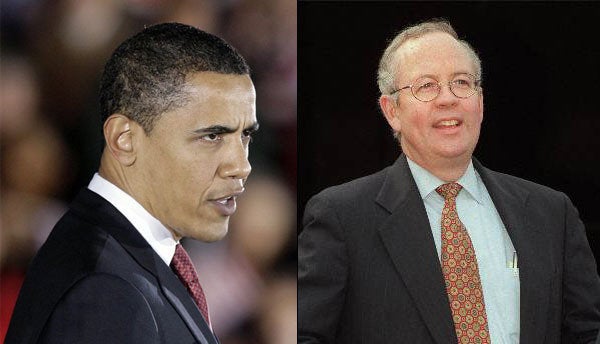 Aides to Sen. Hillary Clinton accused Sen. Barack Obama of adopting Republican talking points and acting like Ken Starr for launching a more aggressive campaign following his losses in Texas, Ohio, and Rhode Island on Tuesday.
Citing few specific instances in which Obama had averted to GOP form, Howard Wolfson, Clinton's chief spokesperson, nevertheless denounced the Illinois Senator's new rhetoric, such as pressing for Clinton to release her tax returns and contrasting his dealings with indicted Chicago-insider Tony Rezko to her investments in Whitewater.
"I for one do not believe that imitating Ken Starr is not the way to win the Democratic primary," he said, referencing the Clinton-era special prosecutor who is despised by Democrats.
The accusations came a day after the Obama campaign pledged to go on the offensive in their nomination fight. That strategic decision, in turn, was spurred by attacks the Clinton campaign had launched against Obama, questioning his ability to be commander in chief or a "steward" of the economy. When asked why it was okay for the Clinton campaign to adopt this style of campaigning but not for Obama, Anne Lewis, a high-ranking aide to the New York Senator, responded:
"The voters are going to decide what is fair. We thought it was striking that one day after a hard fought campaign... what we have heard is a series of personal attacks against Sen. Hillary Clinton, and again, some of them echoed Republican charges against Sen. Clinton that have been raised over the years and failed."
The Obama campaign responded swiftly to the accusation, calling it "absurd" that the "Clinton campaign believes that they should be held to an entirely different standard."
Wrote spokesperson Bill Burton in an email to reporters:
"We don't believe that expecting candidates for the presidency to disclose their tax returns somehow constitutes Ken Starr-tactics, but the kind of transparency and accountability that Americans are looking for and that's been missing in Washington for far too long. And if Senator Clinton doesn't think that the Republicans will ask these very same questions, then she's not as ready to go toe-to-toe with John McCain as she claims."
The back and forth between the campaigns underscores the bitterness of the prolonged and increasingly divisive Democratic Party, in which each candidate is looking for even the slightest of political edges. Prior to accusing Obama for being "unable to make an affirmative case for his candidacy," the Clinton camp had criticized him for being all hope and rhetoric and no substance.
Later in Thursday's conference call, a reporter reminded Lewis that many political observers had interpreted Clinton's "3 A.M." advertisement to be a derivative of the traditionally Republican use of fear for political purposes. Was it not Clinton who was parodying the GOP?
"The Republicans have, in shameful ways, used fear to divide us," Lewis responded. "But I did not see our phone ad in that way. I thought it was a positive ad. I think it is important for Democrats to take on that issue and say, you know what, Democrats are going to be responsible for our security... we should not kid ourselves that if we don't mention the word it will not come up."
Obama adviser Greg Craig, who spent many years defending the Clinton's from Ken Starr, offered his take in a late afternoon conference call with reporters:
It really is one of the most outrageous things I've heard form the Clintons in a long time. I spent a good deal of my time getting to know and fighting Ken Starr. And Barack Obama is not Ken Starr. Mr. Wolfson apparently doesn't know the difference between someone like Ken Starr who abused his power and who caused a constitutional crisis. And someone who is simply doing what most Americans expect of a presidential candidate, asking for the release of tax returns. It is, to me, astonishing to think that someone can conceive of running for president of the United States without releasing their tax returns. And to call for the release of tax returns seems to me to be rather routine.
Popular in the Community