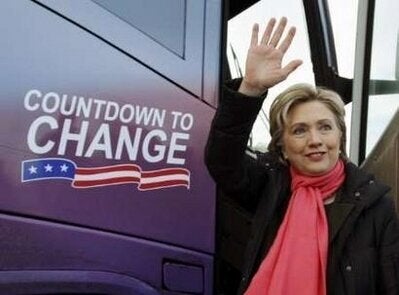 Manchester, N.H. -- A panicked and cash-short Clinton campaign is seriously considering giving up on the Nevada caucuses and on the South Carolina primary in order to regroup and to save resources for the massive 19-state mega-primary on February 5.
At the same time, some top independent expenditure groups supporting Clinton have been exploring the creation of an anti-Obama "527 committee" that would take unlimited contributions from a few of Clinton's super-rich backers and from a handful of unions to finance television ads and direct mail designed to tarnish the Illinois Senator's image.
The Clinton campaign has raised over $100 million, but has "only" $15 to $20 million left. It faces donor reluctance to give more in the face of the Iowa defeat and the prospect of a second loss in New Hampshire today. Even worse, the campaign fears defections among those fundraisers who want to be with a winner and who might be easily persuaded to support Barack Obama.
While the amount of money Clinton has would seem to be more than enough by past standards, the cost of competing in the February 5 states -- including New York, California, Georgia, New Jersey, Minnesota, Colorado, Tennessee, Massachusetts and Arizona - is unprecedented in the history of American primaries. She will face, in turn, an extremely well-funded Obama campaign, whose cash register right now doesn't stop ringing as donations are coming in over the Internet, by mail and in checks handed over in person.
The decision whether to take on Obama in Nevada and South Carolina will likely be made within the next 12 hours.
Both states look like probable defeats for Clinton. South Carolina has a large black electorate that is now likely to back Obama by wide margins, and the Democratic primary is open to all voters, including independents and Republicans, two other groups that in Iowa backed Obama decisively. Clinton had looked fully competitive in Nevada, but Obama's victories have boosted his chances there and now he appears almost certain to get the endorsement of the powerful Culinary Workers Union.
Arguing against pulling out of South Carolina and Nevada are Clinton aides who say that bowing out now would guarantee four defeats in a row - Iowa, N.H. lost at the ballot box, and South Carolina. and Nevada given up by default - would be a disastrous precursor to the February 5 contests. "You've got to put some points on the board. You can't just let the other guys run up the score and expect to come back in the fourth quarter," one Clinton aide said.
Three groups conducting independent expenditure campaigns in behalf of Clinton - Emily's List, the American Federation of State, County and Municipal Employees (AFSCME) and the American Federation of Teachers (AFT) - have explored the possibility of trying to put together a multi-million dollar effort privately dubbed the Anybody-But-Obama 527 Committee, but they have run into problems finding any Democratic operative willing to become the director of a campaign against the man who now is the odds-on favorite to become the party's nominee.
"You might make some good money in the short term, but your chances of getting any Democratic contracts in the future, especially if Obama wins, would be zilch," said one operative. "I wouldn't go there." The effectiveness of a 527 that goes negative was demonstrated by the Swift Boat Veterans for Truth, which attacked John Kerry's war record in the 2004 campaign.
Spokespersons for both Emily's List and the AFT both adamantly denied to the Huffington Post any involvement with plans to create an anti-Obama 527 group.
But in fact, the complexities of federal election law have made it illegal for them to be involved. The discussions about the possible creation of such a 527 committee were held among people active in the separate independent expenditure (IE) campaigns conducted by AFT, Emily's List and AFSCME. By law, there can be no communication between those working on an IE campaign and officials of the parent organization putting the cash into the campaign. Officials of AFT and Emily's list acknowledged that they have had no contact with the staff members running their IE drives.
AFSCME President Gerald W. McEntee declared: "We're not about the business of swift-boating any Democratic candidate. We will not be party to any kind of effort of this type. Our campaign is about promoting Hillary Clinton - not tearing down any other candidate. Our number one priority is having the strongest Democratic candidate to take back the White House in November."
Sources familiar with the discussions about the creation of an anti-Obama 527 said that some of the Clinton campaign's major fundraisers have separately been exploring another similar proposal, but have not gotten very far yet.
"These things (527s) are not that easy to get rolling. There is a long way between talking and doing," said one source familiar with setting up 527 operations.
Federal tax law requires regular disclosure of both the donors to 527 organizations and the expenditures they make, so it is not possible for such committees to keep secret the identity of supporters and staff.
Check out HuffPost's comprehensive on-the-ground New Hampshire coverage here.
Popular in the Community