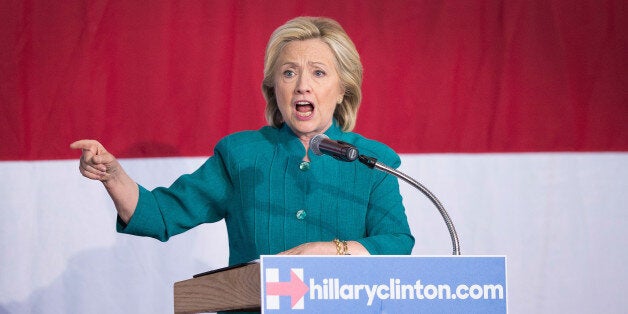 WASHINGTON -- Hillary Clinton, unveiling the latest plank of her policy platform, on Wednesday will call for a new tax credit to benefit companies that hire people as apprentices.
The proposal will be debuted during a campaign swing through South Carolina and, in a bit of political gamesmanship, builds off a proposal from one of the Palmetto State's U.S. senators, Tim Scott (R).
But there are differences between the bill Scott is working on with Sen. Cory Booker (D-N.J.), called the LEAP Act, and the one Clinton will propose. The senators' bill would provide a $1,500 tax credit for companies hiring apprentices under age 25, and $1,000 for those older than 25. Clinton is calling for a flat $1,500 credit regardless of age.
A Clinton aide told The Huffington Post that she "would be open to adding incentives based on certain other factors, like if the person is a veteran." But she wouldn't tie the size of the credit to the age of the apprentice.
Under the LEAP Act, the federal tax credit would be available for new apprentices registered with the U.S. Department of Labor or a state apprenticeship agency. Clinton's proposal would have narrower restrictions on which companies would qualify, mimicking more closely a separate, broader bill from Sens. Susan Collins (R-Maine.) and Mariah Cantwell (D-Wash.).
Companies "would have to meet rigorous federal and/or state standards and outcome measures" in order to qualify for the credits, the Clinton aide said.
Clinton's proposal does not come with a way to pay for the credits, unlike the LEAP Act, which uses savings in printing costs. But Clinton will introduce a broader array of offsets for this and other items on her domestic agenda later in the campaign, the aide said.
At Thursday's campaign event at Trident Technical College in North Carolina, Clinton is expected to pitch the apprenticeship tax credit in autobiographical terms. A release on the proposal notes Clinton's experience working in South Carolina after law school for the Children's Defense Fund to emphasize the importance of encouraging groups to hire young professionals. Clinton got the job through the assistance of a grant for law students working on civil rights research.
The apprenticeship tax credit reflects the growing preference of political leaders to use the tax code as a way to encourage hiring. In 2010, Congress passed the HIRE Act, which offered a $1,000 tax credit to companies that hired and retained unemployed workers. On the campaign trail two years later, both Mitt Romney and Barack Obama endorsed similar ideas.
The Treasury Department reported that from February to October of 2010, businesses hired more than 10 million unemployed people who could have made them eligible for the law's incentives. But there's no telling how many of those hires were actually caused by the incentives, and economists took a dim view of the program. Economists and worker advocates have suspected employers would collect incentives for hires they would have made anyway.
Want more updates from Sam? Sign up for his newsletter, Spam Stein.
Calling all HuffPost superfans!
Sign up for membership to become a founding member and help shape HuffPost's next chapter
BEFORE YOU GO
PHOTO GALLERY
Hillary Clinton