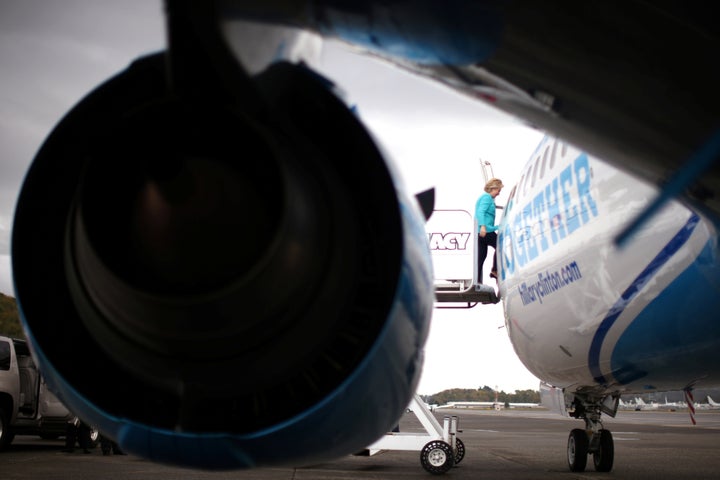 With polling showing strong odds of Hillary Clinton winning the presidential election, her campaign says it is shifting millions of dollars to down-ballot races to improve her chances of having a more friendly Congress to work with.
Campaign manager Robby Mook told reporters Monday that $2 million will be spent in Arizona, $1 million in Indiana and Missouri, and $6 million will go to the existing battleground states of Ohio, Florida, Pennsylvania, Nevada, North Carolina, Iowa and New Hampshire.
The re-allocations include $2.5 million each in transfers to the Democratic Party's House and Senate campaign arms.
Mook said the "lion's share" of the campaign's spending will continue to be those seven states that have been the focus for many months. If Clinton were to win most of those states, she would cross the 270 electoral vote mark and win the presidency regardless of what happens in traditionally Republican states.
"That will continue to be our primary mission," Mook said.
Clinton does not appear to be within striking distance in either Missouri or Indiana, but both states have competitive Senate races where the Democratic candidate has a strong chance of winning. Democrats need to pick up five seats to regain control of that chamber.
Recent polls in Arizona, though, show Clinton essentially tied there. The last time a Democratic presidential candidate won the state was 1996, when her husband Bill Clinton won re-election.
"We do see opportunity in Arizona," Mook said. "We think that's an uphill climb."
The Clinton campaign and the Democratic National Committee had already sent dozens of field staff to the state in August and recently started sending surrogates for campaign events.
Clinton's daughter, Chelsea, is to visit the Arizona State University campus in Tempe on Wednesday, and first lady Michelle Obama is to campaign in Phoenix on Thursday.
Vice presidential nominee Tim Kaine dropped by the Arizona Democratic Party headquarters there two weeks ago after a fundraiser, surprising volunteers who happened to be there making phone calls. "We're not used to it here in Arizona, being a battleground state," said communications director Enrique Gutierrez. "It's definitely exciting our base."
Mook on Monday also criticized GOP nominee Donald Trump and his allies for trying to delegitimize the Nov. 8 election by claiming ― without any evidence ― that it will be tainted by voter fraud.
"This is part of the Trump campaign's scorched earth policy," Mook said. "They are losing and trying to make excuses."
He also criticized Republican Party leaders for going along with Trump rather than standing up to him ― despite its own 2013 report calling for the party to broaden its appeal by reaching out to minority voters. "Donald Trump chose to drive the party even further in a different direction," Mook said. "The GOP has a lot of soul-searching to do."
HUFFPOST READERS: What's happening in your state or district? The Huffington Post wants to know about all the campaign ads, mailers, robocalls, candidate appearances and other interesting campaign news happening by you. Email any tips, videos, audio files or photos to scoops@huffingtonpost.com.
Popular in the Community