LAS VEGAS -- Fresh off Tuesday night's successful debate, Hillary Clinton's presidential campaign has begun aggressively pushing Vice President Joe Biden to make a decision one way or another about entering the presidential race.
The effort to move Biden's hand is driven by the campaign's confidence that Clinton did yeoman's work Tuesday in re-establishing her standing among Democratic donors and party officials who were nervous about the trajectory of her candidacy. The campaign also feels that strong debate performances by both Sen. Bernie Sanders (I-Vt.) and former Maryland Gov. Martin O'Malley (D) helped "fill out" the primary campaign, as one Clinton ally put it.
With Clinton's standing improved, and with less of an ideological void for a potential Biden candidacy to fill -- "He has to look at that and ask, 'What role can I play on that stage?'" said the ally -- aides to the former secretary of state appear less nervous about another top Democrat entering the fray.
"He has been through a terrible tragedy with the loss of his son. We are all friends with him. But this race is now moving towards the first votes in Iowa," Clinton campaign chair John Podesta told reporters in the spin room after the debate. "We had the first debate tonight. We will have more coming forward and if he decides he wants to run for president, we will welcome him into the race. We are going to run our race. But I think it is a moment where it is probably time for a decision."
"I'm not going to speculate about that," Podesta added, when asked if Biden's monthslong decision-making process had hurt the party. "All I would say is that, again, he needed time to reflect and I think he has had that time to reflect. It is a difficult decision. He needs to make a decision that is going to be right for him, right for his family, but I think that this race now is moving forward."
The absence of Biden certainly was apparent throughout the debate. A Draft Biden political action committee ran ads prior to the broadcast encouraging him to run.
Even before that, reporters kept speculating on whether he'd jump on a last-minute plane to Vegas to make a surprise appearance onstage.
He stayed in Washington instead. "I thought every one of those folks did well," Biden declared of the debate the morning after.
In the halls after the debate, Biden was the subject of much of the conversation. One top Democratic, highly supportive of a run, told The Huffington Post that he worried the door had closed -- not because Biden had missed the opportunity to showcase his candidacy at the first debate, but, rather, because the process of running for president is inherently laborious.
"People don't quite get that it's hard work," said the Democrat, who spoke on condition of anonymity. "I mean, you have to remember that Obama started his campaign in February. We're now in mid-October."
Biden, who has held back on an announcement as he's recovered from the loss of his eldest son, has made just enough overtures to keep a proverbial window open on running for the White House. And a spokesperson for the Draft Biden group argued that he would not make "his decision to run based on what he has seen during any debate or in response to any other candidate."
"The vice president is going to make his decision based on what he feels he can do to keep moving our country forward," said Sarah Ford of Draft Biden 2016.
For those supportive of a run, there are reasons to feel bullish. The New Yorker last week reported that Biden had privately met with DNC officials to discuss the "arcane but crucial rules that the Vice-President would need to understand if he decides to run."
The DNC's chairwoman, Debbie Wasserman Schultz, declined to discuss the specifics of that meeting, let alone confirm that it took place. But she did tell HuffPost that the committee briefs "all the candidates in the race" as well as "potential candidates for many offices from the presidency on down the ballot" to make sure "they are aware of different deadlines and various aspects of party affairs and the nominating process."
As for Biden, she stressed that there was still time for him to decide one way or another.
"We are not at the end of that process yet in taking a look at the deadlines and other things," she said. "There is still enough time -- process-wise, anyway -- for other candidates to make the decision to get in."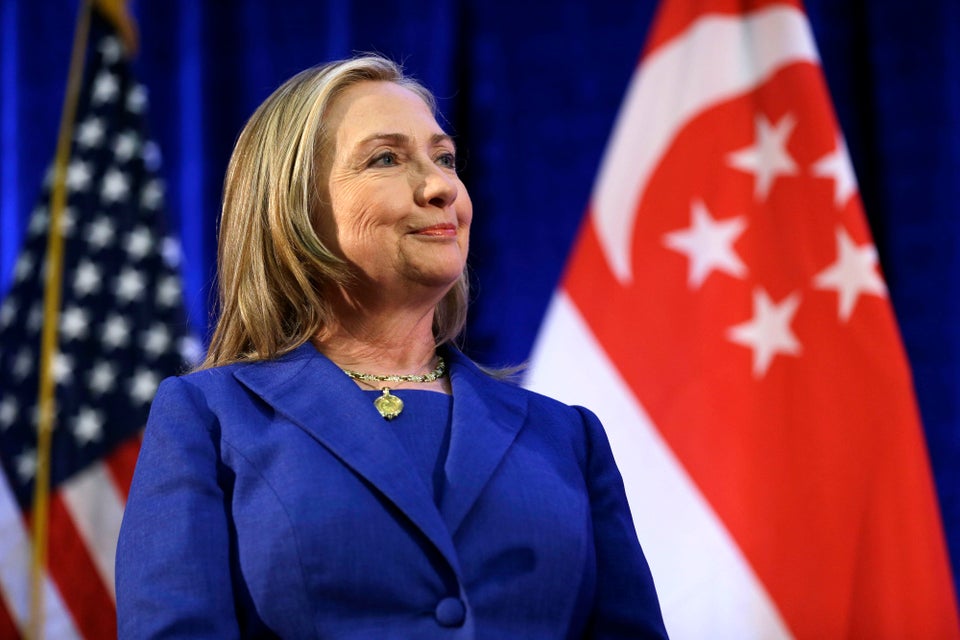 Hillary Clinton
Popular in the Community