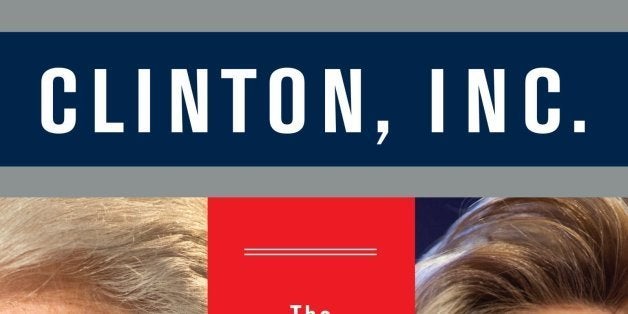 NEW YORK -- A spokesman for Hillary Clinton said Monday that he has "no clue" who leaked a copy of Clinton, Inc., a forthcoming book by Daniel Halper, online editor of the conservative Weekly Standard.
Clinton, Inc. publisher Broadside Books, a conservative imprint of HarperCollins, told The Daily Beast's Lloyd Grove that it wasn't behind the leaking of chapters sent Saturday night to more than 100 journalists from a mysterious email account. An unnamed publishing source suggested to Grove, without direct evidence, that a Clinton ally could be behind it.
The Huffington Post asked Nick Merrill, a spokesman for Hillary Clinton, about the suggestion that someone affiliated with the Clintons leaked the book while posing as an anti-Clinton conservative.
"No clue," Merrill said in an email, "but it's sad to see Daniel Halper join the discredited and disgraced ranks of Ed Klein and Jeff Gerth, all for the sake of making a quick buck."
In Clinton, Inc., Halper, a conservative writer, unsurprisingly offers a harsh assessment of the former -- and future? -- first family. It's the type of book that should find an audience among Fox News viewers and talk radio listeners.
While Halper did speak on the record to some veterans of the Clinton White House, such as former press secretary Mike McCurry and attorney Lanny Davis, the book also includes unattributed claims about the personal life of former President Bill Clinton that could damage its credibility among major media outlets.
With Clinton, Inc., Halper joins the ranks of authors, like Klein and Gerth, who have infuriated the Clinton world in recent years.
Klein's reporting on the Clintons isn't deemed credible by most news organizations, with The New York Times recently describing his latest book, Blood Feud, as an "unauthorized and barely sourced account full of implausible passages." In the Times article, Merrill proposed that someone strap "Klein to a polygraph machine and let the needle do the talking."
Gerth, a former New York Times investigative reporter, is a co-author of the 2007 book Her Way, and currently a senior reporter at ProPublica. When Her Way first came out, Philippe Reines, a spokesman for Hillary Clinton, dismissed Gerth's book and another by journalist Carl Bernstein. "Is it possible to be quoted yawning?" he asked The Washington Post.
A spokeswoman for Broadside did not immediately respond to Merrill's criticism.
The disdain appears to be mutual between Halper and Clinton's press team. In the introduction to Clinton, Inc., Halper writes that it's "nearly impossible to get actual news, or facts" from Reines.
Amid speculation that the Clintons were behind the leak -- or that an anti-Clinton antagonist is trying to make it look that way -- it remains unclear who blasted the book Saturday night to this reporter and more than 100 others.
The email, purportedly by one "Robert Josef Wright," resembles the hastily written, hyper-partisan emails that routinely find their way to a reporter's inbox late at night. "Someone has exposed The Royal Clinton's," it reads. "King Smarmy Bill, Queen Smug Chilary, and Princess Spolied Chlesea." [All errors sic.] It's the type of email that makes one pause before opening up attachments. In this case, the attachments weren't spam, but chapters from a book that won't be officially released for another 10 days.
Wright, or the person identifying themselves as Wright, did not respond to an email request from The Huffington Post.
This article was clarified after publication to note that "Robert Josef Wright's" email was sent to more than 100 journalists.
Related
Popular in the Community