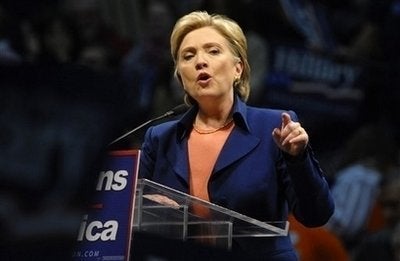 Moments after Sen. Barack Obama concluded his victory speech in Houston, Texas, his campaign received a call from Sen. Hillary Clinton congratulating him on his victory.
The call, which was confirmed by Obama's press secretary, Bill Burton, came after Clinton ripped into Obama during her address following her loss in the Wisconsin primary.
"Tonight I want to talk to you about the choice you have in this election and why that choice matters," the New York Democrat declared. "It is about picking a president who relies not just on words but on work, on hard work to get America back to work. That's our goal!"
Clinton's speech -- which included neither a concession nor a congratulations to Obama -- was cut off only minutes in as all the news networks switched to cover Obama's remarks.
Of the dueling speeches Tim Russert, on MSNBC, said:
"I thought tonight when Hillary Clinton started speaking the Obama people were stepping back saying alright you go first you are the loser. When they heard no concession or no graciousness quote on quote coming from Hillary Clinton they decided why allow her an opportunity to criticize us? We are going to go out there and proclaim victory."
But prior to losing the networks' attention, Clinton was able to fire off a few other salvos at her Democratic opponent.
"We can't just have speeches, we've got to have solutions," she declared, "and we need those solutions for America. We've got to get America back in the solutions business. Because while words matter, the best words in the world aren't enough unless you match them with action."
Those remarks, however, paled in comparison to the criticisms launched by Clinton's introductory speaker, Machinists Union President Tom Buffenbarger. As Ken Vogel reported for Politico, Buffenbarger "compared Obama with 'Janus, the two-faced god' of Roman mythology. He called him 'silver tongued' and a 'thespian' and 'the man in love with the microphone.'"
"He's not just a trained thespian, he's a terrific shadow boxer. You know the type. Outside the ring, he pretends he can float like a butterfly and sting like a bee," he said. "But Barack Obama is no Muhammad Ali. He took a walk every time there was a tough vote in the Illinois state Senate. He took a walk more than 130 times. That's what a shadow boxer does. All the right moves, all the right combinations, all the right footwork, but he never steps into the ring. He walks away from the fight."
Popular in the Community