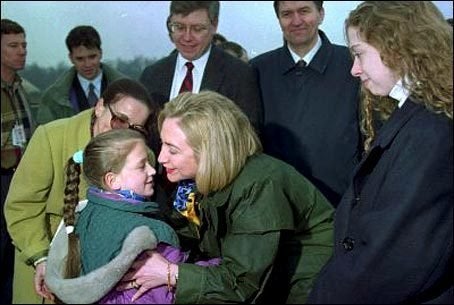 An aide to Senator Hillary Clinton acknowledged on Monday that the New York Senator "misspoke" about the immediate dangers she faced when, as first lady, she visited war torn Bosnia.
Howard Wolfson, Clinton's chief spokesperson, said on a conference call that "it is possible in the most recent instance with which she discussed this that she misspoke, with regards to the leaving of the plane." Later, he was more certain: "On one occasion, she misspoke."
But Wolfson insisted that the first lady's visit was indeed perilous, as supported by "contemporaneous accounts" in the press.
In recent weeks, Senator Clinton has sought to bolster her national security and foreign policy credentials by highlighting the role she played in Bosnia.
"We came in under sniper fire," she recently told the press. "There was no greeting ceremony. We ran with our heads down, and were basically told to run to our cars."
The account has been, for better or worse, proven false, both by recent press reports and old video footage that shows the senator greeting a child in a ceremonial procession at the Tuzla airport.
On Monday, Wolfson sought to re-frame the debate by citing various newspaper write-ups from the 1996 trip to support the notion that Clinton was, in fact, in a dangerous situation.
"The trip to Bosnia marks the first time since Roosevelt that a first lady has voyaged to a potential combat zone," he read from a Washington Post story on March 25, 1996. "Other fist ladies have visited troops abroad but never in front-line positions."
But even that newspaper story included evidence directly contradicting Clinton's claims from last week.
"When she arrived in Tuzla," the story continued, "she was greeted by Emina Cicakcic who planted a kiss on each of Mrs. C's cheeks. The 8-year old Muslim girl then read a poem in English."
Asked once more to explain the discrepancies, Wolfson hinted that the senator was referring to sniper fire that was heard, at the time, in the hills surrounding the airport (something the senator herself has written about in her book).
"I think she clearly meant to say that at the event of several days ago," he said.
Popular in the Community