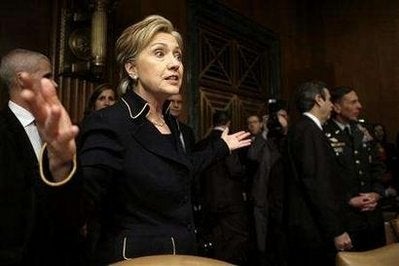 If you were operating off of the tone of Sen. Hillary Clinton's presidential campaign it's a downright political miracle that the she isn't trailing Barack Obama by 20 points in the current Pennsylvania polls.
In a Wednesday conference call with reporters, aides to the New York Democrat offered a heaping dose of expectations-setting roughly two weeks before Pennsylvanians hit the polls.
"The fact that we still maintain a lead after Sen. Obama spent six days here and got the backing of [Pennsylvania] Sen. [Bob] Casey, and in light of being outspent, I think it is remarkable that we still maintain a lead," said T.J. Rooney, the state's Democratic Party chairman. "We don't think we have any weaknesses in this state. It has been said before and it bears repeating: we are being outspent financially."
And indeed, Obama is pouring massive resources into the state. Estimates have him outspending Clinton by a margin of three-to-one in Pennsylvania, and his campaign has been flooding the airwaves with advertisements. With these advantages, Clinton's aides say, its remarkable that Clinton is even hanging on.
"If Senator Obama is not able to win Pennsylvania with all the resources he has thrown at the state... it will again demonstrate that he has serious problems winning the large states and closing the deal with voters," said Clinton's spokesman Howard Wolfson. "We all now that the road to 1600 Pennsylvania Avenue runs through Pennsylvania. If Sen. Obama, outspending us three to one in the state, is unable to win Pennsylvania it would be another sign that his campaign is not the best to face Sen. McCain in the fall."
The reality, of course, is much more nuanced. For weeks Clinton supporters have been predicting her victory in the state, some by double-digit margins. As recently as yesterday, a poll had the Senator besting Obama by 16 points, although that could be an outlier; the distance between the two candidates has narrowed sharply. And Pennsylvania's political landscape - with more blue collar white voters - and its primary structure - which is limited to only Democrats - lend itself more favorably to Clinton's candidacy.
That said, Obama has devoted myriad resources to besting Clinton in the Keystone State, in what would perhaps be a knockout win. As Wolfson told the reporters, referencing to the 37-point score Obama recently rolled at a bowling alley: "He has been willing even to put his bowling skills on display in an effort to do well here."
Popular in the Community