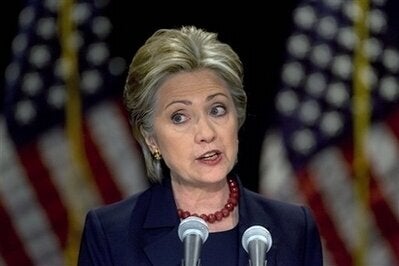 For weeks, the Barack Obama campaign has warned that Hillary Clinton would try to use her ties to the Democratic establishment to muscle 'super delegates' into backing her presidential bid, overriding a popular vote majority and Obama's plurality of pledged delegates elected in primaries and caucuses.
Now, however, as Obama has gained steadily in the polls, the Clinton campaign has reversed field. Top Clinton aides are pleading with uncommitted super delegates to hold off making any commitments, fearful that any commitments they make would be to back Obama, not Clinton.
A set of talking points emailed to Clinton supporters within organized labor describes the arguments to use on uncommitted super delegates. In the email, the Clinton campaign suggests telling the uncommitted delegates that "it would be unfair and unjust to cut off the nominating process now. There might come a time when the process needs to come to a close, but that time is not now."
In language that could have been lifted from the Obama playbook just a few weeks ago, the email says Clinton backers should make the case to super delegates that: "If House, Senate and DNC members try to end this process now, it would be very damaging to those institutions, the Democratic Party and our chances in November."
The entire DNC, members of Congress, governors, labor leaders and other key interest group leaders make up the 842 "automatic" or "super" delegates to the convention who are free to cast ballots for the candidate of their choice, regardless of how their state voted. To win, a Democratic candidate must have the support of at least 2025 delegates out of a total of 4048; 20.8 percent of the delegates are super delegates.
Just over three weeks ago, on February 6, Obama was the one warning that the super delegates might side with Clinton, even though he was ahead in the popular vote and in the pledged delegate count:
"If this contest comes down to superdelegates, we are going to be able to say we have more pledged delegates, which means the Democratic voters have spoken. . . . The argument we would be making to superdelegates is, if we come into the convention with more pledged delegates then I think we can make a very strong argument that our constituencies have spoken and I think that's going to be pretty important when it comes to the general election."
Clinton and her aides, three weeks ago, were, in turn, adamant in defending their efforts to persuade super delegates to endorse the New York Senator.
On February 16, Clinton told reporters that super delegates have "first-hand knowledge of the candidates" and "if people want to go after delegates in places that I've won who are supporting somebody else, what's good for the goose is good for the gander." At the time, Clinton had a substantial lead among super delegates. One estimate on February 8 gave her a 213 to 142, a 71 vote advantage.
More recently, however, the trend among super delegates making endorsements has been decidedly in Obama's favor; he has picked up the support of 35, including three who switched from Clinton. The Clinton campaign did not respond to queries as to how many super delegate endorsements she has picked up in recent weeks. The most recent super delegate count on RealClearPolitics shows her lead among super delegates dropping to 59, 241-182.
The count among pledged delegates chosen through primaries and caucuses is 1193 for Obama and 1038 for Clinton, or a 155 vote in favor of the Illinois Senator. Obama has so far won a total of 10,305,403 votes, according to RealClearPolitics, to Clinton's 9,379,822, a difference of 925,581 votes.
In the Clinton campaign's talking points email, Clinton supporters were told to argue that "late momentum in the primary may be an important factor impacting the perception of a candidate's strength going into the general election. If, as we expect, Hillary Clinton wins Ohio, Texas and Pennsylvania, the current dynamics of this race will shift dramatically."