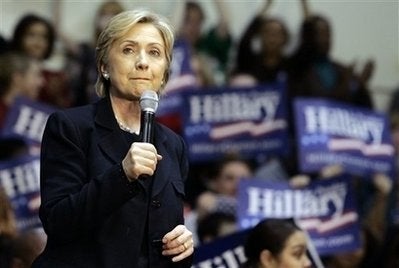 According to the Tribune, Solis Doyle had been "lying" to Clinton about the campaign's lack of cash on hand, and Clinton had responded by keeping Solis Doyle in the dark about her $5 million loan to the campaign:
Solis Doyle, a Chicago native and sister of Ald. Danny Solis (25th), had been living on borrowed time as Clinton's campaign manager following the poor showing in Iowa and the rockiness leading up to the New Hampshire primary.

"What happened today would have happened the day after New Hampshire had we lost," one knowledgeable source said, adding that others may soon follow Solis Doyle's departure.

Initially, Williams was brought in to run the campaign even though Solis Doyle was still there. The result was confusion for the staff, who weren't sure who was really in charge, the source said.

But even more troublesome was the campaign's money crunch. Over the last seven years, Clinton had raised $175 million for her re-election and her presidential campaign. But Solis Doyle didn't tell Clinton that there was next to no cash on hand until after the New Hampshire primary.

"We were lying about money," the source said. "The cash on hand was nothing."

Clinton didn't tell Solis Doyle she was lending money to keep the campaign afloat. Solis Doyle found out third-hand. And when she asked Clinton about it, the senator told her she couldn't understand how the campaign had gotten to such a point, the source said.
Support HuffPost
The Stakes Have Never Been Higher
Popular in the Community