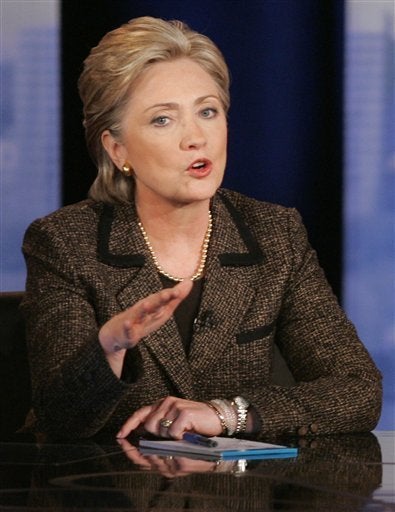 Earlier this week an aide to the Hillary Clinton campaign publicly predicted that a "kitchen sink" barrage of attacks would be launched at rival Barack Obama -- and the sound you hear today is precisely that of the sink, the flooring and perhaps the plumbing getting thrown around the room.
The first bang this morning was a Clinton campaign ad featuring images of children sleeping and a red phone beeping. A voice asks: "Who do you want answering the phone in the White House when it's 3 a.m. and something has happened in the world?" A studious-looking Clinton is seen diligently answering the call.
The new ad was just one of several attack strategies at the center of a lengthy conference call with reporters later in the day, in which Clinton aides took Obama to task on issues ranging from national security and NAFTA to his ties to indicted Chicago political insider Antoin Rezko.
The campaign operatives also engaged in some standard fiddling with expectations, arguing that if Obama failed to win all four states that vote on Tuesday -- Texas, Ohio, Vermont and Rhode Island -- it would send troubling signals about "dissatisfaction with [his] campaign."
Speaking for well more than an hour, top Clinton aides Howard Wolfson, Mark Penn, and Phil Singer sounded a markedly aggressive tone. Wolfson lamented what he charged was media unwillingness, up to this point, to dig deeper into Obama's relationship to Rezko, whose federal corruption trial is scheduled to start on Monday.
"How many of you [on this call] know how many fundraisers Tony Rezko hosted for Sen. Obama?" he asked. "How many of you know how much he gave to Sen. Obama?" These were two among more than a dozen similar challenges put to the reporters on the call.
The Clinton camp also tried to draw attention to recent news reports that an aide to Obama had made contact with Canadian officials, assuring them that the senator's criticism of NAFTA was not as severe as he has been publicly suggesting during the campaign.
The Obama camp denied the story, saying no contact at any level had ever been made, but the Clinton aides pressed the attack.
"I've found the Obama campaign's response to this has been less than definitive," said Wolfson. "Has Austan Goolsbee [the Obama aide] had any contact with anyone in the Canadian government or embassy to tell them that Sen. Obama's criticism of NAFTA was not particularly sincere? This is a yes or no question."
Earlier in the day, Obama had addressed the new Clinton "3 am" television ad as well, saying: "It plays on people's fears to scare up votes... We've had a red phone moment. It was the decision to invade Iraq. And Sen. Clinton gave the wrong answer."
Once again, Clinton's aides jumped all over Obama's response. Insisting their work was not comparable to President Lyndon Johnson's famous 1964 "Daisy" advertisement, which suggested that the election of Barry Goldwater could trigger a nuclear war, they accused Obama of attempting to remove the issue of national security from the campaign debate.

"It is an absolute insult to the voters to suggest that a discussion of national security in this campaign constitutes fear mongering," said Wolfson. "National security is an essential part of every election, it is a essentially part of what the president does. If we can't talk about it during an election, when can we talk about it?"
Added Penn: "It is not playing on people's fears, it is putting before people one of two central questions, who do you think is ready to be commander in chief and who do you think is best for the economy?"
On the conference call, anger and accusations were certainly in abundance. But so too was standard-issue campaign spin. The Clinton camp, playing off of a memo it had sent to reporters earlier in the day, insisted that if Obama was unable to pull off a four-for-four day in Tuesday's primary, it would signal "buyer's remorse" with his candidacy as well as "interest in having this campaign go on, at least to Pennsylvania" (which votes on April 7).
("There's a problem" if Obama doesn't sweep the March 4th contests, the memo states. "Democrats, the majority of whom have favored Hillary in the primary contests held to date, have their doubts about Senator Obama, and are having second thoughts about him as a prospective standard-bearer.")
One reporter asked whether this line of reasoning was a departure from comments made earlier in the week by Bill Clinton, who said that his wife had to win both Ohio and Texas to secure the nomination. No, said Wolfson, before adding that he would never question the judgment of the former president.
Asked another reporter: What would the message be if Obama won every state but Rhode Island (where Clinton holds a sizable lead in the polls)? Would that, too, be a sign of Democratic unease?
"I don't anticipate that that will be an outcome," said Wolfson. "I'm much more optimistic than that scenario being presented."
Popular in the Community