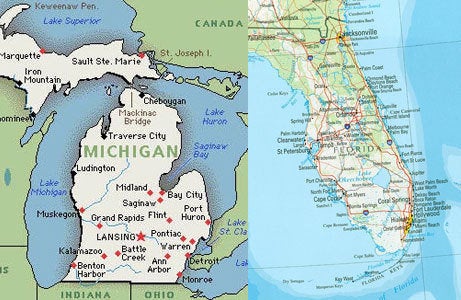 The NY Time's Adam Nagourney writes about Hillary Clinton's dwindling chances and hopes for a final rescue after Tuesday night's vote tallies in North Carolina and Indiana.
Nagourney points out that the Clinton camp will ratchet up it's already aggressive attempts to have the results for Florida and Michigan - states both candidates didn't campaign in, but Clinton "won" - to be counted. HuffPost's Tom Edsall wrote Sunday about how the Clinton camp planned to carry out the "nuclear option" to get the Michigan and Florida votes counted.
With few states left, she and her aides said they would step up their efforts to count the disputed results in Florida and Michigan, where the states held contests in defiance of Democratic Party rules. If Mrs. Clinton can win the battle to have the delegations from those two states seated at the conventions on the basis of the vote there, she could greatly reduce Mr. Obama's lead in pledged delegates.

But neither candidate actively campaigned in Florida or Michigan, and Mr. Obama did not appear on the Michigan ballot.

Still, in a sign of where the Clinton campaign is going, her aides are asserting that the winner will need 2,209 delegates, not 2,025. That higher number reflects the full inclusion of Florida and Michigan, which held their primaries before the date permitted by the Democratic Party.
Popular in the Community