The impending publication of a book examining donations made to the Clinton Foundation during Hillary Clinton's tenure at the State Department has put the former secretary and her allies in a familiar place.
For decades now, the Clintons have been trying to kill critical books in the crib, starting from Bill's first run for the White House in 1992 to Hillary's current run. It's become a form of political art: a well-calibrated brew of aggressive "fact-checking" and passive-aggressive dismissals, amplified just loud enough to drown out the book itself.
Clinton and her team don't "trust the ability of readers, viewers, voters to process the best obtainable version of the truth," journalist Carl Bernstein told The Huffington Post, recalling how the 2008 Clinton campaign dismissed his biography, A Woman in Charge, early in the election cycle.
The playbook has been dusted off once more in response to the latest work, a soon-to-be-released 186-page book by Peter Schweizer, a conservative-leaning writer, titled Clinton Cash: The Untold Story of How and Why Foreign Governments and Businesses Helped Make Bill and Hillary Rich.
Within hours of reports emerging about the book's underlying thesis -- mainly, that the Clintons traded policy favors for donations while she was at Foggy Bottom -- the campaign was arguing the accusations were self-evidently risible. The quos in the quid pro quos alleged by Schweizer are so broad in scope, with so many people involved in their formulation, it's impossible to credit (or blame) Clinton herself.
"Basically, they've taken publicly available information and kind of rehashed it into this sort of partisan fantasy," Karen Finney, a senior communications aide on the campaign, said during an MSNBC appearance on Monday.
The campaign similarly dismissed the book's charge that Clinton came out in support of the Colombia Free Trade deal because of donations made to her husband's foundation by business interests that could benefit from the deal.
"In a book full of far-fetched conspiracy theories, this is one of the most absurd," campaign spokesman Brian Fallon said.
Elsewhere, a more bare-knuckled approach is being deployed. Groups aligned with the campaign have been digging up head-scratching elements of Schweizer's prior works. During an appearance on "Morning Joe" Tuesday, David Brock, the '90s conservative Clinton antagonist turned liberal ally, literally held up one such example: a copy of Schweizer's 1998 book, Disney: The Mouse Betrayed: Greed, Corruption, And Children At Risk.
The night before, a Democratic operative flagged the same book for The Huffington Post, highlighting specifically an accusation Schweizer made that Disney subversively pushed a homosexual agenda. At the Magic Kingdom, Schweizer wrote in one passage, Minnie Mouse was often played by a man in part because of the "gay subculture that is today blossoming at Disney. It seems that some gay male employees at Disney World enjoy playing the feminine mouse, flirting with and comically embarrassing male guests."
There is nothing particularly shrewd to this type of pushback. If the book's message is bad, you attack the messenger, smearing if need be. But what stands out is how quickly the gears started turning. Clinton's universe of operatives have had practice at this, including at several turns in this current cycle.
In July, Clinton's nascent campaign swatted at Weekly Standard online editor Daniel Halper after his book, Clinton, Inc., was leaked online ahead of publication. A Clinton spokesman told The Huffington Post at the time that Halper was joining the "discredited and disgraced ranks of Ed Klein and Jeff Gerth, all for the sake of making a quick buck."
The criticism of Halper was similar to how the Clinton campaign had handled Bernstein's 2007 book, along with former New York Times reporters Gerth and Don Van Natta's book, Her Way: The Hopes and Ambitions of Hillary Rodham Clinton. "Is it possible to be quoted yawning?" asked longtime Clinton aide Philippe Reines, who dismissed the latter pair as "nothing more than cash for rehash."
Gerth, who spent three decades at the Times and is now a senior reporter at ProPublica, described the Clinton team's approach as "passive aggressive." He told HuffPost the team was both "desperate to get a copy of the book" to learn what was in it, and yet they publicly dismissed it as "nothing new" and with a "yawn."
Alongside the public rebuke, Gerth said, Clinton's circle appeared to have obtained an unauthorized version of the book prior to publication. A Clinton ally, he said, sought a correction from his publisher regarding information that only appeared in an pre-publication draft.
Bernstein, who declined to comment on Schweizer's book since he hasn't read it, suggested Clinton's allies seem to have a similarly dismissive response to all books on the presidential candidate, whether deeply reported or not.
"To treat my book the same as a piece of crap by Ed Klein, which is a book that is the antithesis of truthful, is a tactic that's very premeditated -- and effective in some ways," he said.
Bernstein said friends of Clinton urged the 2008 campaign to embrace his biography, even if they disagreed with some the author's interpretations. Ultimately, the campaign dismissed it. While Bernstein said the biography has "gone on to have this terrific life," he recalled how the pushback "had an effect at the time" in keeping "people who are inclined to like the Clintons perhaps from reading the book."
Schweizer is a somewhat more complex target than the prior Clinton biographers and agitators. He has a conservative background, including serving as a speechwriter for George W. Bush and as a fellow at the Hoover Institution. He's also president of the Government Accountability Institute, an organization that includes some wealthy conservative backers. A GAI spokeswoman declined to comment on the book's rollout.
But Schweizer's material has been solid enough to earn him partnerships with mainstream news outlets like CBS's "60 Minutes," for which he investigated the stock trading habits of members of Congress. In that report, he went after Republicans and Democrats alike and prompted bipartisan legislation to curb the practice. In the rollout of Clinton Cash, he's struck exclusive agreements with the New York Times and Washington Post.
The process by which Clinton Cash came about, however, does have some objectively partisan coloring. According to the New York Times, Schweizer briefed members of the Senate Foreign Relations Committee on his book's findings. But only one member of the committee has publicly said he was briefed -- Sen. Rand Paul (R-K.Y.), who is running for president.
An aide to Senate Foreign Relations Committee Chairman Bob Corker (R-Tenn.) confirmed that the senator met with Schweizer but clarified that, contrary to earlier suggestions, there was no formal briefing.
"A few weeks ago, Senator Corker had a conversation with the author about his upcoming book. There was no Senate Foreign Relations Committee briefing on this issue," said the aide.
An aide to Republican presidential candidate and Florida Sen. Marco Rubio said he had not been briefed.
Democrats on the committee, meanwhile, denied receiving the contents or a summarization of the book.
One top Democratic aide on the committee said he couldn't recall a briefing that included anyone on his side of the aisle, "certainly nothing wide and far that included Democratic members on the committee." A spokesperson for Sen. Tim Kaine (D-Va.) said he was not briefed, as did an aide for Sen. Chris Coons (D-Del.). Sen. Barbara Boxer (D-Calif.) said she was not briefed either.
"It may have been circulated among some members, but not every member," said Chris Harris, a spokesman for Sen. Chris Murphy (D-Conn.). "This [New York Times] article was the first we had heard about it."
This story has been updated to include comment from the offices of Rubio, Corker and Coons.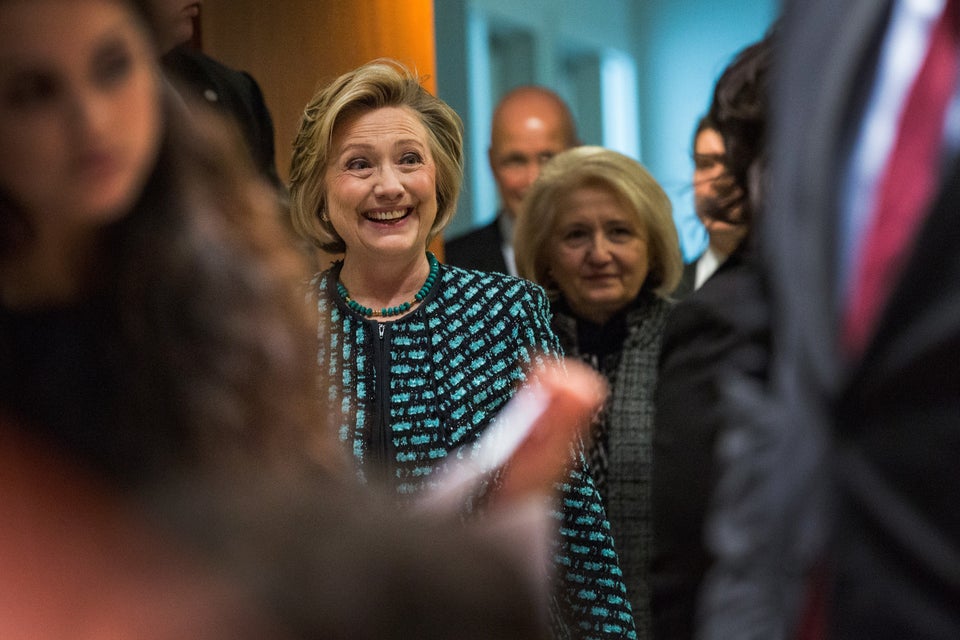 Hillary Clinton
Popular in the Community