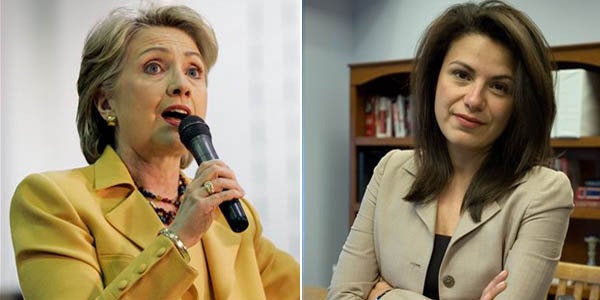 Democratic Sen. Hillary Rodham Clinton replaced campaign manager Patti Solis Doyle with longtime aide Maggie Williams on Sunday, engineering a shake-up in a presidential campaign struggling to overcome rival Barack Obama's financial and political strengths.

The surprise announcement came hours after Obama's sweep of three contests Saturday. The Illinois senator also grabbed the early lead in caucuses in Maine on Sunday. In a fierce and historic fight with Obama for the party nod, Clinton also made a private visit this week to North Carolina to seek an endorsement from former Sen. John Edwards.

Campaign aides said Solis Doyle made the decision to leave on her own and was not urged to do so by the former first lady or any other senior member of the team. But it comes as Clinton struggles to catch Obama in fundraising and momentum and faces the prospect of losing every voting contest yet to come in February.
Solis Doyle sent the following note to campaign staffers Sunday, via the Chicago Sun-Times' Lynn Sweet:

Patti Solis Doyle sent the note below to campaign staff this afternoon:

Over a year ago Hillary launched her campaign for President.

Her announcement began a historic effort that has inspired millions and brought hundreds of thousands to their feet all across this nation.

I have been proud to manage this campaign, and prouder still to call Hillary my friend for more than sixteen years. I know that she will make a great President.

This has already been the longest Presidential campaign in the history of our nation, and one that has required enormous sacrifices from all of us and our families.

During the last month I have been working closely with my longtime friend, Maggie Williams.

This week Maggie will begin to assume the duties of campaign manager. I will serve as a senior adviser to Hillary and the campaign and travel with Hillary from time to time on the road. Maggie is a remarkable person and I am confident that she will do a fabulous job.

Although I will continue to see you all at headquarters, I would be remiss if I didn't thank each of you for your dedication, excellence, and passion over the last year.

You are the best campaign staff in the history of Presidential politics and I am grateful to each of you for your hard work and friendship.
The Washington Post reports that Obama easily won the Maine Caucus:
Barack Obama defeated Hillary Rodham Clinton in Maine presidential caucuses Sunday, grabbing a majority of delegates as the state's Democrats overlooked the snowy weather and turned out in heavy numbers for municipal gatherings.

Democrats in 420 Maine towns and cities were deciding how the state's 24 delegates will be allotted at the party's national convention in August. Despite the weather, turnout was "incredible," party executive director Arden Manning said.

With 91 percent of the participating precincts reporting, Obama led in state delegates elected over Clinton, 1,878 to 1,305, with 17 uncommitted.

Obama exulted in his recent victories in Maine and elsewhere, telling a crowd of 18,000 Sunday evening in Virginia Beach, Va., that "we have won on the Atlantic Coast, we have won on the Gulf Coast, we have won on the Pacific Coast" and places in between.
Obama's victory in Maine comes a day after he swept contests in Louisiana, Washington state, Nebraska and the US Virgin Islands:
"We won in Louisiana, we won in Nebraska, we won in Washington state," Mr. Obama said at the Virginia Democrats' Jefferson-Jackson Dinner in Richmond, Va. "We won North, we won South, we won in between. And I believe that we can win in Virginia on Tuesday if you're ready to stand for change."

While Mr. Obama's victories were significant, the Democratic Party awards delegates proportionally, so Mrs. Clinton stands to walk away from the contests with a sizable number. Both campaigns have dug in for a long and fierce delegate fight.

The nominating fight now turns to Virginia, Maryland and the District of Columbia, which hold their primaries on Tuesday. Mr. Obama is considered well positioned in those states.
The Washington Post's Ruth Marcus profiled Williams in a 1994 article:
When then-White House Chief of Staff Thomas F. "Mack" McLarty decided it was time to set up a Whitewater damage control team in January, one person he turned to was Margaret A. Williams, First Lady Hillary Rodham Clinton's chief of staff.

When Comptroller of the Currency Eugene A. Ludwig wanted to pass a message to the White House about the best strategy for handling Whitewater, he called Williams.

And when Deputy Treasury Secretary Roger C. Altman decided to remain in charge of overseeing a Whitewater-related case, he telephoned Williams -- who had advocated that course the day before -- to deliver the news and arrange a meeting to inform others at the White House.

As Congress hears testimony from White House officials about their involvement in the administration's handling of Whitewater, the prominence of Williams's role in trying to manage the controversy has become evident.
Arianna wrote about Williams in 1997:
Ever since her days as a student at a parochial school in Kansas City, loyalty has been a Williams trademark. The French nuns at her school divided the class into groups with their own distinct dress colors. "We all learned to develop this incredible loyalty to our color," Williams once explained. This loyalty was transferred to her bosses. The Washington Post described her working motto as "let them set the mission, let me get it done." But at some moment during Clinton's first term, the mission shifted from saving the country to saving the first couple.
REAL LIFE. REAL NEWS. REAL VOICES.
Help us tell more of the stories that matter from voices that too often remain unheard.