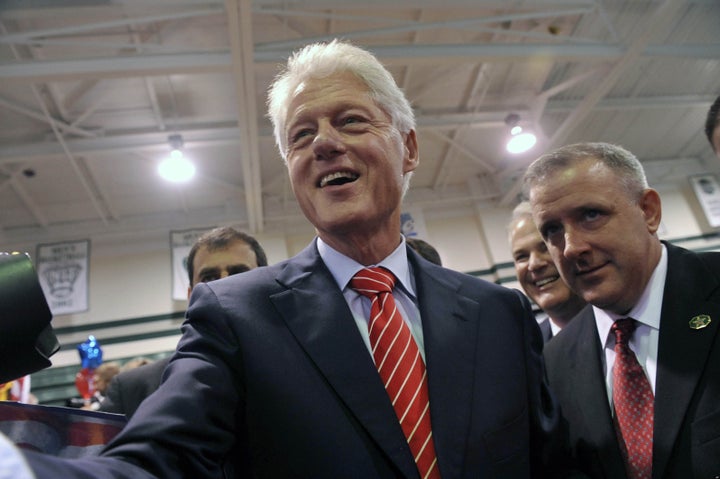 President Clinton condemned a proposal floated by several Republicans to shut down the government if the party takes back the majority in November, pointing out that it was a disaster the last time they did it in 1995. In a small meeting with a group of bloggers and journalists on Monday in advance of the Clinton Global Initiative, Clinton also said he sympathized with the anger and frustration of many Tea Party activists but stated they were being manipulated by corporate interests intent on weakening the federal government.
In his 1996 State of the Union address, Clinton famously told the story of Richard Dean, a brave Vietnam War veteran who helped save people after the Oklahoma City bombing. He also worked for the Social Security Administration and lost his job when Republicans shut down the government. "On behalf of Richard Dean and his family, and all the other people who are out there working every day doing a good job for the American people, I challenge all of you in this Chamber: Never, ever shut the federal government down again," said Clinton during his address.
On Monday, Clinton pointed to Dean as an example of why a government shutdown is such a bad idea and has real effects on Americans. "[F]irst of all, they can't, unless they just shut off appropriations -- they'll have to pick a fight," said the former president in response to a question by the Huffington Post. "And you see what happened last time: It didn't work out very well for them."
Even without a formal shutdown, Clinton pointed out that Republicans have threatened to hold up the functioning of the executive branch by drowning it in federal investigations. Newsweek has reported that if Republicans regain control of the House, Rep. Darrell Issa (R-Calif.) would likely take control of the Oversight and Government Reform Committee. Democrats should therefore "expect investigations into the president's staff, his appointees, and every policy he promotes -- not to mention his response to crises like the BP spill."
Clinton criticized this mentality, saying that Republicans wasted 140 hours looking into his Christmas card list in the 1990s. "It's just Newt Gingrich all over again," he said. "I'll never forget Newt telling [former White House chief of staff] Erskine Bowles once, 'Erskine, you just don't understand. The difference between you and us is, if we can do it, we do it. We do what we can. We do it because we can. And you don't. And it's the difference between us and you.' And that's what they're going to do."
Clinton expressed sympathy for true Tea Party activists, who "feel that the middle class has basically been hosed, while big business has done well and the people that caused the financial turmoil and the collapse are already back in the saddle." On the other hand, he sharply criticized the profiteers behind the movement, whom he called "ultra-right-wing corporate interests that want to break the power of the federal government so they can dominate the future of the country" -- something they've tried to do for the past 30 years.
"[T]hey are being used by people whose real goal is to dismantle the government and empower the most ideological private economic interests in the country," said Clinton. "And that's not good for them or for America. So I encourage their participation in the debate, but we've got to get back to the facts."
He urged Democrats to "raise the specter of the government shutdown," saying that Tea Party activists who try "want Washington work" will be turned off by baseless investigations that waste taxpayer dollars.
On What Democrats Need To Do To Win In November
Clinton said that Tea Party victories by people like Christine O'Donnell in Delaware and Joe Miller in Alaska won't help Democrats at all if liberals don't turn out to vote. He urged Democrats to focus on "what are we going to do now" and "who's more likely to do it." He noted that Republicans are "scrubbing their websites of all the really wacky things they've said, and they're trying not to do debates and they're trying to smile and look real nice because they're riding a wave here."
"So we have to find ways to basically talk about this," said Clinton. "How many people know that the Republicans have a really well-designed program? They don't just want to repeal health care. ... They want to repeal the financial oversight bill and the student loan bill. So, they'll make it more likely that we'll get in this mess again. Because the financial oversight bill reduces risk, requires more capital, less ratio risk, and increases oversight. The student loan reform bill provides a lot more money at a lower cost to people to get more education and training." Without communicating what Republicans will do, concluded Clinton, Americans won't perceive them as a threat.
"In football, we care about the facts," he added. "Think about it. Listen to all these guys talking about the facts in football -- it's ridiculous. But with something...like economics and politics, we live in a fact-free world. ... We have to pierce that. Democrats can find a way to do it by focusing on what are we going to do now, who's more likely to do it. If it's made into a choice again, not just a referendum. This election could still surprise some people."
*************************
What's happening in your district? The Huffington Post wants to know about all the campaign ads, debates, town halls, mailings, shenanigans, and other interesting campaign news happening by you. E-mail us any tips, videos, audio files, and photos to election@huffingtonpost.com.
Popular in the Community