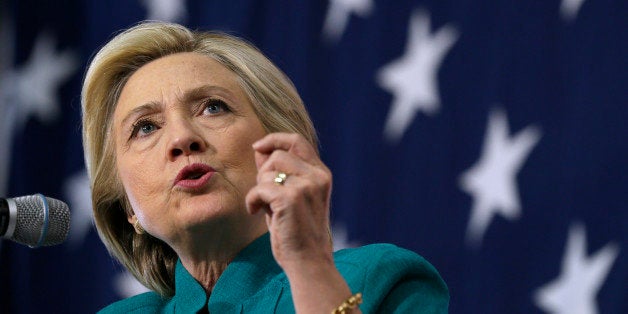 NEW YORK -- Hillary Clinton's presidential campaign prohibited a Daily Mail journalist from covering its Monday event in Manchester, New Hampshire, as the designated print pool reporter, marking the latest spat with the press over access.
McClatchy's Anita Kumar tweeted that Clinton's press vans left for the event without Daily Mail U.S. Political Editor David Martosko, who was scheduled to cover it and provide a pool report to journalists unable to attend because of space limitations.
The Clinton traveling press corps, like the White House Correspondents' Association, has established a pool rotation for campaign events that can't accommodate large numbers of journalists. Traditionally, journalists, rather than the campaign or administration being covered, decide who serves as pool reporter for the group. So journalists unsurprisingly took issue with the campaign's decision.
"Memo to the Clinton campaign: pools control themselves," tweeted Time's Zeke Miller.
The Daily Mail, in its own story on the incident, suggested that Clinton spokesman Nick Merrill gave multiple reasons for Martosko's exclusion, contradicting himself in the effort to provide the campaign's rationale. First, the story said, Merrill suggested the U.K.-based outlet couldn't participate because it was a foreign news organization. But the Daily Mail is part of the 14-member traveling press pool covering Clinton, along with The Guardian and Agence France-Presse, both foreign outlets.
Merrill later argued that the Daily Mail was barred because it wasn't part of the regular White House press pool, according to the article. But Martosko informed Merrill that the Daily Mail's White House correspondent has a hard pass to cover the White House and that it was only because of a timing issue that the outlet hasn't yet been added to the regular rotation.
"We have been working to create an equitable system, and have had some concerns expressed by foreign outlets about not being a part of the rotation," Merrill said in a statement to The Huffington Post. "The journalists who coordinate the pool are in touch with them as are we, and we simply asked that until we can work all of that out that we send an outlet in keeping with previous precedents."
In a separate email, Merrill said the campaign "want[s] a happy press corps as much as the press corps does" and works "very hard to achieve that in tandem with them."
"It's a long campaign," he continued, "and we are going to do our best to find equilibrium and best accommodate interest from as many news outlets as possible, given the space limitations of our events."
Merill's response echoes the one he gave to HuffPost earlier this month after a group of journalists met privately to discuss grievances over access to the campaign. Merrill said at the time that the campaign wants "a happy press corps as much as the press corps does" and also noted that "it's a long campaign." Last week, two top Clinton campaign officials met with representatives from the press corps to try and hash out their differences.
The recent issues over access and pooling events have played out amid frustration about Clinton not giving any interviews for the first two months of her campaign. However, she spoke this past weekend to a couple of Iowa journalists, ending the interview drought.
UPDATE: 9:15 p.m. -- The Clinton traveling press pool issued a statement Monday night responding to the campaign denying access to the designated pool reporter:
"We would like to see all campaign events open to the public and the full press corps, but when that is not possible we have agreed to pool coverage. We haven't yet had a clear explanation about why the pool reporter for today's events was denied access. But any attempt by the campaign to dictate who is in the pool is unacceptable. The pool is open to any print organization willing to take part."
The pool is comprised of AFP. Boston Globe, BuzzFeed, Daily Mail, Financial Times, Guardian, McClatchy, New York Daily News, New York Times, Politico, Time, Tribune Publishing, Wall Street Journal, and Washington Post.

Calling all HuffPost superfans!
Sign up for membership to become a founding member and help shape HuffPost's next chapter