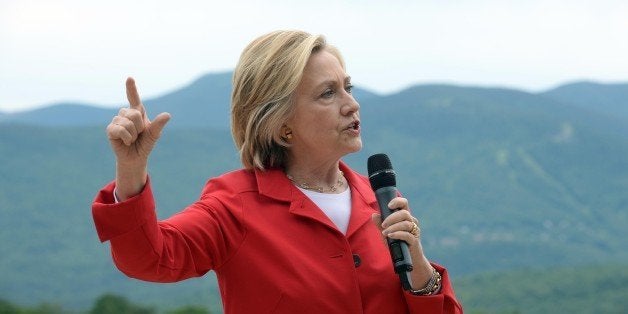 WASHINGTON -- In her first major economic policy speech on Monday, former Secretary of State Hillary Clinton faces dual tasks: contrasting her agenda with the leading Republican presidential candidates and embracing -- while still drawing distinctions from -- the president she hopes to succeed.
The former will come quite easily. The latter requires a deft touch.
Appearing at The New School, Clinton will attempt to thread this needle by taking a cue from her husband's 1992 presidential bid. She'll keep it simple, distilling her vision into a single idea: it's about middle-class incomes, stupid.
Her policy suggestions are meant to supplement that proposition. According to the campaign, Clinton will offer a three-pronged vision that her aides say is designed to raise wages and protect workers.
She will call for greater public and private investments in infrastructure, clean energy and medical research; tax breaks for small businesses and policies to encourage workforce participation, especially among women, including paid leave and paid sick days, better child care services and access to education.
She will argue for greater wage equality, including a raising of the minimum wage, hikes on the wealthy (or, in campaign parlance: "making sure the wealthiest pay their fair share") and company profit-sharing for employees.
And she will encourage a rethinking of business strategy, away from what an aide called "quarterly capitalism" and more towards long-term sustainability.
The speech is the product of conversations with more than 200 domestic policy experts over the last several months, including dozens held by Clinton herself, aides say.
The underlying political message of the address is quite clear, as is its intended audience. Simply calling for 4 percent economic growth, as former Florida Gov. Jeb Bush has done while running his own campaign, isn't good enough.
"The measure of our economic success should be how much incomes rise for middle-class households, not an arbitrary growth figure," said a Clinton campaign official who previewed the speech on the condition of anonymity. "[W]e should pursue a rise in GDP through strategies that will ensure middle-class incomes grow alongside corporate profits and executive compensation."
For more from The Huffington Post, download our app for iOS or Android.

To make this case, Clinton is embracing the liberal wing of her party (in broad details at least; the white papers for her proposals will come in time, her campaign says). The ideas she is discussing, one official said, echo the themes of Sen. Elizabeth Warren's old book -- The Two-Income Trap -- and adapt them to a modern economic climate. Clinton's speech will take on the shortcomings of automation and the sharing economy (think: Uber, Airbnb), making the case that these trends, while valuable, need to come with better policies for workers.
Clinton's critics will argue that she is a touch late to this game. Sen. Bernie Sanders (I-Vt.) has risen in Democratic primary polls by hammering this message well before he became a candidate. This past week, former Maryland Gov. Martin O'Malley introduced financial industry reform proposals that position him as one of the toughest candidates in the field when it comes to Wall Street.
Appearing to be playing catch-up isn't the only risk Clinton runs. In arguing that the country needs to grapple with multi-generational trends that have seen middle-class incomes stagnate, she also must account for the Democratic presidents at the wheel during this time period, one of whom is her husband, the other of whom she worked for.
Clinton will, at the outset of her speech, praise the successful records of Bill Clinton and President Barack Obama, according to a campaign official. And she will ascribe the absence of wage growth over the last six-and-a-half years to the terrible economic circumstances inherited by the current administration. The president, her argument will go, couldn't afford to be choosy with policies as he pulled the country out of an economic ditch.
"President Obama has had to deal for most of his two terms with restoring growth, including reviving and stabilizing the credit system, bailing out the auto industry, arresting the nightmarish declines in growth, jobs, home prices. Only recently has he been able to think about policies, like the new [overtime] rules," Jared Bernstein, a former top economic adviser to Vice President Joe Biden and a leading progressive economic voice who advised the Clinton campaign on the speech, said in an email.
Clinton can afford to be choosy in her policies, the thinking goes. And her economic vision does include areas where she appears to adopt subtly different approaches from the current administration, such as calling for additional health care reforms that lower costs and supporting collective bargaining rights.
"I think you'll see in the speech that she thinks both Obama and Bill Clinton made progress in the economy, important progress. But today, we have new challenges that call for new ideas," Neera Tanden, head of the Clinton-allied Center for American Progress and an adviser on this speech, said in an email. "We do face a problem with wage stagnation. President Obama has championed important ideas to address it (e.g. minimum wage) but she has her own additional ideas, which you'll see on Monday. And she also brings new issues to the debate: the rise of short-termism in the private sector is having an impact on wages as well."

Calling all HuffPost superfans!
Sign up for membership to become a founding member and help shape HuffPost's next chapter
BEFORE YOU GO
PHOTO GALLERY
Declared 2016 Presidential Candidates