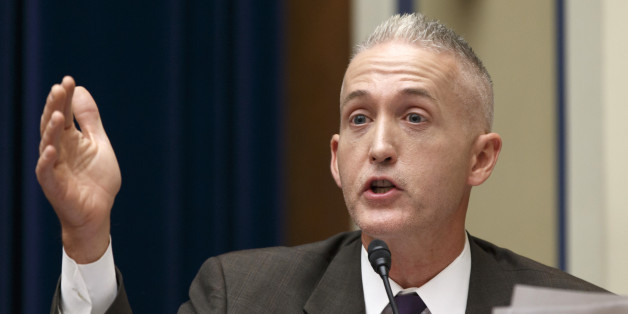 WASHINGTON -- The House Select Committee on Benghazi asked Hillary Clinton on Thursday to testify in two public hearings, one about her use of email during her time as secretary of state, and one about the 2012 terror attack in Benghazi, Libya.
In a letter to Clinton's attorney, committee chairman Rep. Trey Gowdy (R-S.C) requested that Clinton publicly testify twice -- first, during the week of May 18 discussing her emails, and then again during the week of June 18 on Benghazi.
"It is necessary to call Secretary Clinton twice because the committee needs to ensure we have a complete and responsive record and all the facts before we then substantively question her on the Benghazi terrorist attacks," Gowdy said.
Gowdy had initially requested that the Democratic presidential front-runner appear for a private interview with his committee, but Clinton's lawyer, David Kendall, replied in a letter to Gowdy on Wednesday that his client would only agree to testify publicly.
In the letter, Kendall argued that "there is no reason to delay her appearance or to have her testify in a private interview."
Gowdy noted in his response on Thursday that with "cooperation" from Clinton, the State Department and the Obama administration, the former secretary of state "could be done with the Benghazi Committee before the Fourth of July."
Earlier on Thursday, Democrats on the committee chided Gowdy for moving the committee's work along too slowly. Rep. Elijah Cummings (Md.), the committee's ranking member, and Rep. Adam Schiff (D-Calif.) said in a statement that Gowdy was proceeding at a "glacial pace."
Cummings also accused Gowdy of attempting to drag out the investigation until 2016 to hurt Clinton's presidential bid.
"The Republicans' multi-year search for evidence to back up their Benghazi conspiracy theories has turned up nothing," the Maryland Democrat said. "The Select Committee has identified no evidence -- documentary, testimonial, or otherwise -- to support claims that Secretary Clinton ordered a stand-down, approved an illicit weapons program, or any other wild allegation Republicans have made for years."
"Instead," Cummings continued, "this appears to be a coordinated attempt by Republicans to drag out this taxpayer-funded search for anything they can use against Hillary Clinton, while their political arm raises campaign funds off the deaths of four Americans."
REAL LIFE. REAL NEWS. REAL VOICES.
Help us tell more of the stories that matter from voices that too often remain unheard.
BEFORE YOU GO
PHOTO GALLERY
Hillary And Bill Through The Years