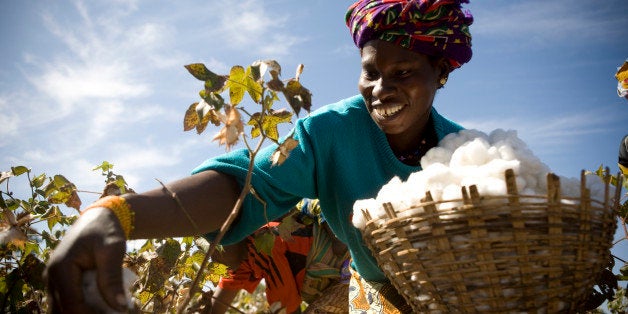 Farmers in the developing world will soon benefit from an effort aiming to pull their communities up the economic ladder.
The Enhanced Livelihoods Investment Initiative (ELII) could help improve the lives of as many as 60,000 local farmers throughout Africa, Latin America, South Asia and the Caribbean. Over a three-year period, at least $10 million will be used to launch and improve private businesses that support smallholder farmers in underserved regions, according to a statement from nonprofit Acumen.
According to Unilever -- a consumer goods company that's part of the initiative -- a primary goal of ELII will be to further link the company's global supply chains to smallholder farmers, providing sustainable agriculture, nutrition and hygiene training to workers, the company told The Huffington Post. It's a link many companies don't create, as providing impoverished farmers with products in hard-to-reach areas is difficult to do while also turning a profit.
While Unilever confirmed to HuffPost it's the sole supplier involved in the partnership -- which benefits the company financially -- its supply chains are partnered with several other businesses.
How the $10 million will specifically be allocated is still in development, a representative from Unilever said. But Acumen told HuffPost the partnership aims to create jobs and boost incomes for smallholder farmers by 50 percent.
Investing in smallholder farms is one of the quickest ways to help those living in rural poverty around the world, a report from the United Nations found in 2013. Most of the approximate 1.4 billion people living on less than $1.25 a day live in rural areas and depend on agriculture to survive.
It's in these regions that basic improvements can create significant results in terms of bettering communities economically. In poor regions, for example, providing electricity and enhancing transit infrastructures -- like building better roads -- are among the fastest ways to curb hunger by 2030, a study by the International Food Policy Research Institute reported in January. According to the Associated Press, investing $239 billion throughout the next 15 years in roads and railways, as well as in electricity supplies for food storage, would yield benefits of $3.1 trillion by safeguarding food.
Improving conditions in the developing world can particularly benefit women, who are disproportionately affected by rural poverty, according to U.N. Women.
President Bill Clinton announced the launch of ELII -- a partnered effort between Acumen, Unilever and the Clinton Giustra Enterprise Partnership (a program created by the Clinton Foundation) -- at Clinton Global Initiative's 2015 Winter Meeting in New York City on Tuesday.
Clinton said the initiative will bring local farmers into the international market, "empowering hundreds and thousands of people to expand their skills and lift themselves from poverty."
According to Unilever CEO Paul Polman, ELII has the potential to revolutionize how his company does business -- and how the world produces food.
"This partnership has the potential to dramatically increase the scale of what we can do to support smallholder farmers, empower women across our supply chains and in turn help build sustainable, viable businesses that alleviate poverty," Polman said. "Ultimately, we see this as a new model for creating a vibrant ecosystem of enterprises across supply chains."
Calling all HuffPost superfans!
Sign up for membership to become a founding member and help shape HuffPost's next chapter
BEFORE YOU GO
PHOTO GALLERY
Smallholder Farmers Alliance