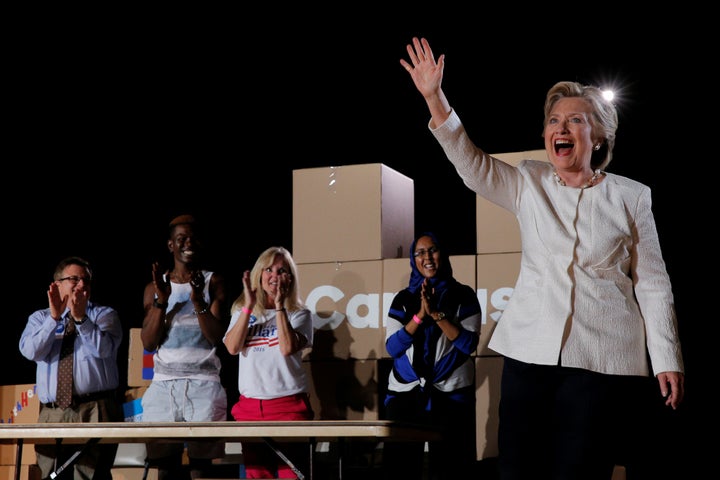 SANFORD, Fla. ― Hillary Clinton continued her push to close out election night early, with a Florida appearance Tuesday urging supporters to register their unhappiness with her Republican opponent by casting their ballots now.
"The best way to stop him is by showing up and voting," the Democratic presidential nominee said to the crowd of 1,000 jammed into the Sanford Civic Center.
"How many of you have already voted?" she asked, and watched nearly every hand go up amid a chorus of cheers. "Well, I'm asking you to go out and make sure you get more people to vote."
The strategy is both simple and straightforward. Florida is the biggest and most valuable prize among the battleground states. Clinton doesn't need it to win the presidency, but Republican nominee Donald Trump does.
"Donald Trump has practically no pathway to victory without Florida," said Valentina Pereda, the campaign's Florida press secretary.
Without Florida's 29 electoral votes, Trump would have to win every single other battleground ― Ohio, North Carolina, Iowa, Colorado, Virginia, Nevada ― and in addition to that, flip at least a couple of Democratic states. In reality, strategists on both sides agree, Clinton winning Florida would mean winning the election.
To that end, her campaign has been swarming the state with its top surrogates since early voting began on Oct. 25. Vice presidential nominee Tim Kaine visited Tallahassee last week, and is to return this weekend. President Barack Obama hit Miami last Friday, and is planning another trip there and to Jacksonville on Thursday. Vice President Joe Biden is in Tampa and West Palm Beach on Wednesday. Clinton's Tuesday trip was her third in just over a week, and even as she spoke in Central Florida, husband Bill Clinton was on his third Florida event of the day in St. Petersburg.
In contrast, on Wednesday Trump is to make his second visit since early voting started, while running mate Mike Pence hit three cities in Central Florida on Monday. Trump daughters Ivanka and Tiffany visited South Florida one day last week.
While Trump's campaign favors locations that help attract massive crowds at his rallies, the Clinton campaign is instead targeting its visits to work with local field teams to turn out identified supporters. Every appearance has been a short stroll away from an early voting site.
"Not far from here is the North Branch Library, one block away," she said, and then listed its hours, 7 a.m. until 7 p.m. through Sunday. "So early voting here is convenient."
Hundreds of paid staff and thousands of volunteers are focusing on banking ballots from strong Clinton supporters who are regular voters, but are spending even more energy persuading strong supporters who have voted only sporadically in the past to visit an early voting site this week. Of particular interest to the campaign are the 80,000 or so Democrats who requested absentee ballots but who have not yet turned them in. "We're definitely hassling you then," joked one staffer.
At a predominantly Latino voting site about 30 miles south Tuesday afternoon, the differing approaches of the two campaigns was on display. One independent voter said he was getting about three times as many calls and door knocks from Democrats as he was from Trump. A Trump voter with a history of voting in Republican primaries, meanwhile, said no one had contacted him at all.
Steve Schale, a Democratic consultant who worked on Obama's two winning campaigns in Florida, said the low-propensity voter strategy appears to be paying off for Clinton. He said more than half of the Hispanic voters casting ballots are either first-time or low-frequency voters.
In her 36 minutes on stage Tuesday evening, Clinton hit her usual themes of helping the middle class, supporting equal pay for women and dealing with high college tuition costs. She also mixed in her now-familiar lacerations of Trump for his insults of various groups, his refusal to disclose his income tax returns and his admiring language for dictators including Russian leader Vladimir Putin.
One topic she did not broach: FBI Director James Comey, who on Friday shook up the presidential race with a letter to Congress announcing that he would examine a new tranche of emails found on the computer of Anthony Weiner, the estranged husband of top Clinton aide Huma Abedin, to see if they contained classified information.
Campaign officials and Clinton herself have been aggressively criticizing Comey for apparently violating Department of Justice guidelines regarding the release of such information so close to an election.
Clinton, though, avoided the topic altogether in Sanford, and closed with an extended appeal to get out the vote in the coming days. "Twenty-six million people in America have already voted, more than 4 million of them right here in Florida," she said. "If we can keep this up, there is no doubt. If we vote, we win."
Calling all HuffPost superfans!
Sign up for membership to become a founding member and help shape HuffPost's next chapter