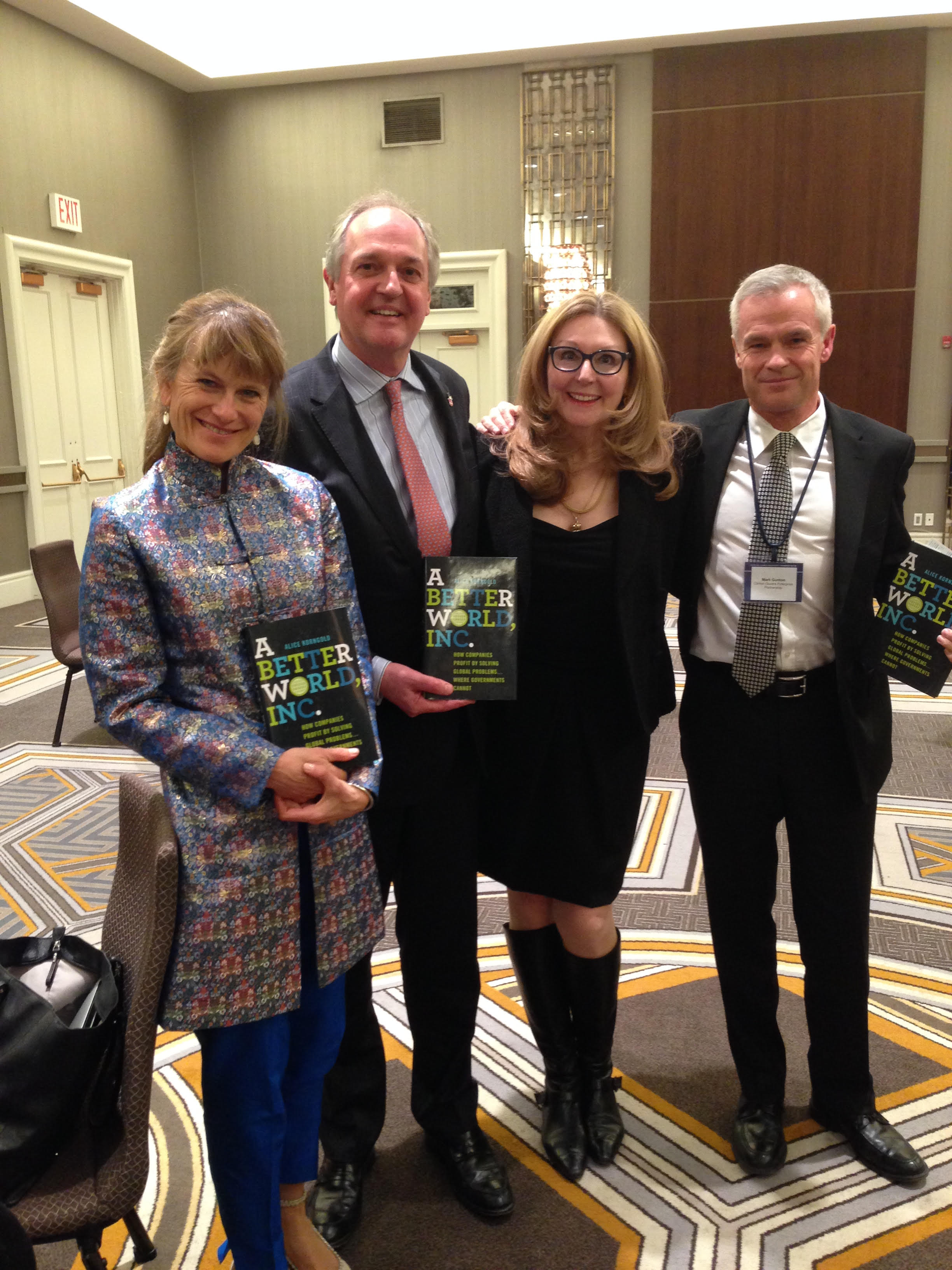 Jacqueline Novogratz, Paul Polman, Alice Korngold, Mark Gunton
2.5 billion people are involved in smallholder agriculture globally, accounting for an estimated 500 million small farms producing 80% of the food consumed in emerging markets, from Southern Asia to sub-Saharan Africa. Imagine what might be accomplished with an infusion of capital for skills training and capacity-building to help such smallholder farmers to increase yields and their incomes, while farming their land more sustainably. This would be a boom for economic development in impoverished regions. It would also improve quality end-products, save costs, and maintain or increase sales for a company like Unilever, one of the world's largest suppliers of food, home, and personal care products.
At the Clinton Global Initiative (CGI) Winter Meeting earlier this week, three global partners launched the "Enhancing Livelihoods Investment Initiative" (the ELII). Their unique model, based on sustainable and scalable market-based approaches, has the potential to lift hundreds of thousands of people out of poverty in Africa, South Asia, Latin America, and the Caribbean. The initiative was co-developed by Unilever; the Clinton Giustra Enterprise Partnership; and Acumen, an innovative nonprofit that is changing the way the world tackles poverty by investing in companies, leaders, and ideas.
The ELII is investing in enterprises that will improve the lives of 300,000 smallholder farmers (and their families) who grow and supply raw agricultural materials used by Unilever and other multinational corporations in their products. With access to capital and skills training, entrepreneurs will be able to create and run more viable, profitable, sustainable businesses to engage smallholder farmers in global supply chains. This model will improve the lives of millions of people, while driving economic development. Additionally, by diminishing the risk of ecosystems loss due to bad farming practices, Unilever will benefit by longer-term access to sustainable agricultural materials.
The good news doesn't end there. The ELII is also investing in the distribution chain by establishing and growing social enterprises that move end-products from Unilever and other multinational corporations into communities, based on local demand. This way, ELII is creating jobs and providing access to new markets and opportunities. Distribution enterprises will primarily be women-operated; sales will often be door-to-door. For the first time, people in rural neighborhoods can access a wider variety of productivity-enhancing goods, where previously they would be lucky for only a few (some of which were only one-time purchases, such as cookstoves).
The Clinton Giustra Enterprise Partnership (CGEPartnership) was established by President Bill Clinton and Canadian philanthropist Frank Giustra. The CGEPartnership creates social enterprises to fill the gaps that currently prevent millions entering supply chains and distribution networks of multinational corporations.
Jacqueline Novogratz, Founder and President, Acumen; Paul Polman, CEO of Unilever; and Mark Gunton, CEO of the CGEPartnership joined me for a conversation after serving on the panel with President Clinton. Both Novogratz and Polman have spearheaded multiple innovations to build a better world that benefits people and the planet. The ELII is a primary example of their courage, vision, and leadership.
"Only by partnering in ways to do what is right, not easy, and create viable companies that work with and value farmers on one side, and provide quality products at scale on the other, will we break the back of these broken systems," said Novogratz. "We need models for how to do that fueled with patient investment capital, technical assistance, and access to consistent demand from corporations."
Polman underscored Unilever's commitment to an initiative of this magnitude. "We need new and scalable solutions to address the formidable forces we face today: man versus nature, the few versus the many, short-term versus long-term," said Polman. "And the moment is now. We are in a unique situation where we can alleviate poverty and address climate change." Polman believes that there are enough businesses that are ready to get involved, "because they see the cost of not getting involved." He continued. "You need people with awareness and engagement, with humanity and humility."
Novogratz sees this partnership as a model of how corporations can work effectively with nonprofits, and "a chance to help redefine the purpose of business, to create models from a true stakeholder perspective." She made the case that "our agricultural supply chains are broken in ways that leave farmers in poverty, lose 40% of food along the supply chain, enable corruption, and deliver poor quality produce to the companies that have most capacity for large-scale distribution." That's not good for anyone, said Acumen's CEO.
"We need new leadership," continued Novogratz, nodding towards Polman as the role model. "Paul Polman stands apart as a CEO for a different vision for what is possible if corporations build strategies that are at once good for their shareholders and the world they were created to serve."
These leaders have certainly paved the way. Gunton welcomes more companies to participate in the Clinton Giustra Enterprise Partnership. "No one else does this," said Gunton. "It's a brave new strategy that basically takes the approach of a multinational company replicating it's own business model in new markets, but doing so for so social purposes." Elaborating on the power of this model, Gunton remarked: "Through this process it is not unusual to double the volume and quality the smallholder farmers produce...By addressing this gap we expect large corporations to become increasingly interested in collaborating with our enterprises and to directly support their replication and scaling, while at the same time improving lives. This is just the beginning....."
Calling all HuffPost superfans!
Sign up for membership to become a founding member and help shape HuffPost's next chapter