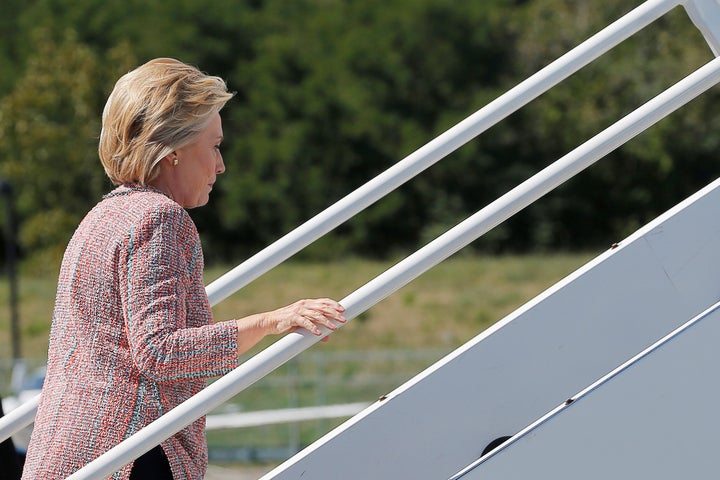 Clinton's physician, Dr. Lisa Bardack, wrote Wednesday that the Democratic nominee "continues to remain healthy and fit to serve as President of the United States."
But just 39 percent of Americans currently believe that Clinton is in good enough physical condition to effectively serve as president for the next four years, according to the poll. A nearly equal 38 percent say she isn't in good enough condition, and 23 percent say they are unsure.
That marks a significant shift from just over a week ago, when an Economist/YouGov survey posing the same question found that 52 percent of Americans believed Clinton was in good enough shape, 33 percent didn't think she was and 16 percent didn't know.
By a 14-point margin, 45 percent to 31 percent, those surveyed in the latest poll ― which predated Bardack's letter ― said that Clinton had not provided enough information about her physical health.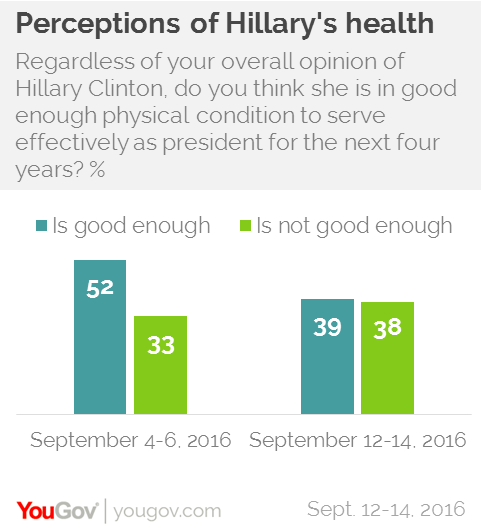 Republicans have long been willing to cast aspersions on Clinton's health, but until recently, those attacks seemed to have little resonance beyond those already disinclined to vote for her.
The latest survey, however, shows increased uncertainty among some of her supporters.
Although 64 percent of Democrats said in the most recent poll that Clinton was in good enough condition, that's down 20 points from the previous survey. Few believe outright that she is unhealthy, but more now say that they're not sure.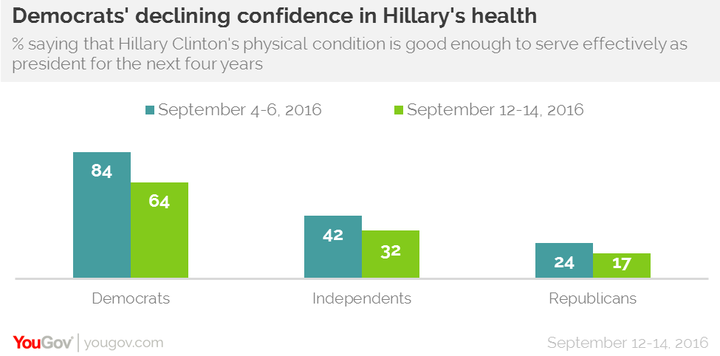 In contrast, 63 percent currently believe GOP nominee Donald Trump is in good enough condition, almost unchanged from the 62 percent who said so earlier this month.
Thirty-six percent of Americans say they believe Clinton's illness last weekend was a symptom of a larger problem with her health. Twenty-seven percent say that it was an isolated incident, and 21 percent say that speculating about her health is inappropriate.
More broadly, 45 percent of Americans say that people are right to question whether Clinton may have a serious health condition, while 37 percent believe claims that she's seriously ill are driven purely by politics.
Opinions on both questions are divided deeply along partisan lines: 62 percent of Republicans, but just 13 percent of Democrats, believe that Clinton has a larger health issue. Three-quarters of Republicans view questioning Clinton's health as valid, while 62 percent of Democrats see such questions as a nakedly political tactic. Independents fall somewhere in the middle ― 39 percent believe that Clinton is concealing a larger health problem and 46 percent say that people are right to raise questions.
Politicians' health wasn't always believed to be a topic for public debate. In a 2004 survey conducted by Gallup for CNN and USA Today, 61 percent of Americans said that a president should have the same right as every other citizen to keep his medical records private, while just 38 percent believed a president should publicly release all medical information that might affect his ability to serve his term. That conviction was shared largely across party lines, with 57 percent of Democrats, 65 percent of Republicans and 60 percent of independents saying that a president had the right to keep medical records private.
A similar question on the HuffPost/YouGov poll garnered very different results, underscoring the degree to which Republicans especially have seized on the issue, but also indicating a more widespread shift in expectations for transparency.
Fifty-seven percent of Americans said that a presidential candidate should publicly release all medical information that might affect his or her ability to serve his term as president, while just 34 percent believed that a presidential candidate should have the same right as every other citizen to keep his or her medical records private.
Democrats were about evenly split between the two positions, while large majorities of both Republicans and independents said they favored greater transparency. Similarly, 87 percent of Republicans, but a comparably small 52 percent of Democrats, said it was fair for the media to question a candidate's health.
While it's clear that concerns about Clinton's health have become more prominent, it's less certain to what extent those concerns will affect the race.
"The most likely outcome, of course, is that Democrats and others who are inclined to vote for Mrs. Clinton will stick with her," political scientist Brendan Nyhan wrote Tuesday in The New York Times. He noted that past elections have shown that concerns about older candidates' health came largely from voters who opposed them. "However, a modern precedent does exist for serious concerns about a candidate's age and health. Ronald Reagan's meandering closing statement in the first presidential debate during the 1984 campaign was widely perceived to have harmed him….For Mrs. Clinton, then, the goal is to quickly reassure voters, as Mr. Reagan appeared to do back in 1984, that she is in good health."
One possible effect of an increased focus on the candidates' health could be to raise the profile of their vice presidential nominees ― a prospect raised inadvertently by former Ohio Gov. Ted Strickland (D), who said during a rally that Kaine was "a wonderfully prepared person to be vice president, and to be the president if that ever became necessary."
On that measure, neither side holds much of an advantage. Thirty-two percent of Americans believe Kaine is qualified to serve as president, with 27 percent saying that he is not and 41 percent unsure. GOP pick Mike Pence fared almost identically, with 34 percent calling him qualified, 27 percent calling him unqualified and 40 percent not sure.
The HuffPost/YouGov poll consisted of 1,000 completed interviews conducted Sept. 12-Sept. 14 among U.S. adults, using a sample selected from YouGov's opt-in online panel to match the demographics and other characteristics of the adult U.S. population.
The Huffington Post has teamed up with YouGov to conduct daily opinion polls.You can learn more about this project and take part in YouGov's nationally representative opinion polling. Data from all HuffPost/YouGov polls can be found here. More details on the polls' methodology are available here.
Most surveys report a margin of error that represents some, but not all, potential survey errors. YouGov's reports include a model-based margin of error, which rests on a specific set of statistical assumptions about the selected sample, rather than the standard methodology for random probability sampling. If these assumptions are wrong, the model-based margin of error may also be inaccurate. Click here for a more detailed explanation of the model-based margin of error.
Popular in the Community