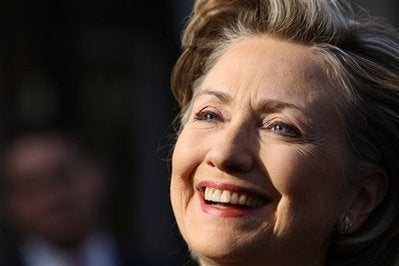 President-elect Barack Obama offered Sen. Hillary Clinton the position of Secretary of State during their meeting Thursday in Chicago, according to two senior Democratic officials. She requested time to consider the offer, the officials said.
Multiple reports have indicated that Clinton was under serious consideration for the nation's top diplomatic post, in addition to Massachusetts Sen. John Kerry and Chuck Hagel, the Republican Senator from Nebraska.
A longtime aide to the New York Senator argued to the Huffington Post that there are strong reasons why Obama would be inclined to make the post worth Clinton's time.
"She is a beloved figure around the world. She has visited over 80 countries, as first lady and senator together," the aide told the Huffington Post. Noting the fact that Clinton learned as first lady how to be effective as a "backdoor diplomat," the former White House assistant said Clinton mastered "a lot of the intricacies of these issues before ever joining the Senate's Armed Services committee. She's tough; she had meetings with some Prime Ministers and Presidents where she had to deliver some blunt messages for us."
The offer shows that the Obama team is, in fact, serious about bringing all types of political officials -- former foes included -- into its governing tent. During the Democratic primary, Clinton was often accused by aides to Obama of inflating or over-dramatizing her foreign policy experience.
As for Clinton, the Secretary of State post offers her tremendous responsibilities as well as a national platform from which, theoretically, she could launch a second White House run. But it also takes her away from the domestic issues, like health care reform, that she seemed poised to tackle as one of the Senate's leading Democrats.
Speaking at a transit industry conference in New York on Friday, the New York Democrat mocked the interest in her whereabouts but did not deny the speculation. Watch:
"I have to start by saying I'm very happy there is so much press attention and interest in transit, especially guesses about my own. But on the off chance that you're not here for this important issue, and are here for some other reason, let me just say that I'm not going to speculate or address anything about the president-elect's incoming administration, and I'm going to respect his process, and any inquiries should be directed to his transition team."
Popular in the Community