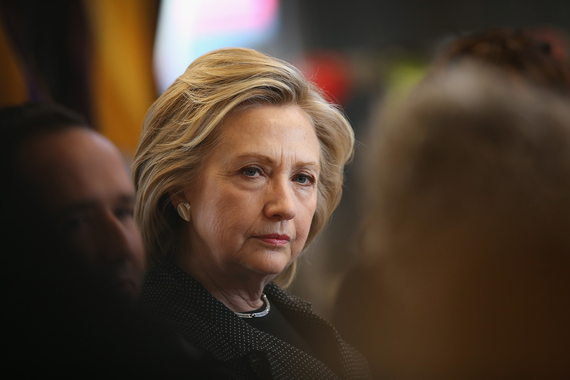 We know the mainstream media thinks that Secretary Clinton releasing transcripts of all her speeches to Wall Street is a legitimate -- and indeed significant -- campaign issue.
And we know that Hillary Clinton acknowledges the importance of the issue as well, as in responding to Bash's questions during the Brooklyn debate she didn't say her views on Wall Street speculation are irrelevant, nor that she would never release the transcripts that codified her beliefs on such speculation.
In fact, she said quite the opposite -- she made a promise to the American people to release those transcripts once a specific prerequisite had been met.
Not much nuance in that statement.
It means that when all Wall Street speeches given by all presidential candidates have been released, Americans will be able to find out, once and for all, what the candidate most likely to become President (81 percent chance) actually believes about the topic Americans consider far and away the most important.
Neither of the two remaining candidates for President not named Clinton have given any speeches to Wall Street.
Naturally, the media (still) agrees.
Surely the media that was so keen on this topic less than three weeks ago has been knocking down Clinton's door to get this information the American people are so invested in?
They haven't even tapped on that door.
Not a single question about the speeches has been asked to Secretary Clinton in the past two weeks, nor did the end of the Ted Cruz and John Kasich presidential campaigns -- which immediately triggered the release of Clinton's Wall Street speeches, per her own publicly declared standard -- cause anyone in the massive apparatus of our nation's Fourth Estate to start doing their job on this topic.
So the question becomes, outside of a single columnist on The Huffington Post, who in the mainstream media is going to be the first to demand that Secretary Clinton live up to her commitments and prove herself as honest as she says she is?
Is knowing what a candidate believes and says in speeches to large groups not a part of the job interview for Most Powerful Person on Earth? Since when?
Seth Abramson is the Series Editor for Best American Experimental Writing (Wesleyan University) and the author, most recently, of DATA (BlazeVOX, 2016).
Support HuffPost
The Stakes Have Never Been Higher
Popular in the Community