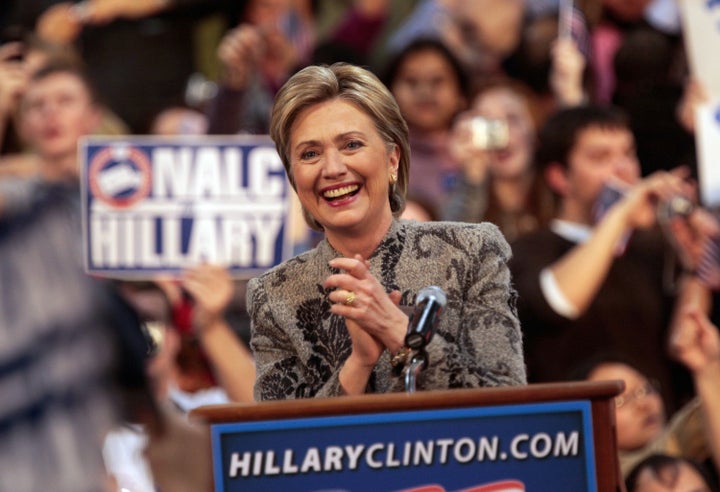 MANCHESTER, N.H. -- Hillary Clinton finds herself in a familiar place Tuesday morning, the day that New Hampshire voters finally choose who should be their party's prospective nominees for president.
She is down by a significant margin, and once more facing an opponent with more swagger and youthful appeal.
This was Clinton's lot back in 2008 too. Coming off a third-place finish in the Iowa caucus that year, she was careening towards a truly disastrous second-place finish in New Hampshire. (I, for one, chose to follow around Barack Obama on primary day, telling an editor, "I want to see a winner.")
But then the tide shifted, and Clinton unexpectedly won. The Democratic primary would go on for months.
A repeat of that miraculous victory doesn't seem likely Tuesday night, with Clinton facing an even greater polling deficit this year to Sen. Bernie Sanders (I-Vt.). But it's still informative to look back at that moment in January 2008, if only to fully understand how unpredictable this whole process can be.
Clinton's aides at the time recalled feeling nothing but sheer doom the morning of Jan. 8, 2008. Days before, they had flown from Iowa with what Glenn Thrush, a reporter now with Politico, called karma "as bad as anything" he'd ever seen.
When they took stock of the situation the next morning, it looked bleak.
Patti Solis Doyle, Clinton's campaign manager at the time
I had to go back to Ballston [Virginia] to rev up the troops at headquarters because they were miserable and to figure out what we are doing in South Carolina and Nevada to make sure we are OK there, and then to fly back to New Hampshire to do whatever I had to do there.

The next morning, Hillary had a full campaign day ... and the staff on the ground -- our people in New Hampshire -- were like, 'We are going to try and hit as many people as we can. We got to get our voters out. Just go from event to event, speak, shake some hands, and get out.'

And she calls me up and she's like, 'There is no way I'm doing that. I'm staying. I'm going to answer questions and I'm going to answer every question there is.' And that's what she did. She said, 'I'm not listening to the staff.' And I said, 'OK, don't listen to the staff.'
In Doyle's telling, Clinton had found a message, or at least an image. She was "fighting back" against expectations that the race was over and assumptions that her candidacy was a flop. The question was: Would it catch on in time?
Guy Cecil, Clinton's national political and field director at the time
I think the whole week was a bit of a whirlwind. On one hand, we saw the public polls, which were pretty consistently telling us we were down and even our own poling internally showed us dropping significantly after Iowa. ... But on the other hand, when we were getting back reports from the field about our hard commits to Hillary, we weren't seeing the drop. It was very difficult to reconcile those two things.
As Clinton was barnstorming around New Hampshire, Obama was drawing tremendous crowds. Thrush recalled how reporters who had been following her in Iowa basically bolted to catch a glimpse of the phenomenon that was the other campaign. Things crested when Clinton appeared to break down in tears during a campaign spot in Portsmouth.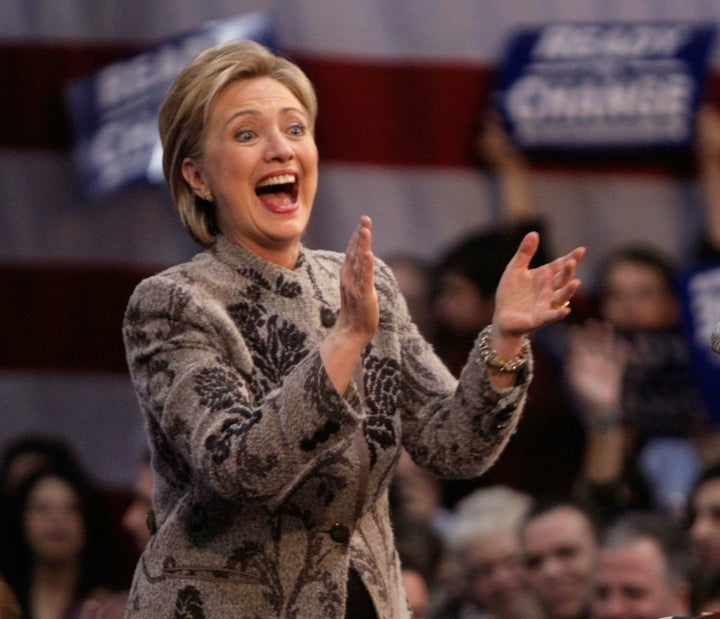 A former Clinton aide, who would only talk about '08 anonymously
The day she cried, we were all in the room together. Someone called and said we need to put the TV on. No one knew how to interpret it. At first people were like, 'Shit, it couldn't have gotten any worse and it just did.' Others said it shows a human side. ... Everyone then saw the reaction on the local news. I don't think people thought it would be a game-changer. But the initial reaction was replaced with, 'OK, this isn't the end of the world, but we are still gonna lose.'
By the day of the primary, no one on staff assumed a victory was likely.
Judd Legum, Clinton's research director at the time
I remember that day clearly. Hillary and the senior staff were holed up in the hotel suite as the election returns were coming in, and I was somehow important enough to be at this hotel but not important enough to be in the suite with anyone else. There was a room in the basement they had rented and outfitted with TVs and snacks, but I was the only person in the room because everyone else was up in the suite.

I had my laptop out. And it was not a good feeling. I personally felt that we were not going to win. And I remember one of the advance people came down and there was like, 'Judd, do you want a credential for the victory party?' And I was like, thinking: Oh man, this is not going to be much of a party.
As the results came in, they showed Clinton actually with a small lead. Crunching the data back at the campaign headquarters, Cecil thought the sampling was too small to be bullish. But then a second batch came in from around the state, and a third.
The room understands what is happening, but no one is willing to say it. It just seemed like that was not possible. After the fourth round, Nick Clemons [Clinton's New Hampshire state director] walks with me out of the room and we both sort of whisper -- and there is no one else around -- 'I think we are going to win.' But we decide not to discuss it in the room.
Twenty minutes later, it's become clear that Clinton could win. Suddenly, sullen aides begin reassessing the shitty hand that they felt they'd been dealt.
Patrick H. Hays, former mayor of North Little Rock, Arkansas, and longtime Clinton supporter
That night when we were watching the results come in, I had folks that were really pessimistic and I kept saying, 'Well, when is she gonna go behind? When is she gonna go behind?' And this was through the night. And, of course, she never did get behind.
Phil Singer, a top Clinton spokesman at the time
We hadn't heard any exit polls, and a bunch of us went to get a beer. We are sitting at a bar and I got a call from your colleagues in the press. And they said, 'Have you seen these exit polls?'

'Nah, how bad is it?'

And they were like, 'No, you're actually doing well.' We kept drinking for a little bit and got more info and the staff were like, 'Let's get our asses to the party.'
Shortly after Clemons and Cecil whispered about the possibility of an upset, former President Bill Clinton called Clemons to ask if there was an actual chance. Clemons told him there was. "It was the first time it was said out loud," said Cecil. About 45 minutes later, the Associated Press called it for Clinton.
It was like being at death's door and getting the call from the governor and getting a reprieve.
The atmosphere was amazing. Everyone had just been beaten down for so long and now ... it felt like it may actually work, like it was not the end of the world. The emotional switch was so dramatic in such a short period of time.
Clinton staffers weren't the only ones experiencing a dramatic mood change. A number of Democrats who had descended on New Hampshire abruptly altered their plans for that evening.
Bob Mulholland, a longtime DNC member from California
I was looking at going to [Obama's victory party] because I was close. And then I saw some of the initial exit polls and I talked to some people on the inside and I immediately sped over to her event and got in there just in time.

Inside, it was shock! Surprise. People were thinking: Are these numbers real?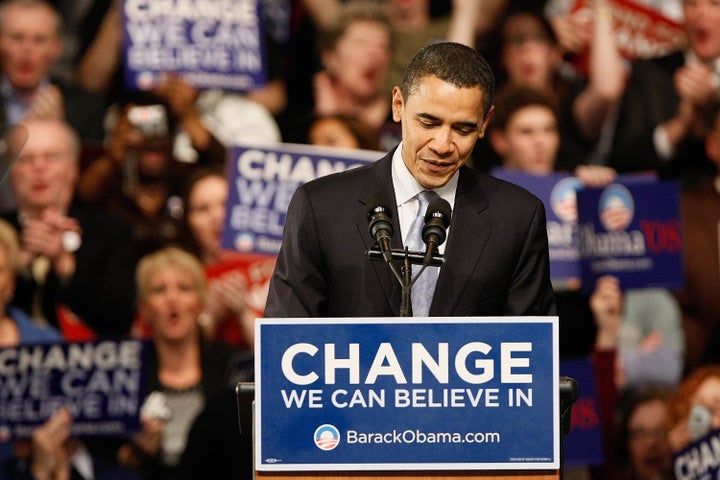 At the Obama event, a different type of shock was setting in.
Ben LaBolt, Obama's New Hampshire press secretary at the time
I got a call from [Obama's communications aide] Bill Burton, who said, 'You are not going to want to be [sitting out with the press] anymore. We've lost. The college towns are not still out. You're not gonna wanna be out there.'
Inside the Southern New Hampshire University gymnasium in Manchester, Clinton's crowd was delirious, drowning her out in wild applause as she took the stage.
"I listened to you," she declared. "And in the process, I found my own voice." The campaign staff watched from backstage.
I think this was the first victory party that I ever went to. For some reason I just felt like I had to be there.

It was probably the biggest high of the election. And of all the elections I've worked on, it was probably the single most exciting night.
A few days later, however, reality set back in. Senior staff gathered around a table in Ballston to assess the state of the campaign. And Harold Ickes, the Clintons' longtime adviser, presented them with stunning data. Their bad loss in Iowa and upset win in New Hampshire had come at a price. They'd spent virtually all of the $100 million they had raised.
"The cupboard is empty," Ickes said.