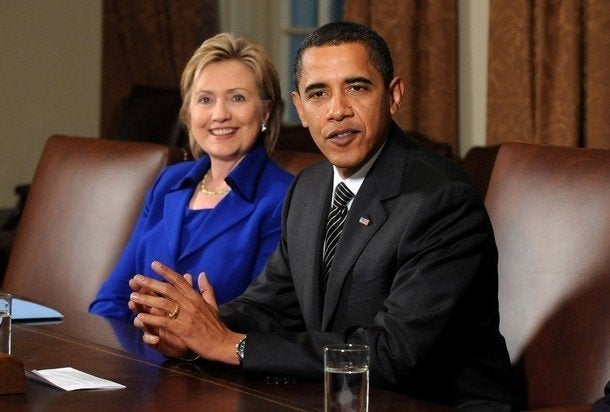 RALEIGH, N.C. -- Bill Clinton said Monday that President Barack Obama has a chance to develop a universal health care system because he is free to spend money and political capital, luxuries the Democratic predecessor claims he didn't have.
The former president told a university audience he couldn't push through a health program for all Americans on his watch in the 1990s because of several constraints, including an uncooperative Congress. Clinton's thwarted effort was largely led by his wife, Hillary Rodham Clinton, now Obama's secretary of state.
Together, the Clintons privately built their health plan early in his administration with little input from congressional leaders, only to encounter vehement opposition once they did submit it to lawmakers.
But Clinton said in the speech at North Carolina State University that Obama no longer has any major shoals to navigate and argued that the economic crisis may be positioning the new president to spend the money to develop such a system.
"Frankly, we're spending like crazy so there's no concern about the deficit for the next two three years," Clinton said, his glasses sitting at the end of his nose. "That's one of the good news is that we can do health care now because we have to grow the economy. We must do it. That's a good thing."
Clinton gave high marks to Obama's job so far, praising him for his staff choices and transition work. And he asked the American people to give the new Democratic leader a chance to work through economic problems.
"These are thorny, difficult and challenging problems. The goalposts keep getting moved in this financial crisis," Clinton said while fielding a question from reporters after the event. "A lot of damage has already been done, and we need to give them time to work through it."
The former president also expressed concern about what he deemed "an unstable world" - both in terms of economics and conflicts. He implored listeners to devise solutions for problems such as the environment, economic inequality and education, and he said the world needs to adjust to an "interdependent" society in which all countries and peoples rise and fall together.
As an example, he cited the conflict in Israel - highlighting an issue sure to top his wife's agenda as the new U.S. secretary of state.
Clinton said that while Israel began the military operation with plenty of outside support, that support waned as civilians were caught in the crossfire. And while he said Israel has the right to defend itself from attacks, he believes something needs to be done about Palestinian refugee camps that only exacerbate the region's inequality.
"Divorce is not an option. That's all interdependence means," Clinton said. "They still share the same little piece of land. Their futures our bound up together for good or ill."
Clinton began his day in Raleigh by headlining a fundraiser for State Sen. Julia Boseman. After the event, Clinton attended a lunch fundraiser for western North Carolina Rep. Heath Shuler.
Clinton and Shuler have been building a relationship since Clinton reached out to the former NFL quarterback as Democrats recruited him to run for Congress in the 2006 election.
In 2008, Shuler endorsed Clinton's wife in her White House bid. He did so after she won the primary in his district.
Copyright 2009 by The Associated Press. All rights reserved. This material may not be published, broadcast, rewritten or redistributed.
Popular in the Community