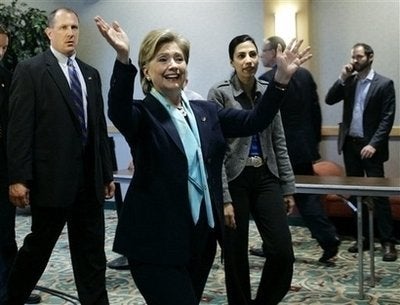 Hillary Clinton's campaign is putting most of its remaining chips down on South Dakota, which votes on June 3, a source close to the Senator told The Huffington Post. In addition to a ramped up ad buy for this weekend, all available national field staff are reportedly en route to beef up the state office's get-out-the-vote effort.
An April poll conducted by the McGovern Center at Dakota Wesleyan University showed Sen. Barack Obama with a 46-34 advantage over Clinton, with undecideds in double digits. But with no further polls conducted since then, it's difficult to know whether the ground has shifted. Evan Tracey, COO of the Campaign Media Analysis Group, confirms that Clinton's presence on TV airwaves has bumped up steadily this week, after first going on the air in the state on May 20. Obama, by contrast, has been broadcasting since April. But TV only gets you so far in a low-media state like South Dakota, Tracey said, which is why on the ground troops will be critical.
On that score, Clinton may be able to tap a trove of passionate supporters from the state's Indian reservations. Her speech at Pine Ridge on Wednesday was well received among Native Americans, according to Oglala Lakota Tribe member and local journalist Tim Giago, who noted that Indian reservations have proved the difference in recent close races such as Sen. Tim Johnson's 2002 squeaker. Any chance Clinton may have to upturn the conventional wisdom -- as well as to embarrass the state's most prominent Obama backer, former Sen. Tom Daschle -- may reside on a combined late-stage surge by ground and air.
REAL LIFE. REAL NEWS. REAL VOICES.
Help us tell more of the stories that matter from voices that too often remain unheard.