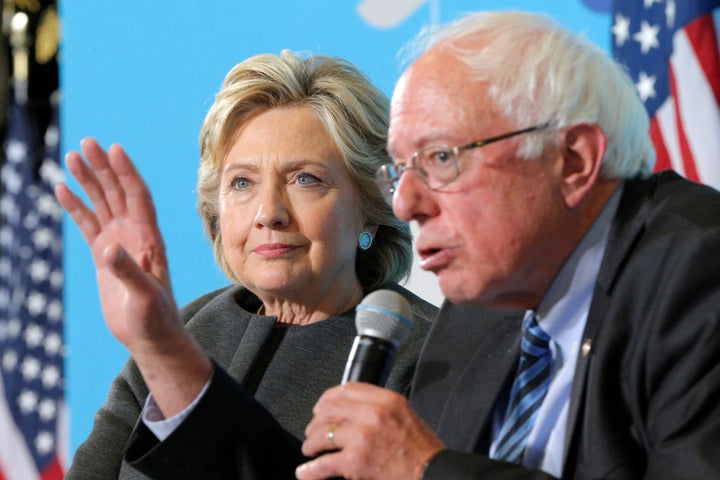 Lilian Adams and Zoey Jordan Salsbury were teenagers when they started working on opposite sides of the 2016 Democratic presidential primary. Adams, then 19, joined Hillary Clinton's campaign and Salsbury, then 18, joined Sen. Bernie Sanders' campaign. They were ready to make the world a better place by helping to elect their candidate.
But each woman says she was sexually harassed by a fellow campaign worker — and that both campaigns were ill-equipped to address the allegations. Their stories show how political campaigns can prey on the same young people who power them with their work and energy.
Even as Adams and Salsbury came forward to tell their stories, each requested that her alleged harasser not be named, citing safety and professional concerns.
In Clinton's Campaign
Adams signed on to the Clinton campaign as an intern at its Brooklyn, New York, headquarters in October 2015. She wore many hats: "I was on the digital organizer team and an assistant to the digital director, the deputy digital director, the chief digital officer and the [chief technical officer]," she said.
Seven months later, in May 2016, she relocated to Colorado to work with the state Democratic Party and the Clinton campaign as a paid organizer. Her job connected the two, promoting the former secretary of state and other Democrats on the state's ballot. It was in the Colorado office that Adams said she faced harassment from a fellow organizer.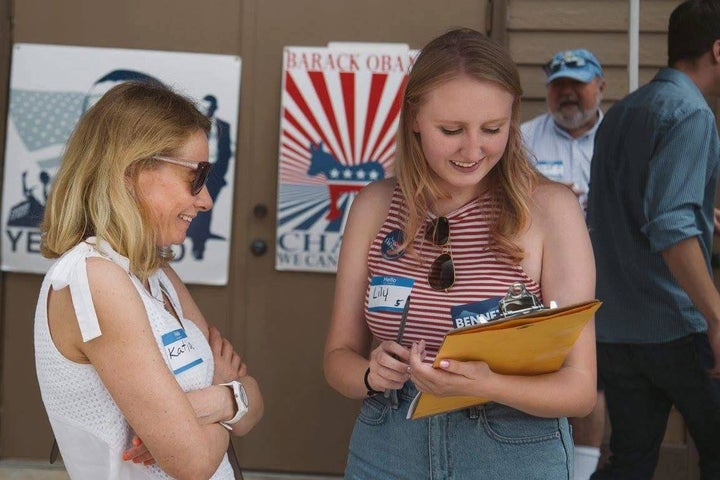 Adams said she dealt with this harassment for months and mentioned it to a superior as early as June. The abuse began as homophobic remarks — Adams felt targeted, she said, because the man knew she was bisexual — and escalated from there. "He made multiple comments about my body, told people we were dating, would constantly try to get me to drink (I was 19), try to force me into situations where we were alone, encouraged me not to wear bras, etc.," Adams said.
HuffPost reached out for comment from the individual accused of harassment but received no reply. A person Adams confided in at the time, speaking on background, confirmed her account.
By August, Adams said she'd lost hope that the harassment would end or that her harasser would finally back away because she wasn't interested in him. She again reached out to her superiors and asked them to take action. The campaign fired her harasser shortly thereafter. In text messages between Adams and one of her superiors, which were reviewed by HuffPost, they both expressed relief that the problem was over.
But even after her abuser was fired, his work with the party — and the campaign — wasn't over. In October 2016, Adams said she discovered to her astonishment that he had been rehired the previous month to work on the campaign with a different state party. "So he was technically fired but still ended up working for Hillary via the [other state] Democratic Party," said Adams.
It was a disappointing turn of events, and one that left Adams deeply disillusioned. "You have a lot of young passionate people who want to help change the world through Democratic politics," she said. "Older Democratic operatives see this passion and exploit it, putting us in an extremely stressful and unhealthy work environment."
A member of the Clinton camp, speaking on the condition of anonymity, said the national campaign had no involvement in Adams' abuser being hired in the other state. The official told HuffPost that it was impossible the campaign would have okayed the hire, given that the abuser was fired for sexual harassment and his name would have surfaced in its job records.
Nick Merrill, who had been a spokesman for the campaign, told HuffPost that the allegations in Colorado were met with swift action.
"Making clear that such incidents will not be tolerated means not only preventing them in the first place, but dealing with them appropriately," Merrill said in a statement. "That's why, when the matter was brought to the attention of the campaign, the employee who committed that act was immediately terminated."
Merrill added that the accused was aware of the potential consequences for his behavior.
"Every employee on the campaign had to undergo orientation that included sexual harassment training," Merrill said, "and that was the case here."
In October 2015, Salsbury became president of American University Students for Bernie, a volunteer position. Her main point of contact in the Vermont senator's campaign was an intern, another college student in Washington, D.C. When he made unwanted advances toward her, Salsbury said she didn't know where to turn because the campaign had no internal infrastructure to deal with such issues ― at least involving volunteers.
The person Salsbury identified as her harasser did not respond to a request for comment. But her account was confirmed by her friend Colin Moir, a fellow member of the American University group. "He had been harassing her sexually," said Moir, adding that Salsbury "was not able to speak to somebody higher up and report it."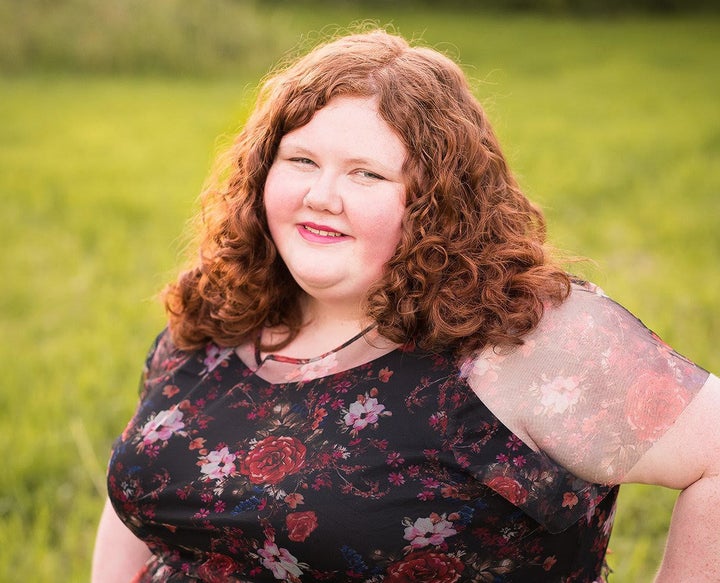 Like Adams, Salsbury felt helpless to stop the harassment. There was no culture of accountability in the D.C. office of the Sanders campaign, she said, and she didn't think people would listen to a young volunteer. It was "a culture that didn't discuss office policies with volunteers or make it clear that harassment wasn't tolerated," said Salsbury.
Salsbury did hear from the Sanders campaign after she posted about the incident this month on social media. A former digital media manager reached out to her this past weekend, she said, and on Monday, a Seattle-based lawyer named Bernice Johnson Blessing called her on behalf of the campaign. "It firmly felt like the kind of call you make when you're trying to feel out if someone has the interest and/or standing to bring a lawsuit," said Salsbury.
The conversation with the lawyer made her uncomfortable. "It felt like I was being blamed," she said. She suspects that Sanders plans to run for president again in 2020 and "they're afraid of me being a roadblock to that." Blessing did not return a request for comment.
Salsbury's account isn't the first allegation of a toxic workplace in the Sanders campaign.
Earlier this year, as he was running unsuccessfully for Congress in California's 34th District, Arturo Carmona battled accusations of sexism and mistreatment of staff from when he was deputy political director in the Sanders campaign. Among the allegations was a charge by the campaign's former national Latino outreach strategist, Masha Mendieta, that Carmona had "covered up" an accusation of sexual harassment made against a volunteer surrogate in Nevada. Carmona didn't take the allegations seriously, Mendieta wrote in a Medium post.
"Arturo and his deputy went out drinking that night, didn't pay it another thought, and the next morning assigned two young female interns to the same surrogate we just reported," wrote Mendieta. "We objected vehemently and they reassigned them amidst great sighing."
Carmona "categorically" denied the allegations to the Los Angeles Times before the special election. He said, "I have always taken issues of harassment and equity in the workplace with the seriousness and sensitivity that they deserve."
In a statement to HuffPost, Sen. Sanders was adamant that he does "not tolerate sexual harassment" in his Senate office or on his campaigns. "It is critical we listen to those sharing their stories, recognize no workplace is immune from these problems, and address them in a serious manner," he added.
Sanders' office told HuffPost that while his presidential campaign employees and interns would have been provided with a handbook detailing the process for reporting harassment, volunteers were not given that information. It's a policy that they plan to change in the future.
'I Felt Taken Advantage Of'
Sexual harassment is a problem in every industry. But it's especially hard to fight in the world of presidential campaigns — giant enterprises that spring up in a matter of weeks and are laser-focused on a single goal: electing the candidate. The mental and emotional health of staffers is a secondary consideration, at best. As Adams' and Salsbury's cases illustrate, even the biggest campaigns have failed to set up and then truly promote the use of reporting structures to deal with harassment allegations. "A few people spoke to me within two days of his firing, but then it was never mentioned again," Adams recalled.
Despite her treatment, she doesn't blame Clinton. Adams still draws comfort from the woman she worked to get elected president. "When I criticize the Hillary campaign, I am not criticizing her," said Adams. "She was actually a source of inspiration during the hard days."
But the entire experience soured her on electoral politics. "I felt taken advantage of," she said, "and neglected."
CORRECTION: A previous version of this story misstated the campaign position of the person for whom Mendieta alleged Carmona had "covered up" an accusation of sexual harassment. The person was a volunteer surrogate, not a staff member.
UPDATE: This article has been updated with comments from a member of the Clinton camp, speaking under the condition of anonymity, and Nick Merrill, who had been a spokesman for Clinton's campaign.
Popular in the Community