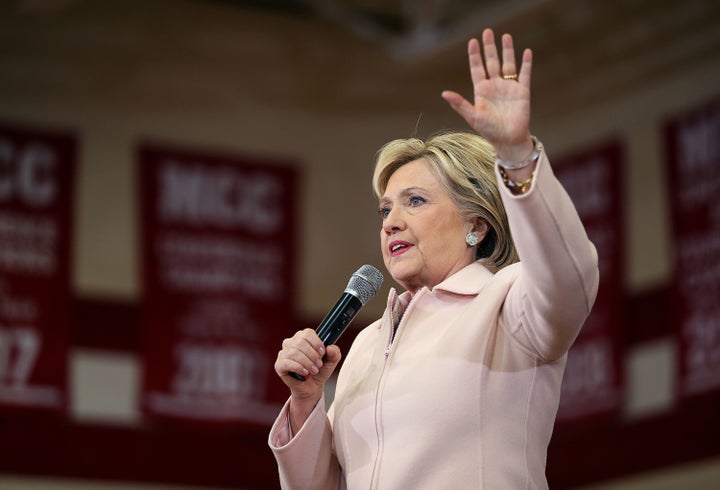 The Sanders and Clinton campaigns are on the verge of agreeing to four additional debates, but the details remain deeply contested.
The campaigns have reportedly agreed to a debate in New Hampshire this Thursday in advance of the Feb. 9 first-in-the-nation primary in the Granite State. The debate will be hosted by MSNBC and moderated by Rachel Maddow and Chuck Todd.
The campaigns are also considering three other debates in March, April and May. The specifics of those debates are not, in all cases, finalized. However, none will reportedly occur on a weekend or holiday, at the insistence of the Sanders campaign, according to MSNBC.
The deal for four other debates still has the potential to fall apart. The Sanders campaign indicated on Saturday that it would not agree to participate in any of them, including the one in New Hampshire Thursday, until it resolved its disagreement with the Clinton campaign over all of them.
"The DNC is facilitating the conversation and we are still discussing the where and when," a Clinton campaign official told The Huffington Post.
Even specific locations still appear to be the subject of wrangling. The Clinton campaign released a statement on Saturday calling for one of the debates to occur in Flint, Michigan, in order to help shine a light on the racial and economic inequality underlying a water crisis there that has elicited national outrage.
The Sanders campaign responded with a statement of its own claiming that it had originally proposed a debate in Michigan. The Sanders campaign did not offer additional details when asked if they had originally proposed Flint or another spot in Michigan for the debate.
What does appear to be clear is that both campaigns are now in agreement to do a debate somewhere in Michigan as well as another debate in California on May 24, as well as the one tentatively scheduled for New Hampshire this coming Thursday. The remaining holdup, according to Sanders' campaign manager Jeff Weaver, was whether Clinton would accept a request for a debate in Brooklyn, New York, on April 14. 
"Why won't they debate in Brooklyn? What's the matter with Brooklyn?" Weaver said in the statement.
Clinton's campaign headquarters are in Brooklyn. But the New York City borough, where Sanders was born and raised, is home to many young, progressive college graduates, who have provided much of the enthusiastic grassroots support for Sanders.
Podesta, the Clinton campaign chair, put out another statement Saturday evening noting they had agreed to Sanders' requests for three new debates in March, April and May, as well as the stipulation they not occur on weekends or holidays. He argued that the Sanders campaign was now engaging in obstructionism so as to have an excuse not to participate in the debate in New Hampshire on Thursday.
"Now they refuse to take yes for an answer, apparently because they are intent on avoiding a debate in New Hampshire. Enough of the games," Podesta said. "We are prepared to show up for a debate next Thursday and for three additional debates in the months ahead, which we can all work together to schedule. We hope Senator Sanders will be there too."
Podesta also claimed that the Sanders campaign had never responded to the Clinton campaign's suggestion of an additional debate in Flint, but said the Clinton campaign would be willing to settle for another location. Podesta's statement did not address the Sanders campaign's claims that they had proposed Michigan first, or their specific request for a debate in Brooklyn.
A request for comment made to the Clinton campaign was not returned. 
A spokesman for the campaign of former Maryland Gov. Martin O'Malley (D), the third candidate for the Democratic presidential nomination, said the campaign is not particular about the location of the new debates so long as they are not on a weekend, holiday or night when people are otherwise unlikely to tune in, such as during college basketball's March Madness tournament.
The intense bickering over the minute details of the debate schedule comes just days before the Iowa caucus and underscores the drama still remaining in the Democratic primary. Few people in the party thought that there would be a need for additional debates beyond the six already scheduled. Clinton's campaign, in fact, initially wanted fewer. 
But with the race tightening, the former secretary of state has dropped her reluctance for additional forums while Sanders' campaign has grown more picky over the schedule going forward.
The timing of the debates is not entirely up to the candidates, since the Democratic National Committee must find a way to make the logistics work.
"The DNC still has to get media sponsors so we can't just randomly pick dates," said a Democratic official with knowledge of the negotiations.
Up until recently, the DNC had continued to insist that it would not schedule more debates. And since they have the power to exclude candidates from future forums if they participated in an unsanctioned debate, officials at the committee held real sway. But on Saturday, the DNC was reportedly open to hosting four additional debates, though not officially on board with the proposal.
The Sanders campaign statement suggests that the campaigns aren't quite yet there, either. Even if they do reach an agreement, however, the number of debates held during this cycle will fall well short than what the party did in 2008, when there were over 20 Democratic face-offs.
UPDATE: Jan. 31 -- Sanders himself confirmed to CNN on Sunday that he is open to more debates. 
"To have those debates is something that I look forward to," he said. 
He suggested that the Clinton campaign proposed Thursday's New Hampshire debate because she trails him in the polls there, arguing that he has "always wanted more debates." 
As I understand it, this is what happened. You know, the DNC, without my input, without our campaign's input, announced six -- six debates. And then, suddenly, Secretary Clinton, because she may not be doing so well in New Hampshire, she wanted another debate. 

 

And I said, fine, you want another debate, that's great, but let's do at least three other debates in California. Let's do one in New York. Let's do one in Michigan. But, obviously, if you do one in Michigan, you want to do it before their primary, not after their primary. 

 

God knows, what's going on in Flint, Michigan, is an outrage beyond belief, a public health crisis. I don't have a problem with being in Flint, Michigan. Let's do it before their primary. So, let's work out the details. 

 

I have always wanted more debates. I think our message is resonating with the middle class and working families of this country. So, to have those debates is something that I look forward to.  
UPDATE: This story has been updated to include Sanders' comments on CNN.
PHOTO GALLERY
Scenes From Democratic Debate No. 2
Calling all HuffPost superfans!
Sign up for membership to become a founding member and help shape HuffPost's next chapter