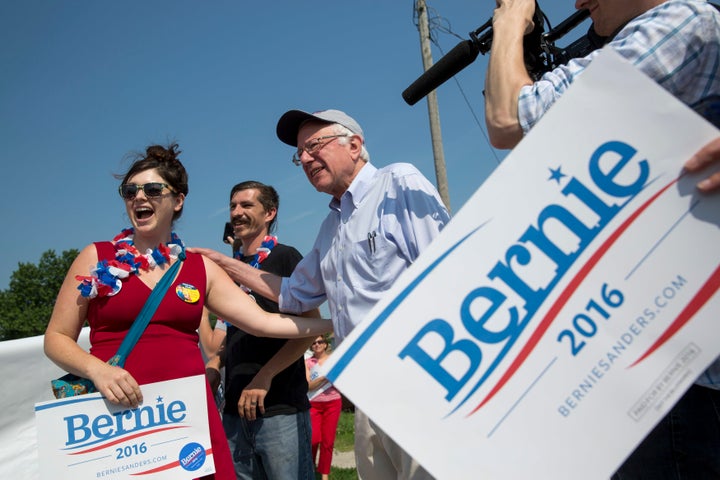 In sharper terms than usual, aides to Hillary Clinton warned Thursday that Democrats face a bloodbath in the general election should they choose Sen. Bernie Sanders (I-Vt.) as their nominee.
Speaking before reporters at a Bloomberg Politics breakfast, Clinton press secretary Brian Fallon carefully chose his words when discussing what would happen with Sanders atop the ticket. But underlying his remarks was a palpable sense of dread.
"A lot of Democrats up and down the line -- governors, U.S. senators, members of Congress -- have organically expressed worry about the prospect of sharing a ballot with Sen. Sanders. I think they have raised apt points," Fallon said. "Despite all of Sen. Sanders' ability to invoke general election polls, I don't think they tell the story at all in terms of what will actually be true in a general election context, if the hundreds of millions of dollars that the Republicans have on their side are all aimed in his direction."
Clinton's aides have long stressed that she would be a better general election choice for her party, owing to the battle scars she's already endured in her several decades of public service and the historic nature of her run. They have largely left the other side of that argument -- that Sanders would not be so viable -- for surrogates to make. And those surrogates have made them, with several warnings that Sanders' identification as a democratic socialist would be easy fodder for the GOP.  
"Here in the heartland, we like our politicians in the mainstream, and he is not -- he's a socialist," Missouri Gov. Jay Nixon (D) has said.
Fallon did not echo those concerns, and didn't even concede that McCaskill or Nixon had been speaking on behalf of the Clinton campaign -- he called their remarks "organic." But his comments on Thursday suggest that the campaign clearly thinks McCaskill's analysis is correct.
A lot of Democrats up and down the line ... have organically expressed worry about the prospect of sharing a ballot with Sen. Sanders.

Clinton spokesman Brian Fallon
Sanders' campaign has a ready response. And while it brushes aside the reality that he has not been subject to Republican attacks, it is steeped in polling data.
"Bernie is the candidate who will bring out more voters and when more people go to the polls, Democrats win," Sanders spokesman Michael Briggs said in an email. "He is the candidate who defeats Donald Trump and other Republicans in poll after poll by far greater margins than Secretary Clinton."
In many ways, the dispute over who would make the better general election candidate reflects the larger argument over respective governing styles. Briggs argues that Sanders can, indeed, help Democrats by bringing voters in from outside of politics -- Republican scare tactics be damned.
"He is the candidate who has drawn much bigger crowds and has generated the kind of excitement and enthusiasm, especially among the young people, that Democrats need in order to retain the White House, win back a majority in the Senate and pick up seats in the House and statehouses all over the country," Briggs said.
On the flip side, the Clinton campaign contends that a politician who has spent his life identifying as a socialist may not in fact be welcomed by Democrats in more moderate parts of the country, let alone have the capacity or wherewithal to help them in an election.
"Last fall, Secretary Clinton and President Clinton were out on the stump constantly for a few months," Clinton's campaign manager Robby Mook said at Thursday's breakfast. "I really mean this, I don't know how much Sen. Sanders was out there helping Democratic candidates, but that is part of the question we need to ask him. Sen. Sanders has never had to live in that reality. He has never had to go to bat for other candidates before."
REAL LIFE. REAL NEWS. REAL VOICES.
Help us tell more of the stories that matter from voices that too often remain unheard.