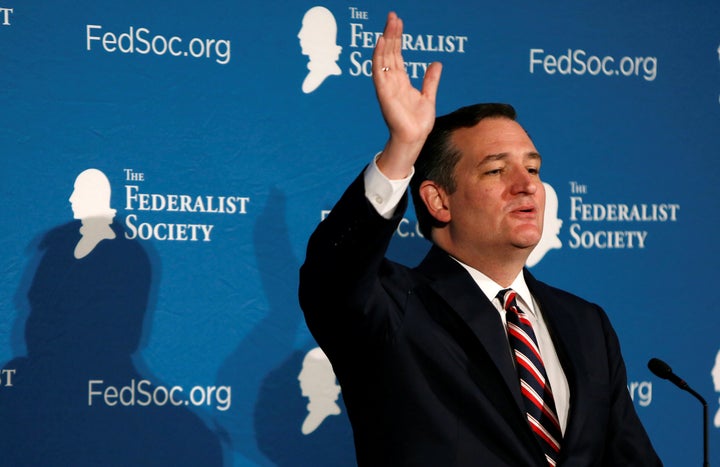 Within the confines of the Democratic Party's vast and amorphous universe of "strategists" and "operatives," theories about the dangers of an imminent Donald Trump nomination have shifted.
A month ago, he was a nonconventional pol with emotional appeal to struggling working-class white voters in the Rust Belt, someone who could put traditionally Democratic states into play. As Trump's self-inflicted injuries have piled up, the anxiety has softened. Increasingly, Democrats see him less as a threat and more as an anchor they could tie around the neck of the Republican Party.
On Wednesday morning, former Secretary of State Hillary Clinton did just that. In an interview with Politico's Glenn Thrush, she twice made the case that Trump wasn't wholly different from the rest of the GOP but, rather, the most evocative, noxious incarnation of its platform and approach to governance. In each case, she made the point to tie Trump to Sen. Ted Cruz (R-Texas).
This wasn't some ingenious strategic adjustment on Clinton's part. Cruz is the most likely to gain from Trump's fall -- a legitimate threat who could win the nomination at a contested convention. Others outside the campaign, most notably Clinton's mysterious henchman David Brock, have long been preparing for a Cruz nomination. Still, it's clear that a shift is now underway to define Cruz as, basically, Trumpian -- the Bud Light Lime to Trump's Bud Light, if you will.
On Wednesday, the morning after Cruz scored a big victory in the Wisconsin primary, two Clinton-backing groups -- the super PAC Priorities USA and the pro-abortion rights organization Planned Parenthood Votes -- debuted a new digital ad making the case that Cruz and Trump were reading from the same script when it came to abortion policy.
The spot reaches a bit. Unlike Trump, Cruz has never called for punishing women who get abortions (a policy that Trump quickly disavowed after it blew up in his face). But the timing of the ad is what's most telling.
The two groups had been running a digital ad campaign for the past week that has been targeting only Trump. They're replacing that spot with this one as part of the five-figure campaign that has been running on Facebook and Instagram in Florida and Ohio.
According to an official with Priorities USA, over the first week, the ad has received more than 550,000 total views. The updated Cruz-Trump version will be running for another week.
Calling all HuffPost superfans!
Sign up for membership to become a founding member and help shape HuffPost's next chapter