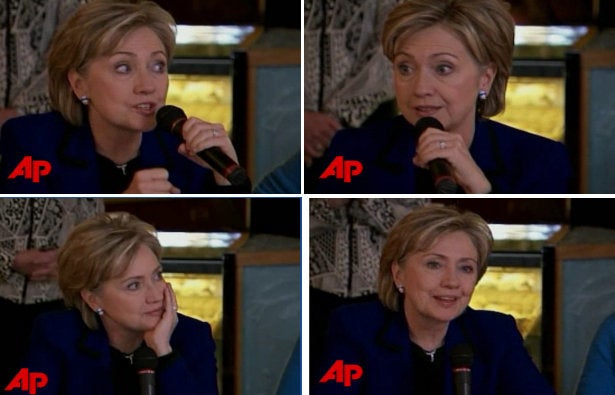 Hillary Clinton also agreed that choking up helped her campaign in New Hampshire:

Clinton attributed her win in part to her success late in the race in telling voters why she's in public life, a reference to her choking up when a voter asked her how she was faring. Asked whether that was a turnaround for her, she said, "I think it could well have been.
The media agrees with her. Below are a number of articles and columns on what Hilary's emotions did for her campaign.
Senator Hillary Rodham Clinton of New York rode a wave of female support to a surprise victory over Senator Barack Obama in the New Hampshire Democratic primary on Tuesday night. In the Republican primary, Senator John McCain of Arizona revived his presidential bid with a Lazarus-like victory....

...Several New Hampshire women, some of them undecided until Tuesday, said that a galvanizing moment for them had been Mrs. Clinton's unusual display of emotion on Monday as she described the pressures of the race and her goals for the nation -- a moment Mrs. Clinton herself acknowledged as a breakthrough.

But none of endemic New Hampshire Clinton advantages would have delivered victory were it not for Hillary -- either through desperation or exhaustion -- finally letting down her guard and showing her human side.

Several columnists have also alluded Hillary's emotional moment as one of the reasons for her her win.
Conservative columnist Bill Kristol said, "It's the tears. She pretended to cry, the women felt sorry for her, and she won."
Maureen Dowd writes a column today about how Hillary's emotions affected her campaign.
Read and watch the original crying indicident on Monday and how Hillary's Democratic rival John Edwards reacted.