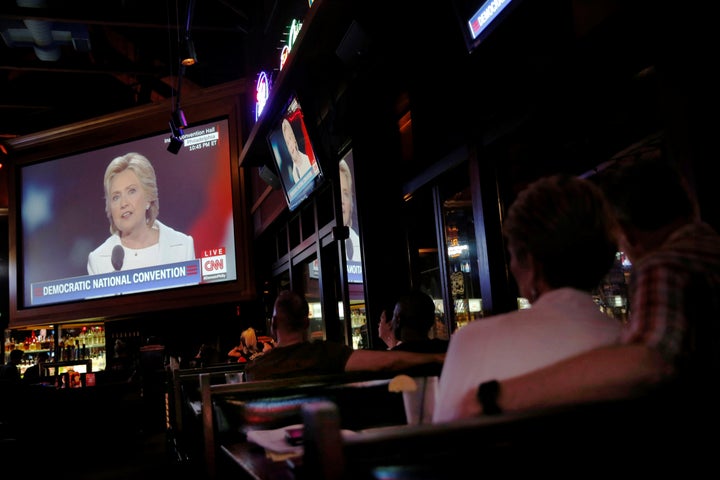 Hillary Clinton's massive lead over Donald Trump on ad spending hasn't gone unnoticed by the American public.
Forty-seven percent of Americans polled in a new HuffPost/YouGov survey say that they've seen more ads from Clinton during the last month than they have from Trump. Just 7 percent say they've seen more Trump ads. Another 24 percent say they've seen an equal number for each candidate, while 15 percent haven't seen any commercials and 7 percent are unsure.
People's self-reported recollections aren't exactly perfect, and some will mistakenly report having seen ads that they couldn't possibly have watched. In one study, 17 percent of people told pollsters that they remembered seeing a commercial that had never actually been played for them.
But lending credence to the results is the lack of partisan split you'd expect to see if people on either side were trying to prop up their own party with their responses. Fifty percent of Republicans, and a nearly identical 53 percent of Democrats, say they've seen more ads from Clinton.
And, more importantly, the public's impression that Clinton is outgunning Trump on the airwaves matches up with the numbers. Clinton's campaign has outspent Trump's campaign by a 17-to-1 margin, NBC News reported earlier this week, and even with outside groups supporting both candidates factored in, the Democrats retain a 6-to-1 advantage.
"We haven't seen a modern presidential campaign that is so lopsided in terms of advertising," wrote Erika Franklin Fowler, the co-director of the Wesleyan Media Project.
Recent history offers little precedent for exactly how much that imbalance is likely to affect Trump, whose campaign voters increasingly perceive as being poorly run.
"The evidence suggests that campaign ads have small effects that decay rapidly — very rapidly — but just enough of the impact accumulates to make running more advertising than your opponent seem a necessity," political scientist Lynn Vavreck wrote in June. "It sets off an arms race of ads as candidates try to neutralize or displace their opponents. But will the 2016 general election be different? Mr. Trump has used unconventional campaign tactics and has relied on free media to get his messages out. All of this may render advertising less relevant."
Although Trump is losing on ad spending, he's still getting plenty of airtime and ink. By a 27-point margin, 40 percent to 13 percent, Americans say they've seen more news stories about Trump than Clinton in the past month, with 38 percent reporting hearing equally about both.
"I have a little TV in my office. If I put it on right now, I have a 75 percent chance of seeing him," Jordan Cohen, the chief marketing officer for the digital marketing firm Fluent, told The Wall Street Journal.
Perhaps as a result, Trump also comes up more in Americans' conversations: Twenty-nine percent say they spend more time talking about him, while 13 percent spend more time talking about Clinton. A 53 percent majority spend equal time talking about both candidates, or try to eschew mentioning either candidate.
The poll finds less clear of a disparity in other forms of messaging. While Trump has an 8-point edge over Clinton on the number of posts Americans have seen from him on Twitter and Facebook during the last month, 52 percent of respondents say they've seen equal postings from both candidates or none at all.

Roughly equal percentages of Americans also reported being contacted by each campaign. Ten percent said they'd heard from Clinton's campaign, 11 percent said they'd heard from Trump's, 4 percent said they'd heard from both, and 69 percent said they hadn't heard from either.
The HuffPost/YouGov poll consisted of 1,000 completed interviews conducted Aug. 23-25 among U.S. adults, using a sample selected from YouGov's opt-in online panel to match the demographics and other characteristics of the adult U.S. population.
The Huffington Post has teamed up with YouGov to conduct daily opinion polls.You can learn more about this project and take part in YouGov's nationally representative opinion polling. Data from all HuffPost/YouGov polls can be found here. More details on the polls' methodology are available here.
Most surveys report a margin of error that represents some, but not all, potential survey errors. YouGov's reports include a model-based margin of error, which rests on a specific set of statistical assumptions about the selected sample, rather than the standard methodology for random probability sampling. If these assumptions are wrong, the model-based margin of error may also be inaccurate. Click here for a more detailed explanation of the model-based margin of error.
Popular in the Community