Poles apart. Night and day. Those are the easiest ways to sum up where Hillary Clinton and Donald Trump stand on environmental issues.
To highlight the stark difference between the Democratic and Republican nominees on such issues, Yale Environment 360, an online publication of Yale University's School of Forestry & Environmental Studies, has created a simple and telling infographic.
Katherine Bagley, one of its creators, told The Huffington Post that the goal was to "create a guide that Americans can easily reference as they prepare to enter the voting booth this November."
"One candidate believes climate change is happening, the other denies that it is," Bagley wrote in an email. "One wants to shift away from fossil fuels, the other wants to expand U.S. oil, coal, and natural gas extraction. The two candidates offer Americans two very different futures."
Below, see where each candidate ― and party ― stands on matters of energy and the environment.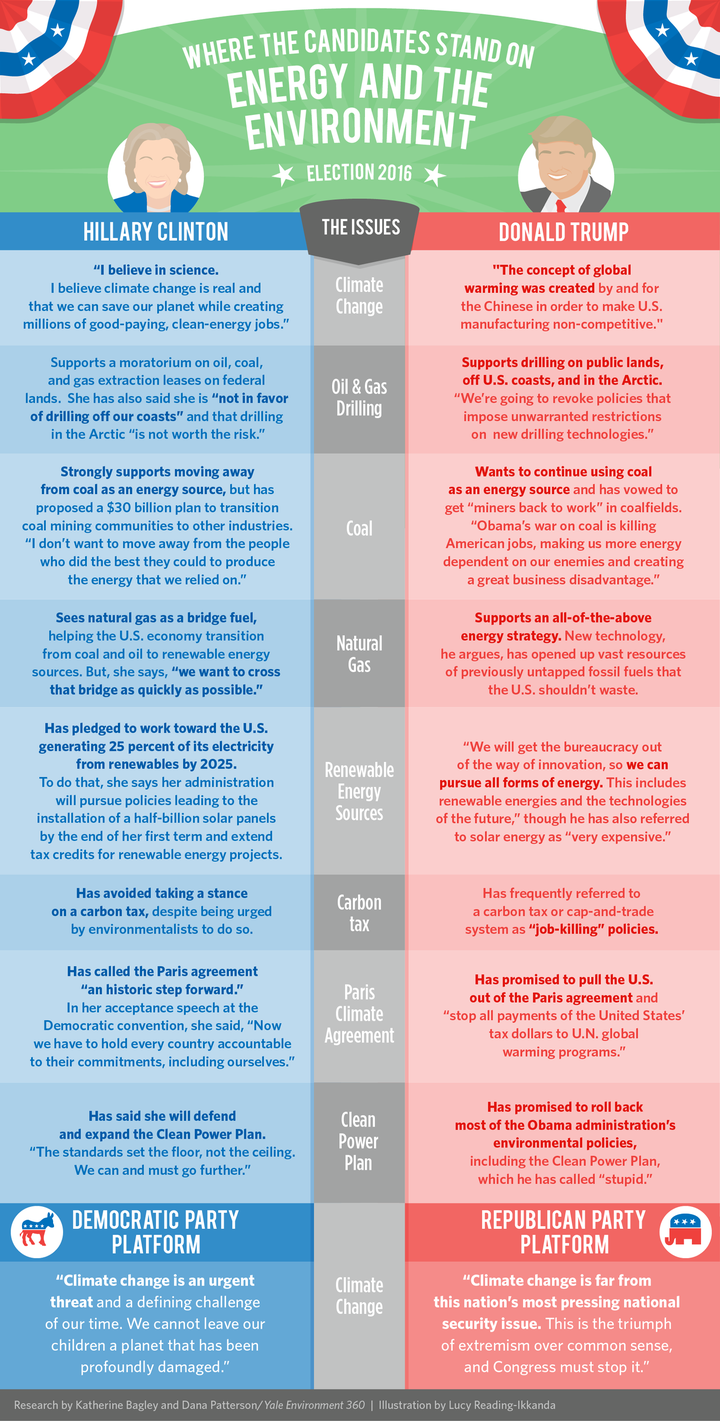 Bagley told HuffPost that although climate change is an increasingly urgent threat, the topic has garnered little attention this year ― not only in Clinton's and Trump's campaigns, but also in congressional and local races.
"We thought it was important to compile all the scattered comments that the presidential candidates have made throughout their long campaigns on energy, climate change, and the environment into a single resource," she wrote. "We also included information from the Democratic and Republican party platforms as a litmus of how these topics may be treated in the federal, state, and local races."
So before you cast your vote in November, do yourself a favor and memorize the infographic above. Your country, and the planet's health, depend on it.
Support HuffPost
The Stakes Have Never Been Higher
Before You Go
Here's What The 10 Leading GOP Candidates Think Of Climate Change
Popular in the Community