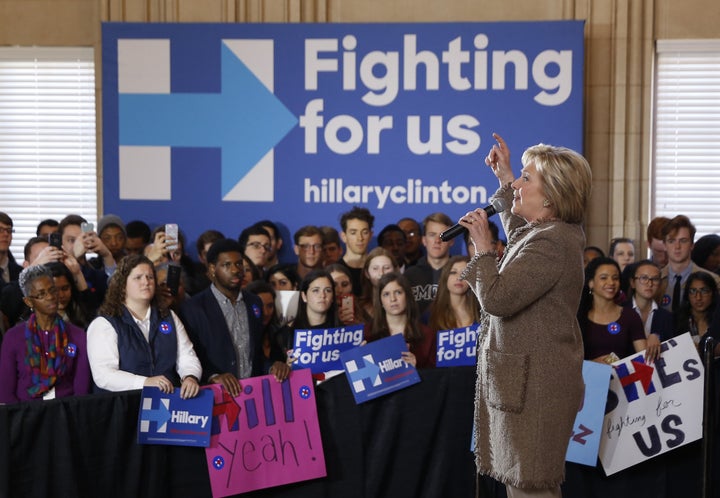 Donald Trump has a slight edge in Georgia. Hillary Clinton has a small advantage on national security. And Americans are very reluctant to say being prejudiced makes someone a bad person. This is HuffPollster for Tuesday, September 20, 2016.
TRUMP LEADS NARROWLY IN GEORGIA - Monmouth University: "Donald Trump has a 3 point lead in the contest for Georgia's electoral votes while Johnny Isakson is comfortably ahead in his bid for re-election to the U.S. Senate, according to the Monmouth University Poll. Among Georgia voters likely to participate in November's presidential election, 45% support Trump and 42% back Hillary Clinton.  Another 8% intend to vote for Libertarian Gary Johnson and 5% are undecided….Clinton has a commanding 88% to 4% lead over Trump among black voters statewide.  Trump holds a strong 66% to 20% advantage, though, among white voters across Georgia….'There has been some talk of Georgia becoming part of a demographic realignment in presidential politics.  However, Clinton is not quite making the needed inroads among young white voters to take the lead here,' said Patrick Murray, director of the independent Monmouth University Polling Institute." [Monmouth]
Aggregate shows an even tighter race - HuffPost Pollster's model gives Donald Trump just a 1.8 point  advantage over Hillary Clinton, similar to what the average has been since this summer. Individual surveys since July, though, have shown far more variation, with everything from a 4-point Trump lead to a  4-point Clinton lead.
HILLARY CLINTON'S WORST WEEK STILL SHOWS SOME GOOD NEWS - Sean Trende: "To say Hillary Clinton had a rough week last week would be an understatement. After declaring that half of Donald Trump's supporters – that is, some 30 million Americans – fall into a "basket of deplorables," she was seen collapsing at a 9/11 memorial ceremony…. It's unsurprising, then, that her poll standing took a hit. What was a three-point lead in the RealClearPolitics average as of September 11 was a 0.9 point lead one week later. Her solid 340-198 electoral vote lead had subsided to a narrow 293-245 advantage... On its face, this looked like atrocious news. I'm not sure that assessment is correct…. [T]his was a particularly awful series of news cycles for her, while Trump had managed to go over a month without reprising some of his more polarizing statements... We would expect a big swing in the polls, and there was one. But it did not put Trump over the top…. In a strange way, that's good news for Clinton…. The bad news cycle can also cause Republicans to break through likely-voter screens while Democrats become less likely to answer the polls; this 'differential response' issue explains a lot of the ebb and flow of campaigns. But we have to wonder: If this didn't catapult Trump to an electoral lead, what could?" [RealClearPolitics]
One poll shows Clinton ticking back up - Hannah Hartig, John Lapinski and Stephanie Psyllos: "Back on the campaign trail after being diagnosed with pneumonia and a subsequent break from campaigning, Hillary Clinton plugged her leaking lead against Donald Trump, according to this week's NBC News|SurveyMonkey Weekly Election Tracking Poll. She now enjoys 50 percent support among likely voters and Trump has 45 percent support…. In addition to expanding her lead this week, Clinton outperforms Trump on the question that asks voters who they think will win. Currently, 56 percent of likely voters think Clinton will win. Just 39 percent think Trump will win." [NBC]
VOTERS TRUST CLINTON MORE ON TERRORISM - Nick Bayer: "In the wake of three potential terrorism-related incidents in New Jersey, New York City and Minnesota over the weekend, Republican presidential nominee Donald Trump has trotted out his common refrain of getting tough on terrorism…. But most Americans aren't buying this type of rhetoric. Polls show Clinton maintaining a slight edge over Trump when it comes to which major-party nominee voters trust on terrorism. Clinton leads Trump 49-45 percent among registered voters when it comes to who would do a "better job of handling terrorism and national security," according to a new CBS/New York Times poll. Likewise, a new ABC News/Washington Post poll shows Clinton leading Trump by 9 points among Americans asked who they trust more to handle terrorism. That's the same margin by which Clinton led in a late-August Fox News poll. Most August polls showed Clinton leading on the topic." [HuffPost]
But Trump supporters are more concerned about the issue - Steven Shepard: "[E]ven though more voters, on average, trust Clinton over Trump on terrorism, rising unease about more attacks could benefit the Republican. Prior to this weekend, Trump voters were far more concerned about terrorism: In last week's Quinnipiac University poll, a combined 79 percent of likely voters said it was 'very' or 'somewhat' likely that there would be a terrorist attack in the U.S. 'in the near future … causing large numbers of lives to be lost.' (No one was killed in this weekend's incidents.) Virtually all of Trump's supporters, 96 percent, said it was at least 'somewhat likely' there would be an attack in the near future, including a 57-percent majority who said it's 'very likely.' But just 64 percent of Clinton backers said it was likely, and only 19 percent said it was 'very likely.'" [Politico]
MOST AMERICANS DON'T EQUATE PREJUDICE WITH BEING A BAD PERSON - HuffPollster: "When Hillary Clinton dismissed half of Donald Trump's supporters as belonging to a 'basket of deplorables,' much of the debate that followed focused on attempts to quantify what percentage of Trump's supporters actually held bigoted views…. So, in a new HuffPost/YouGov poll, we asked Americans how they'd describe people who hold negative views of Muslims, black people, women, gay people and immigrants.... Most of those polled fell into the middle category, saying that disliking an entire race, religion, gender or other class of people was prejudiced, but didn't necessarily make someone a bad person…. Democrats and Republicans expressed largely similar views about people who disliked blacks. But most Democrats say that negative views about Muslims made some prejudiced, but not necessarily a bad person, while the majority of Republicans don't even consider such views to be prejudiced." [HuffPost]
BLOOMBERG LAUNCHES A 'POLL DECODER' - Ken Goldstein on the project, which visualizes the turnout assumptions made by pollsters: "As Election Day nears, we're being deluged with public opinion polls attempting to measure whether Hillary Clinton or Donald Trump is on track to win the White House. It's hard to know what to make of the numbers because the polls often tell very different stories....You can glean a lot from looking beneath the top-line horse race numbers at the internals of a poll—not just what pollsters learned when they interviewed voters, but also the assumptions and models they used, which are built on what occurred in the past. Can Hillary Clinton reassemble the Obama coalition, or will an enthusiasm gap keep some home? Will Trump bring new voters—the sort that haven't voted in the past—into the process? And how loyal will these different segments of potential voters be? White voters will almost certainly cast the majority of their votes for Trump, but by what margin? And what proportion of the vote will they make up? No one knows for sure." [Bloomberg]
HUFFPOLLSTER VIA EMAIL! - You can receive this daily update every weekday morning via email! Just click here, enter your email address, and click "sign up." That's all there is to it (and you can unsubscribe anytime).
TUESDAY'S 'OUTLIERS' - Links to the best of news at the intersection of polling, politics and political data:
-Joyce Tseng and Jennifer Agiesta profile Donald Trump's white, working-class supporters. [CNN]
-Clare Malone talks to rural Maine voters about Trump's appeal. [538]
-The College of William & Mary and the data firm TargetSmart announce a partnership using voter file data in polls of battleground states.  [TargetSmart]
-The NBC/Survey Monkey team explains how they track likely voters. [NBC]
-A Morning Consult poll of gubernatorial approval ratings finds Chris Christie one of the least popular governors. [Morning Consult]
REAL LIFE. REAL NEWS. REAL VOICES.
Help us tell more of the stories that matter from voices that too often remain unheard.