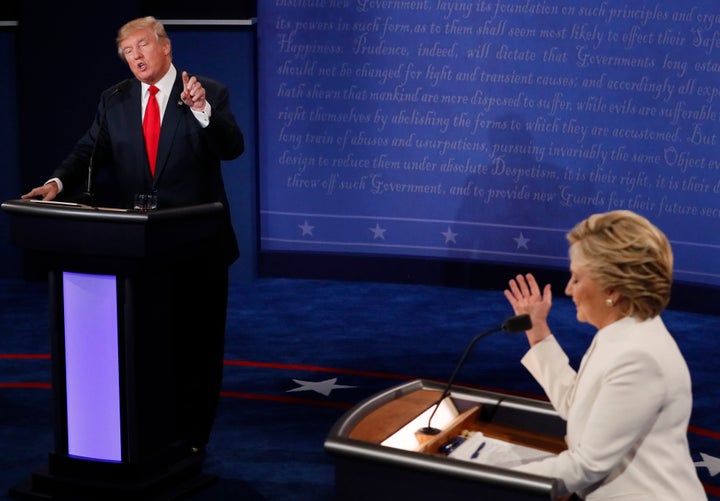 No matter which presidential candidate comes out ahead on Election Day, many Americans won't be ready to accept the results. Most Donald Trump supporters can't imagine how Hillary Clinton could win an election that wasn't rigged, a new HuffPost/YouGov survey finds, and supporters of both candidates say they wouldn't accept the rival as a legitimate president.
Although Clinton is overwhelmingly the favorite to win, 42 percent of Americans who'd prefer to see her in the White House still say it's possible that Trump could legitimately win in the election, compared to 36 percent who say he could win only if the election was rigged.
Most of those favoring a Trump victory, however, see a legitimate Clinton win as an impossibility. Fifty-seven percent say she can win only in a rigged election, with just 30 percent believing she could win honestly. 
A 53 percent majority of Americans who'd rather see Clinton win the election say that if Trump wins, they will not accept him "as the legitimate president." An even larger majority of those who'd prefer a Trump win ― 64 percent ― say that they wouldn't accept Clinton as legitimate.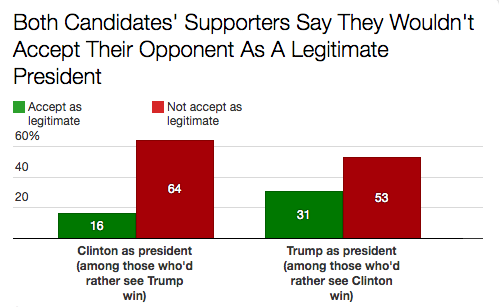 In November 2000, by contrast, just 31 percent of Republicans told Gallup/USA Today pollsters that they wouldn't accept Al Gore as the legitimate president if he were declared the winner and inaugurated, and just 38 percent of Democrats said they wouldn't accept George W. Bush.
The results of the two surveys aren't directly comparable. For one thing, unlike the online HuffPost/YouGov survey, the 2000 poll was conducted by phone, meaning some respondents may have felt more pressure to give a socially acceptable response. For another, the 2000 polls were taken after the conclusion of a very close election, rather than in the heat of a campaign's final days.
For some respondents to the most recent poll, denying that their preferred candidate could lose legitimately may just be a way of expressing faith in their preferred outcome, rather than an attitude they'll hold even after the polls are closed. 
But it's also possible that increased polarization the heightened rhetoric of this election has left some Americans, especially those backing Trump, less willing to accept that they might be on the losing side in November.
"I've never seen an election like this. Not in my lifetime. Certainly not in modern history," Lonna Atkeson, a professor at the University of New Mexico and head of the Center for the Study of Voting, Elections, and Democracy, told Reuters, citing the level of mistrust toward the political system.
Even if Americans on both sides of the aisle aren't prepared to welcome a rival, relatively few say that violence would be an appropriate response if their candidate lost.
Those who'd prefer Clinton to win say by a 55-point margin, 70 percent to 15 percent, that a Trump victory would not justify citizens taking violent action against the government. Those who'd prefer Trump to win agree by a 45-point margin, 64 percent to 19 percent.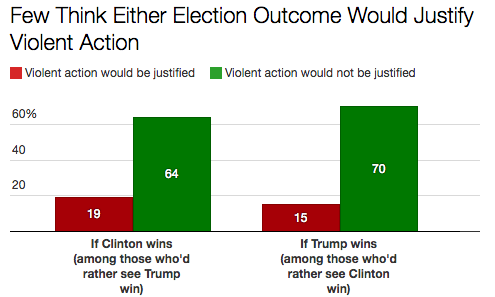 As a rough comparison, a CBS/New York Times poll from last year ― which, like the Gallup/USA Today survey, was conducted by phone ― found that 22 percent of Americans believe that citizens taking violent action against the government is ever justified.
Use the widget below to further explore the results of HuffPost/YouGov's survey, using the menu at the top to select survey questions and the buttons at the bottom to filter the data by subgroups.  
The HuffPost/YouGov poll consisted of 1,000 completed interviews conducted Oct. 19-Oct. 20 among U.S. adults, using a sample selected from YouGov's opt-in online panel to match the demographics and other characteristics of the adult U.S. population.
The Huffington Post has teamed up with YouGov to conduct daily opinion polls. You can learn more about this project and take part in YouGov's nationally representative opinion polling. Data from all HuffPost/YouGov polls can be found here. More details on the polls' methodology are available here.
Most surveys report a margin of error that represents some, but not all, potential survey errors. YouGov's reports include a model-based margin of error, which rests on a specific set of statistical assumptions about the selected sample, rather than the standard methodology for random probability sampling. If these assumptions are wrong, the model-based margin of error may also be inaccurate. Click here for a more detailed explanation of the model-based margin of error.
Calling all HuffPost superfans!
Sign up for membership to become a founding member and help shape HuffPost's next chapter