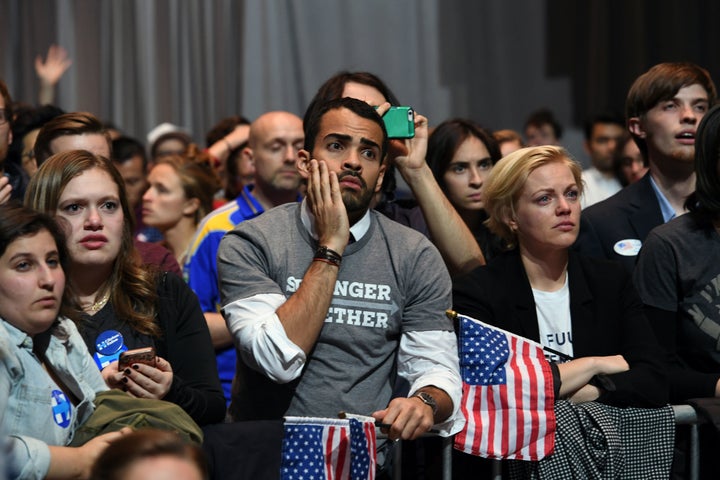 A year and a half after the 2016 election, voters who backed Democratic nominee Hillary Clinton increasingly feel as though people like them are losing ground in America, a new HuffPost/YouGov poll shows, while supporters of President Donald Trump continue to think they've regained status.
During the last presidential campaign, one survey question illustrated a dramatic difference between backers of the two candidates without ever overtly mentioning politics. Trump supporters overwhelmingly said that, over the past 50 years, life had gotten worse for people like them. Clinton voters largely thought it was getting better. At the time, the discrepancy seemed emblematic both of the stark tonal contrasts between the two campaigns and of the idea that many of Trump's staunchest backers were motivated by a sense that ― whether racially, culturally or economically ― they were fast losing their place in the nation.
The distinction also proved to be tenuous. "[W]as Trump's unexpected win enough to reverse what seemed to be a deeply ingrained sense of disenfranchisement among his base or to wipe out the sense of progress felt by many Clinton voters?" we wrote in 2017, when a survey found Trump supporters to be the slightly more optimistic camp. "Apparently, yes."
In the most recent poll, Clinton voters say, by a 28-point margin, that things are getting worse, not better, for people like them; Trump voters say, by a 15-point margin, that things have improved. (The 2016 Pew survey, which utilized different methodology, isn't directly comparable to the others, but provides some extra context.)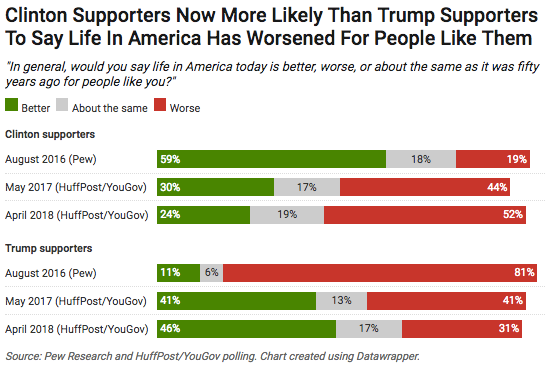 Clinton voters' current sense of disenfranchisement, the most recent survey finds, is most concentrated in her female and older supporters, as well as among those lacking college degrees. By contrast, there's little difference in opinion between white and non-white backers of the Democratic candidate.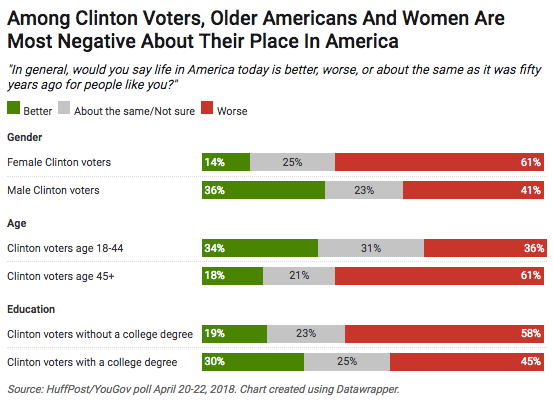 Trump's base also shows signs of a more modest gender gap. In that group, however, the age divide works in the reverse direction, with voters 45 and older more likely than the president's younger backers to feel as if their lot today is better.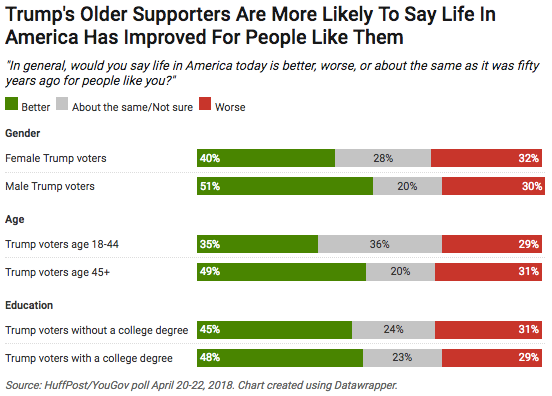 Asked about how several other demographic groups are faring as compared to 1968, Clinton and Trump voters have relatively similar views of white Americans: Clinton voters say by a narrow 3-point edge that whites were doing worse, rather than better, while Trump voters agree by a slightly wider 7-point margin. But while Clinton voters are just 5 points likelier to think that black Americans are doing better, rather than worse, Trump voters say the same by an overwhelming 65-point margin. Clinton voters are also substantially more likely than Trump voters to believe that life in America has worsened for those without college degrees.
Use the widget below to further explore the results of the HuffPost/YouGov survey, using the menu at the top to select survey questions and the buttons at the bottom to filter the data by subgroups:
The HuffPost/YouGov poll consisted of 1,000 completed interviews conducted April 20-22 among U.S. adults using a sample selected from YouGov's opt-in online panel to match the demographics and other characteristics of the adult U.S. population.
HuffPost has teamed up with YouGov to conduct daily opinion polls. You can learn more about this project and take part in YouGov's nationally representative opinion polling. More details on the polls' methodology are available here.
Most surveys report a margin of error that represents some, but not all, potential survey errors. YouGov's reports include a model-based margin of error, which rests on a specific set of statistical assumptions about the selected sample rather than the standard methodology for random probability sampling. If these assumptions are wrong, the model-based margin of error may also be inaccurate. Click here for a more detailed explanation of the model-based margin of error.
REAL LIFE. REAL NEWS. REAL VOICES.
Help us tell more of the stories that matter from voices that too often remain unheard.