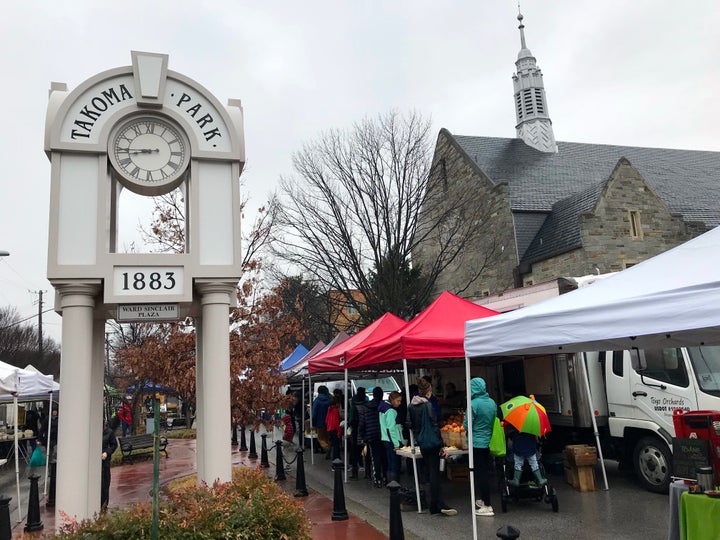 TAKOMA PARK, Md. ― It hasn't snowed in weeks, but road salt is still crumbled along the sidewalks. Once-vibrant red brick walkways are now faded and spotty at the edges. Dogs walking here without winter boots could end up with sores on their paw pads. Who knows when, or if, city workers will get around to sweeping up this mess.
If this sounds like the kind of place that Donald Trump would have won in 2016, with his promises of revitalizing forgotten towns, it is not. Takoma Park is a far cry from communities like Johnstown, Pennsylvania, where white, working-class Americans are struggling economically but unshaken in their loyalty to Trump. You may have read a profile of Johnstown here, or other profiles of people in Trump Country here and here and here and here and here and here and here and here and here.
This is Clinton Country. Takoma Park is doing just fine economically, and its residents are diverse and very progressive. We're talking vegan-friendly cafes, boutiques with sustainably made clothes, yoga and art classes galore, and a weekly farmer's market year-round. Voters in this town, which straddles Maryland and Washington, D.C., went for Hillary Clinton by 75.9 percent in the Maryland county and 92.5 percent on the D.C. side.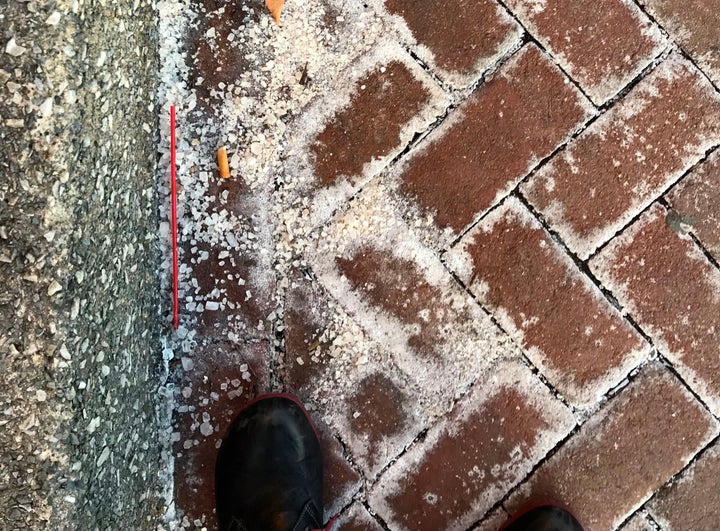 People here will give you plenty of reasons why they didn't vote for Trump ― his divisive rhetoric; his disdain for the media and for democracy itself; the way he talks about women, people of color, immigrants, LGBTQ people, Muslims, Mexicans and others.
But a year into Trump's presidency, we wanted to see if people in Clinton Country* are still standing by their candidate. HuffPost spent parts of Friday and Sunday asking residents on the streets and in local shops if they are remain certain they made the right choice in Clinton.
"Oh God, yes," said Margery Goldberg, 67, who owns an art gallery in the city. She was shopping at Magic Carpet, an eclectic gift shop, when she overheard HuffPost asking the owner about Trump. She jumped into the conversation before the owner could get a word in.
"Everything about Trump bothers me," Goldberg declared to the store, rifling through mermaid paraphernalia and chunks of soap shaped like crystals. "I have a lot of names for him. Stupid Satan is one."
"I think he's trying to do everything he possibly can to destroy democracy, destroy our environment, become a dictator, kill the air, land and water, have nobody here but rich people," she went on. "He's a racist. He's a bigot. He is anti-Semitic. He's anti-everything."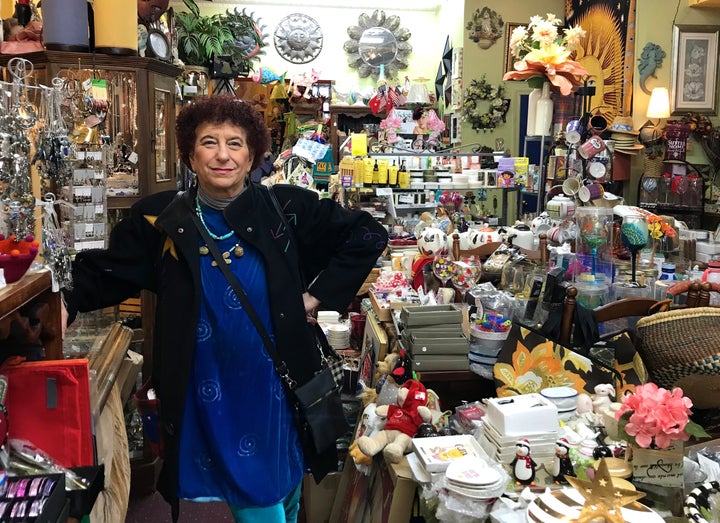 Goldberg pulled out her iPhone and scrolled through photos of political art on display at her establishment, Zenith Gallery. There's the "Trump Pumps" series of sculptures, including the Pussy Grabber metal shoe with a wheel for a heel. There are purses of resistance ― "pursisters" ― with words like "RESIST" and "EMPATHY MATTERS" printed on them. The pièce de résistance, though, was the "Trump-Putin voodoo dodo doll" in a gold toilet full of fake poop. She made that one.
"I don't support Donald Trump at all," Clarice, 30, said flatly as she balanced a coffee while pushing a baby stroller back and forth outside a Starbucks.
"I could list a lot of reasons, but we'd probably be here all day," said Clarice, who asked that her full name not be used in this story. "I can't say anything good has come from his presidency, other than the fact that America is still standing and we haven't completely burned down. I mean, that's kind of like a really low bar."
HuffPost talked to a dozen people in town. Nearly all said they voted for Clinton in 2016 ― and would do it again.
"'Not very good,' is the printable version of what I have to say," said Paul, 35, when asked how he would sum up Trump's first year.
Paul, who declined to give his last name, was sitting quietly in the back at the House of Musical Traditions, an instrument store where he works. He has a long blond ponytail and a couple of piercings. He struggled to describe how the past year has felt under Trump.
"One disaster after another is sort of how it feels," Paul finally said. "Mr. Trump has not changed my mind about him. That's how I'll put that."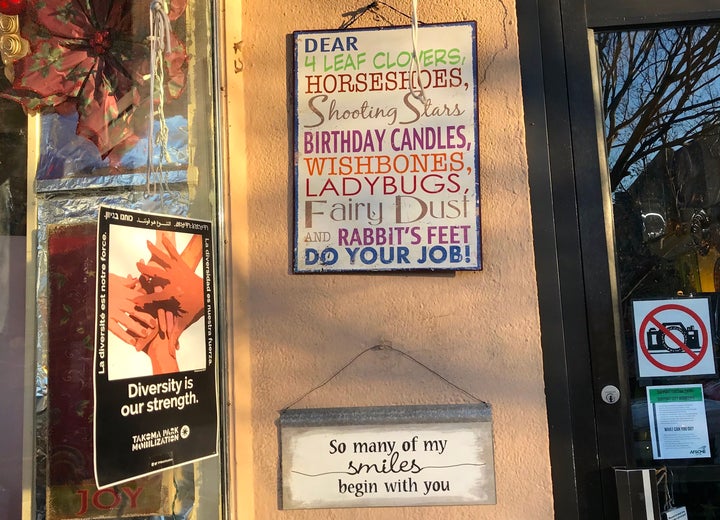 Across the street from the Roscoe the Rooster memorial statue, Jill and Gary Jones were fiddling with a parking meter. They had just parked their car, which sports a "Still With Her" bumper sticker. Both laughed when asked if they stand by their votes for Clinton.
"Absolutely. One hundred percent," said Jill, 62.
"Probably more so," chimed in Gary, 55, donning a beret and sunglasses.
The Joneses said they were just reading about Clinton's accomplishments as secretary of state, and were blown away by details they had not known.
"Hillary made gender and peace, and gender and the strength of communities, on the same plane," Jill said. "Once you talk about women's rights as human rights, as Hillary did, you talk about how those states fail or don't fail when women are treated well."
"And always will be, too, damn it!" said Gary, now back on the question of whether he's still loyal to Clinton.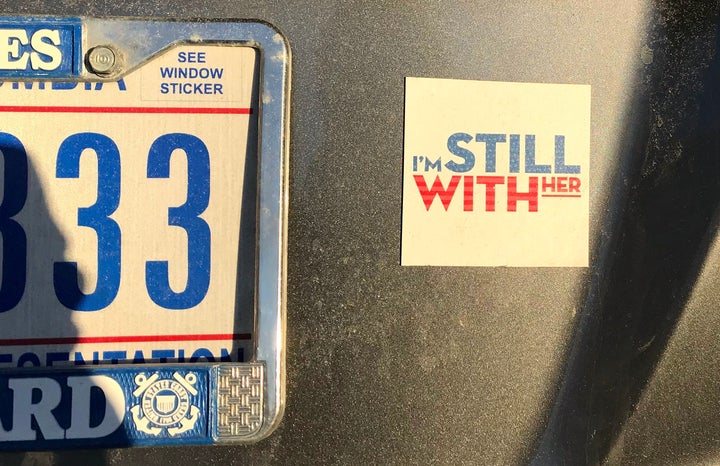 Two people told HuffPost they wrote in a third-party candidate in 2016, and would do it again. Just one person, Victor Olalekan, said he voted for Clinton but wouldn't do it again.
Olalekan, 23, had just finished his last day of training at Busboys and Poets, a hipster cafe in town. Huddled in the cold across the street with his friend, Kerry Charles, he said if the vote were held again today, he wouldn't vote at all.
"I'm looking back. The emails, we were in a ridiculous war... there is nobody currently for the people," he said. "The more I researched, the more I don't want to deal with politics at all."
Regardless of whether Olalekan is done with voting forever, he's clearly not happy with what Trump is doing. He said people don't realize how profoundly the president is fanning racism in the country. Olalekan, who is black, said he has friends in Nashville, Tennessee, who "are scared" because white nationalists now have a supporter in the White House.
"That's not OK. That's not how it's supposed to be," he said. "Trump just needs to get off Twitter. He's used to being a reality show. This isn't a reality show."
*The Washington Post wrote a story about Clinton Country last week. We had this genius idea weeks ago and were sad they beat us to it. But because there are zillions of Trump Country stories, we decided there's plenty of room for more stories like this.
CORRECTION: A previous version of this story misidentified the store where Paul works. It is the House of Musical Traditions, not a Guitar Center.
Before You Go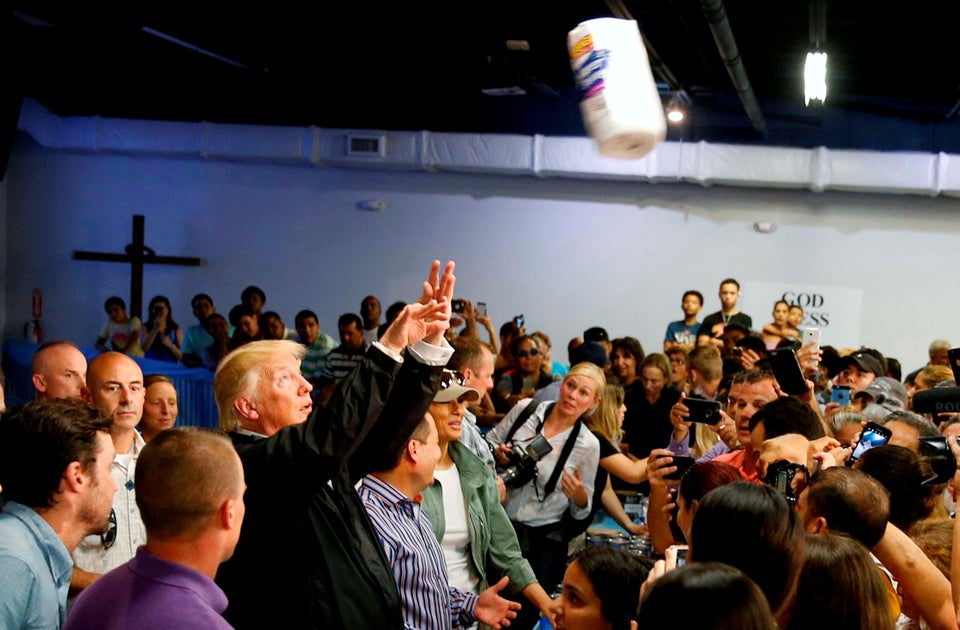 Donald Trump's 2017
Popular in the Community