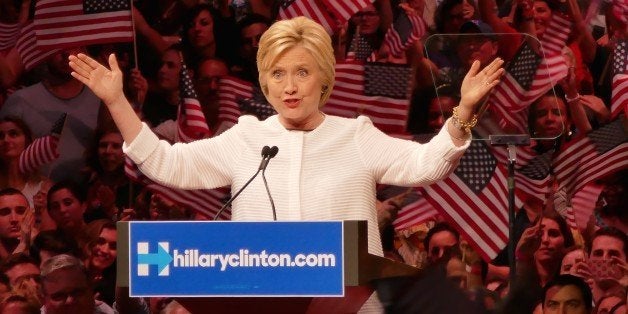 Former Secretary of State Hillary Clinton made history on Tuesday when she won enough delegates to secure the Democratic Party's nomination for president. "Thanks to you, we have reached a milestone," she told thousands of wildly enthusiastic supports in Brooklyn Tuesday evening. "The first time in our nation's history that a woman will be a major party's nominee," she said to a thundering ovation.
Clinton's received her supporter's adulation with warmth, emotion and authenticity. Like a great marathoner, she had crossed the finish line first following a difficult and challenging race. She had her mojo back; she was poised and confident in demeanor, expressing gratitude to her supporters, and graciously reaching out to her competitor, Senator Bernie Sanders.
"I want to congratulate Senator Sanders for the extraordinary campaign he has run," she said. "The vigorous debate that we have had about how to raise incomes, reduce inequality, increase upward mobility, have all been good for the Democratic Party and for America," she added. With her decisive victory in California and several other states, Clinton dashed the dim fire of hope that Sanders' supporters had going into Tuesday.
Telling her supporters that the stakes in this coming presidential election are high, she attacked the presumptive Republican nominee. "Donald Trump is temperamentally unfit to be commander and chief," she declared with resolve. She said Trump wants to win by "stoking fear and rubbing salt in wounds." She cited Trump's attacks on a federal judge, born in Indiana of Mexican heritage, immigrants, a reporter with disabilities, women, Muslims, and the press, saying, "It goes against everything we stand for." And, in a play on Trump's campaign motto, she said firmly, "When he says 'Let's make American great again,' that is code for let's take America backwards. Back to a time when opportunity and dignity were reserved for some not all."
Meanwhile, earlier in the day, at the Trump National Golf Club in suburban New York City, Trump addressed supporters in an attempt to calm the waters that have roiled his campaign this past week. Reading a well-prepared script from TelePrompTer, something he has criticized Clinton for doing, Trump carefully read words meant to assure his party's restless leaders. "I understand the responsibility of carrying the mantle, I will never let you down," he asserted. Trump has received growing criticism from GOP leaders for the very things Clinton cited in her later speech. He was unapologetic, instead announcing he would soon give a major speech attacking the Clintons, noting, "Hillary Clinton turned the State Department into her private hedge fund."
Both candidates have many challenges ahead. Clinton has to consolidate her party to bring disappointed Sanders' supporters into the fold, which will be no easy task. She also faces an FBI investigation around her private email server, which will continue on for many weeks. Trump must apologize for his many insensitive and racist remarks, and prove that he is presidential. But can the pugnacious fighter, who has won his party's mantle by swinging freely from his hips, campaign "on message?" Will an apology from Trump make up for his ill-tempered remarks?
This has already been an historic presidential campaign; the first woman presidential nominee is facing a real estate developer with no political experience. On Tuesday, it appeared that these two campaigns were headed in different directions. But this election has so far demonstrated that anything can happen. Hang on.
REAL LIFE. REAL NEWS. REAL VOICES.
Help us tell more of the stories that matter from voices that too often remain unheard.