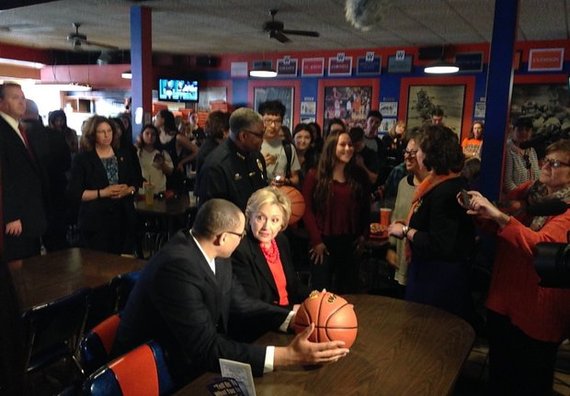 Here's yet another news story that explains why the majority of Americans dislike politicians -- and, specifically, according to polling, Hillary Clinton.
Even as Clinton, stumping for votes in Syracuse, New York, was telling members of the Syracuse University men's basketball team -- which is playing in the Final Four this weekend -- that she was "rooting for them to go all the way," her campaign was attempting to schedule, for the night of the Championship Game, the only Democratic primary debate to be held before New Yorkers go to the polls on April 19th.
Clinton, along with Debbie Wasserman Schultz of the Democratic National Committee, has been accused by Democrats for months now of trying to schedule debates for days when few voters would -- or could -- be watching. This attempt to keep New Yorkers from seeing Sanders debate his opponent appears to be a new low, however, given Clinton's public statements of support for the Orange.
According to a statement by Sanders campaign spokesman Michael Briggs, "The idea that they want a debate in New York on the night of the NCAA finals -- with Syracuse in the tournament, no less -- is ludicrous."
While as of the writing of this article we cannot know, of course, whether the Syracuse Orange will beat the North Carolina Tar Heels and advance to the NCAA National Championship on Monday, the double-talk of the Clinton campaign on the subject of both debating Sanders in New York and supporting New York's sports teams is exactly the sort of facepalm moment that's typified the Clinton campaign in the view of many.
Seth Abramson is the Series Editor for Best American Experimental Writing (Wesleyan University) and the author, most recently, of DATA (BlazeVOX, 2016).
Popular in the Community