WASHINGTON -- The Clintons are all-in on Kentucky.
Bill won there twice, in 1992 and 1996, and remains a popular figure. Now he and Hillary are backing a political ally they hope will win a U.S. Senate seat in 2014 -- and become a key Southern booster for Hillary if and when she runs for president in 2016.
The former president couldn't change his plans to go to Africa, but he wanted to help Alison Lundergan Grimes, a fellow Democrat and family friend, launch her Senate campaign Tuesday in Lexington, Ky. So he filmed a two-minute YouTube video for use as Grimes kicked off her drive to oust Republican Mitch McConnell, a formidable five-term incumbent and the GOP Senate leader.
Without mentioning the 71-year-old McConnell by name, Clinton dismisses him in the video as a Washington pol who likes to "just say no for the sake of saying no" and is unable to "reach across lines of party, geography or philosophy."
Grimes, the 34-year-old daughter of a former Kentucky Democratic Party chairman who is a longtime Clinton loyalist, has held elective office for little more than a year, as Kentucky secretary of state.
In the video, Clinton says he has known her for years and watched her rise. She's "smart and strong, compassionate and effective, and Kentucky through and through," says the former president.
The former First Couple had encouraged Grimes to enter the race against McConnell, especially after Kentucky-raised actress Ashley Judd balked at the starting gate and decided not to run. Bill took the direct approach, mutual friends said. Hillary acted more as a motherly counselor, advising Grimes to take what her heart told her was the wisest course.
The Clintons can and are helping in other more tangible ways, especially with fundraising. Grimes can expect the big bundlers and campaign donors of Clintonworld to at least be open to her appeal for cash, and several are said to have already responded.
She can also expect Bill and Hill to appear in the state for her more than once, if not often, between now and the general election in November 2014.
"Hillary is popular in the state, and Bill's numbers are absolutely through the roof," said Jonathan Hurst, a top campaign adviser with deep roots in the state Democratic Party.
That doesn't mean the Grimes campaign is or will be a wholly owned Clinton subsidiary -- far from it. Indeed, the Clinton stamp of credibility has helped attract talent from across the party spectrum, including Mark Putnam (media and advertising) from the Obama team; pollster Mark Mellman, whose clients have included the mayor of Lexington and numerous women candidates; and fundraiser Colleen Coffey, who did the same task for (now) Sen. Elizabeth Warren and (now) Sen. Ed Markey in Massachusetts.
McConnell campaign manager Jesse Benton honored Grimes' campaign launch, so to speak, with his own statement Tuesday: "Kentuckians have a clear choice between Mitch McConnell, an unwavering defender of our people and Alison Lundergan Grimes, an ambitious but unproven liberal who will be more beholden to President Obama and his financial backers than the citizens she hopes to represent."
Grimes will get her first chance to square off against McConnell at this coming weekend's Fancy Farm political picnic in Western Kentucky. The two will be among the political figures speaking -- separately -- on Saturday.
She will journey there on a new campaign bus, one in which she will be spending a lot of time for the next year and a half.
"It's going to be a long, hard campaign," Bill Clinton says in the video. "But you can win it." He doesn't say "we," but that is what he means.
Before You Go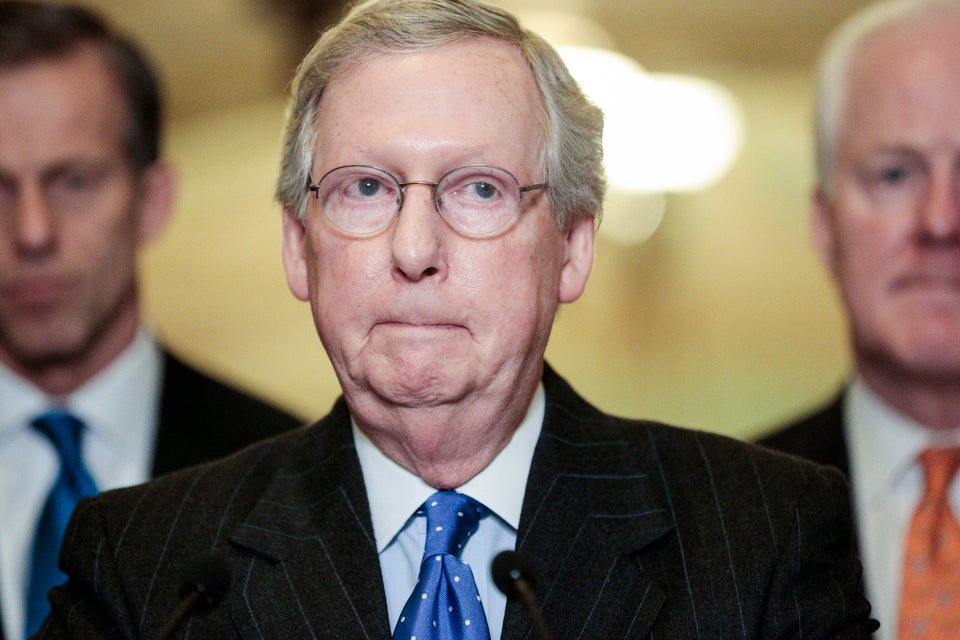 Say Cheese! Mitch McConnell Smiles
Popular in the Community