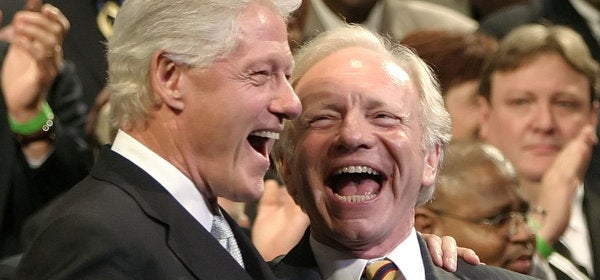 Reports emerged on Monday afternoon that Bill Clinton was placing calls to Senate Democrats on behalf of Joe Lieberman, making the case that the Connecticut Senator should remain in the caucus.
The story sent immediate ripples throughout Democratic circles, which have been debating Lieberman's future in the party and, more specifically, whether he would continue to serve as chair of the Homeland Security and Government Reform Committee.
Almost immediately after, however, there was push back from Clinton's camp.
"It's completely false," said Matt McKenna, a spokesman for the former president.
Another former Clinton confidant said she would be incredibly surprised if Bill Clinton were weighing in on this matter. The two figures were famously at odds during the waning years of the Clinton administration -- Lieberman was the foremost Democratic critic of his conduct during the Lewinsky affair. Moreover, there is practically nothing for Clinton to gain by pushing this issue in the Senate.
Nevertheless, news that Bill Clinton was going to bat on behalf of the beleaguered Connecticut independent raised a secondary question: what is Hillary Clinton's position on the matter?
Two aides to the New York Democrat said she is not making calls on Lieberman's behalf. "Hillary isn't doing anything," one said. "She is leaving it up to Reid."
At the same time, as Glenn Thrush at Politico notes, she wasn't leading the charge to oust Lieberman from the caucus either.
"What does she have to gain by making any enemies -- even Joe?" Thrush quotes an ex-staffer as saying. "She's got her own agenda to push... she doesn't need a fight."
Popular in the Community