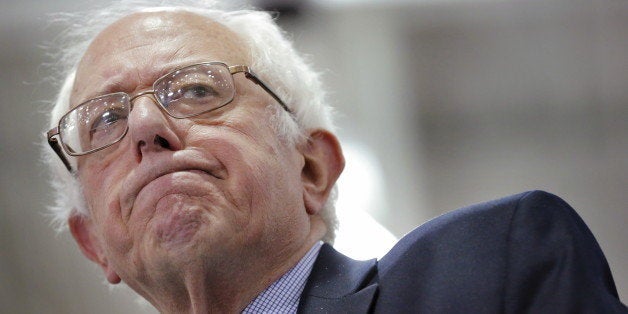 Had Senator Bernie Sanders won New York, it quite possibly would have represented the biggest political earthquake of the last decade. Unfortunately for Sanders, he fell short of such a feat.
While the results are still trickling in, at this point it's become abundantly clear that former Secretary of State Hillary Clinton has won the gold medal in the Empire State.
A must-win state for both candidates, this victory was a particularly sweet one for Clinton given the fact that she's the hometown candidate who served as the state's U.S. Senator for two terms. It's also where her national campaign headquarters, and her husband, President Bill Clinton's, foundation is located. Losing her home state was not an option. Period.
The triumph not only significantly weakened her opposition, but it put to rest any questions about her formidability, prowess or her now unambiguous path to the nomination.
Both symbolically and mathematically, this was a devastating loss for Sanders. He outspent Clinton by over $2 million in advertising. Plus, after winning eight out of the last nine contests, Sanders had been picking up steam and making a case that he had real, tangible momentum. In terms of the optics, Clinton's triumph in New York poked a gaping hole in the 'berning flame' that was fueling the rise of Sanders' hot-air balloon.
On the arithmetic front, any loss for Sanders, especially one in the delegate-rich state of New York, illustrates a major setback in terms of making gains on the delegate math. To date, Sanders is behind by close to 700 delegates, counting both super delegates and state-appointed delegates.
Additionally, this romping perhaps serves as evidence of the fact that Sanders' sharp turn towards a more negative, character-driven attack message against Clinton might have had unintended consequences. Over the course of the last few days, Sanders intensified the tone of his criticisms and aimed a series of salvos at the former Secretary of State. At the time, it was unclear what, if any, impact the shift would have had on the race. New York's election results indicate that the strategy may have backfired.
Even if Sanders had won New York, he would have had to capture nearly two-thirds of all the remaining post-New York delegates in order to catch up to Clinton. Now the math looks even more bleak for his campaign. And the road ahead to next week's primary elections in Pennsylvania, Rhode Island, Connecticut, Delaware and Maryland also will be tough terrain for Sanders. He's behind in nearly every poll that's been released for the quintet of states.
Faced with so much adversity, Sanders now has to make a choice. Does he divorce himself from reality by doubling down on the more bitter, vitriolic tenor he's recently embraced and thus continue attacking Clinton with the hope that somehow, some way his fortunes will get reversed? Or, does Sanders revert back to his more hopeful, optimistic narrative and come to the realization that Clinton's insurmountable delegate lead is out of his reach?
Sanders clearly has the financial resources to stay in the race and campaign all the way until California's primary on June 7th. He's even repeatedly pledged to do so regardless of what happened in New York.
Now the question is, how does Sanders move forward? Does he escalate his attacks, exacerbate the left's identity crisis and risk tearing apart the fabric that holds the Democratic Party together, or divert back to a positive message and focus on infusing his views into the Democratic Party's platform at the convention. The longer Sanders keeps up his assault against the Clinton campaign, the harder it'll be to unify Democrats and immerse himself and his supporters with the rest of the Party. The ball is now in Sanders' court. Lets see what play he makes next.
REAL LIFE. REAL NEWS. REAL VOICES.
Help us tell more of the stories that matter from voices that too often remain unheard.