The mystery of the Clinton scheduling flip-flop that was to prevent her from attending a YearlyKos break out session lives on.
The story began on Thursday night when it was announced that Clinton would not be able to attend the more intimate, post-debate session because of a scheduling conflict. The announcement drew boos and a few angry blog posts, like the one posted on the DailyKos site with the title "YK '07: Effing Hillary Jilts Kossacks!"
The Clinton campaign and YearlyKos organizers were quick to try to smooth over the fracas (what's more dangerous than over a thousand die-hard progressives with computers?). YearlyKos executive Gina Cooper responded by writing on the DailyKos site that "Senator Clinton Did Not Jilt Kossacks." Ari Melber noted in a blog entry that the Senator was giving a speech to the National Association of Police Organizations Convention in Chicago on Saturday morning before the YearlyKos convention. Melber's post included an interview on the matter with Clinton's Internet Director, Peter Daou.
But, the breakout sessions were scheduled for after the Presidential Leadership Forum. The speech to the police association was before the forum.
So what was the real scheduling conflict?
How about a $4,600 dinner per person dinner - drinks are separate and start at $1,000 per person - at the Hamptons estate of billionaire Ron Perelman? The Clintons are scheduled to dine there Saturday night, along with co-hosts Jessica Seinfeld, Jonathan Tisch and Alan J. Patricof, who is also throwing a breakfast fundraiser for Senator Clinton at his home on Sunday. It's all part of a 'whirlwind weekend' of Clinton fundraisers in the Hamptons. Take a look at the invitation and decide for yourselves what the real scheduling conflict was.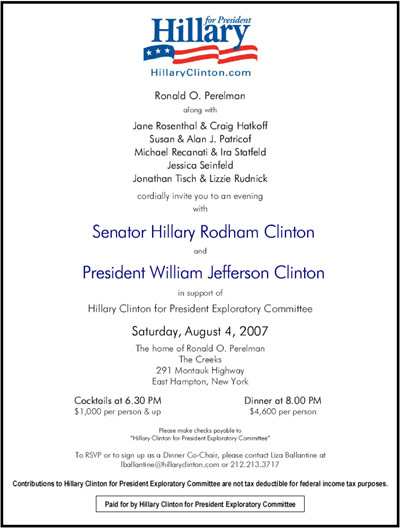 Related
Popular in the Community