The 2nd annual CLIO Sports Awards ceremony took place Wednesday night at Cipriani 42nd Street in New York City, paying special tribute to the late ESPN anchor Stuart Scott and honoring the year's best sports advertising and marketing.
CBS Sports Radio's Tiki Barber, a former New York Giants running back, hosted the dinner. Noah Galloway, a U.S. Army veteran, "Dancing with the Stars" finalist and athlete, also made a special appearance. The event's media partners and sponsors included AdWeek, USA Today Sports, The Hollywood Reporter, OFFSITE and Phoenix.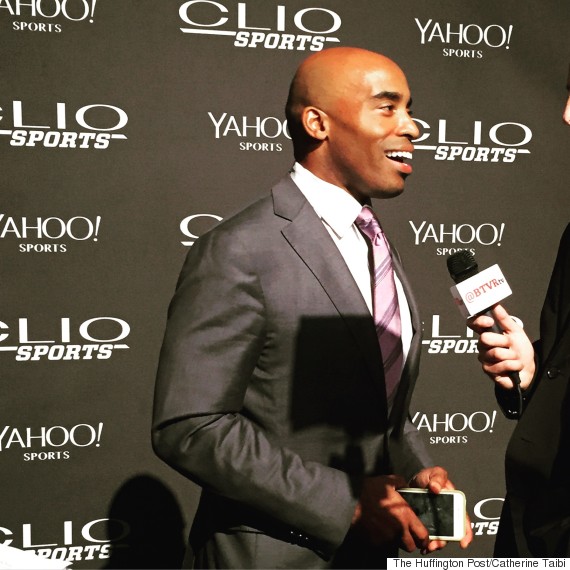 Host Tiki Barber speaks to reporters on the red carpet prior to the awards ceremony.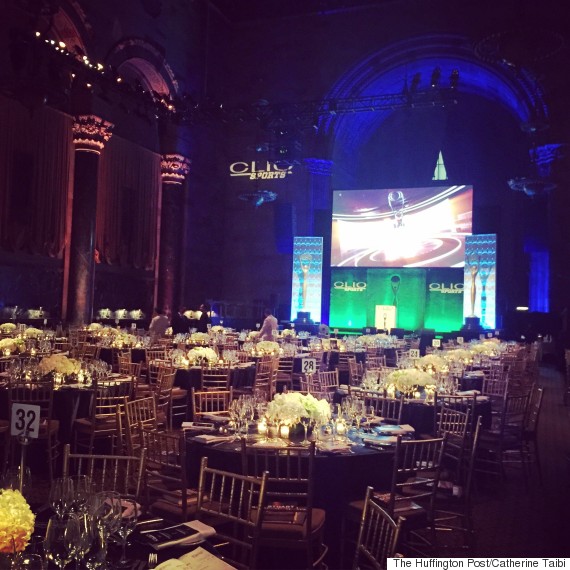 The event was held at Cipriani 42nd Street in New York City.
The wide range of emotions in each commercial is what made this year's winning ads so successful, an upbeat Barber told The Huffington Post prior to the dinner.
"The stories are really powerful," Barber said. "The messages they try to send are poignant. Some of them are emotional, some of them are hilarious -- and that's what sports is all about."
The 2015 Grand CLIO Sports Award for film went to TWBA/Chiat/Day for their "Made in NY" Gatorade commercial featuring Derek Jeter.
Other big winners included R/GA's "The Pursuit" for Equinox; Forsman & Bodenfors' "805 Million Names" for the United Nations World Food Programme; and Venables Bell & Partners' "Bacon" spot for Reebok.
See the full list of winners here.
For Barber, sports ads are a reflection of everyday life.
"You see this range of emotions in the games that we love and it's immediate, so it resonates really quickly, but they're the same things that we all face in regular life," he told HuffPost.
In an emotional tribute, CLIO closed the evening's festivities by awarding a Lifetime Achievement Award to longtime ESPN anchor Stuart Scott, who died of cancer in January at the age of 49. Scott showed determination, tenacity and his deep love of sports as he battled the disease. ESPN's Scott Van Pelt presented the award, and Scott's sister, Susan Scott, and two daughters, Sydni and Taelor, accepted it on his behalf.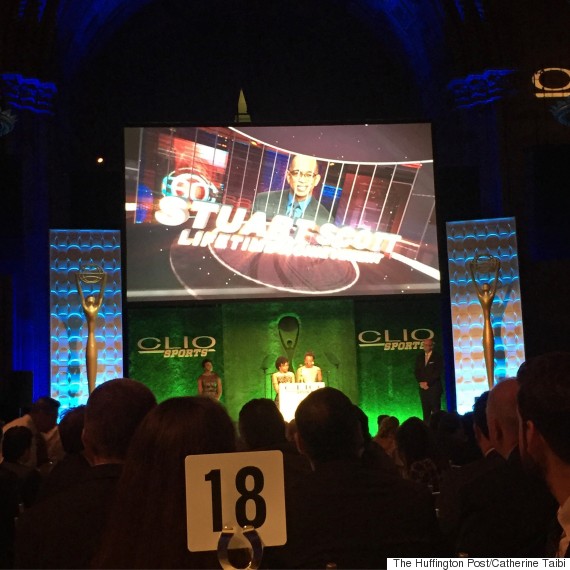 Stuart Scott's daughters, Sydni and Taelor, accept the CLIO Sports Lifetime Achievement Award on their father's behalf.
While honoring Scott's memory, Scott's sister announced the creation of the Stuart O. Scott Foundation, which will be dedicated to "caring for cancer fighters in their every day struggle to lead a normal life, in exactly the way that he was able to," she said.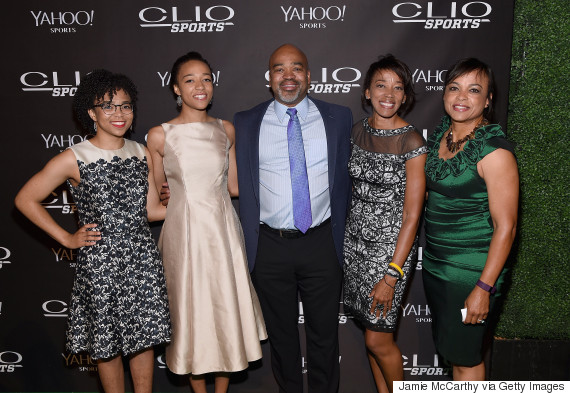 Stuart Scott's family: Sydni Scott, Taelor Scott, Stephen Scott, Susan Scott and Cynthia Scott at the 2015 CLIO Sports Awards.
Though it was a night to honor the best sports ads of the present, the CLIO Sports Awards also looked back on historic sports commercials that many will never forget.
For Barber, that's Gatorade's 1992 "Be Like Mike" commercial, featuring basketball legend Michael Jordan.
"That song was stuck in my head forever. I still sing it today," Barber said, before belting out his own rendition.
"He was transcendent," Barber said of Jordan. "We use that word a little too loosely these days -- athletes being transcendent -- but Michael Jordan was."
Calling all HuffPost superfans!
Sign up for membership to become a founding member and help shape HuffPost's next chapter