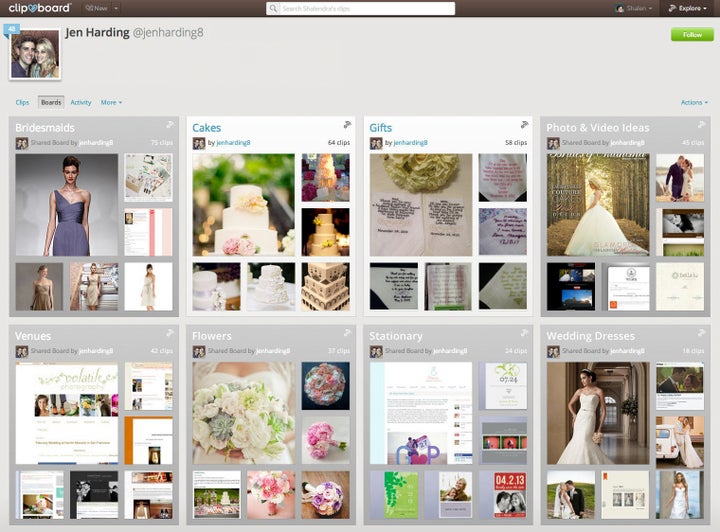 Since Pinterest launched in 2011, brides-to-be have used the website to keep track of inspirational wedding-related pictures. But currently, Pinterest doesn't allow users to "pin" anything but photos -– meaning there is no way for users to save articles and documents that may be equally useful in planning their weddings.
That's where Clipboard comes in. Launched in May 2012, Clipboard is a free online service that allows users to take screenshots of virtually anything on the web and save them to their "clipboard." The fairly easy-to-use site markets itself as an extremely useful wedding planning tool -- so we decided to try it out. Read on to find out what we thought of the site.
Clipping Webpages And Pieces Of Webpages
To use Clipboard, you'll need to create an account by registering through Facebook or using an email address. Then, easy instructions guide you to install the "clipper" browser plug-in. Once you're finished setting up, you're prompted to create "boards," or categories, that you can use to organize your clips.
When you see a photo or article you'd like to clip, click on the "clipper" browser plug-in, which will open a small toolbar on the upper-right corner of your screen. Click on the "Clip" icon to highlight the section of the webpage you'd like to clip. You can hover your mouse over the desired section and the clipper will attempt to guess what you're trying to clip, or you can click and drag your mouse (very similar to taking a screenshot) to highlight a specific portion.
After clicking to confirm the clip, a window opens that allows you to add tags, select which board you'd like to save it to, and share the clip to Facebook, Twitter and LinkedIn.
You also have the option of simply clipping a link to the page, or clipping just the page's text –- a great feature when you want to keep an entire article and don't need to save the photos.
More Useful For Wedding Planning Than Pinterest?
Clipboard is not perfect. The clipper can be tricky to use when you want to clip an odd section of the page. It also didn't seem possible to clip anything on Facebook, so you're out of luck if you want to save a useful photo or post from a friend (you can clip from Twitter, though).
However, we loved that we could clip not only photos, but written text as well. This means that when we saw a photo of a beautiful flower arrangement, we could clip the photo and its caption, which listed the exact types of flowers used in the arrangement. And when we came across an article about wedding invitation ideas, we could clip the entire page, thus allowing us to easily review the article's tips as well as the wedding invitation photos embedded in the story. Plus, you can drag photos and documents from your desktop directly onto the Clipboard as well, making it easy to keep all your planning materials organized in one place.
And, the Clipboard site itself is very easy to use, especially if you're already familiar with Pinterest –- it's virtually the same set-up.
The bottom line: If anything could tear brides away from Pinterest, it's Clipboard!
Click through the slideshow below to discover nine of our favorite Pinterest accounts.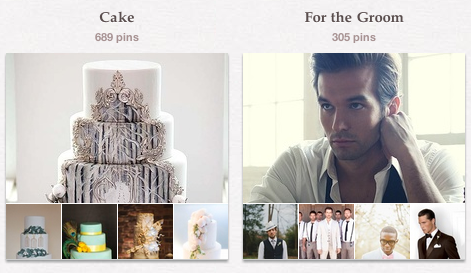 9 Pinners To Follow In 2013
Related