This post is part of a new series from HuffPostTech, Socialized, that will profile a different social startup--from apps to services to websites--every day. Want to be featured on the site? Email us about your startup, which should have a social media component and be less than two years old, at socialized@huffingtonpost.com.
Not everyone is comfortable trying to find a soulmate by digital means. Dating websites are filled with people, real and fraudulent, great and less-than-great, all clamoring to find some love. But for those daters of a more traditional bent, the idea of plunging into the web's romance portal can seem a little uncomfortable.
Clique, a new dating site, eliminates the uncertainty of the purely anonymous. By limiting its stable of love-hungry singles to friends, and friends of friends, Clique takes the ease of online communication and mixes it with the security of offline friendship.
What it is: Clique is a dating site that restricts each person's dating pool to a network composed of friends, and friends of friends. People cannot see those who are more than two degrees separated from them socially.
"I had the idea over a year ago and basically I was sort of fed up with going to bars and meeting guys there," said Christy Purington, founder of Clique, said of her reasons for starting the site. "The best dates I was going on was through friends of mine. There had to be a way to access this network of people my friends had that you're not regularly exposed to unless you're at a party with them or they set you up."
How it works: Though Clique started out as an invitation-only site, it's now open to all comers. But the major feature that distinguishes the site from other dating sites is one simple policy: you can only interact with people who are at least two degrees of separation from you. Basically, the online dating pool provided by Clique consists of friends of friends, rather than complete strangers.
While much of the basic functionality of the site is similar to other dating sites, Clique has a few features that set it apart. As is the norm, people can message those they find appealing. But Clique also includes a segment of Wingmen and Wingwomen who populate the site to help play digital yentas to their buddies. These matchmakers can suggest that friends of their's should date, at which point both are notified and can take action if they choose.
"Basically, we realized that people who are in relationships are key links between single friends," said Purington. "We wanted a way to capture that online."
Clique borrows some of Facebook's feel, incorporating feeds from sites like Twitter, Foursquare, Goodreads and Netflix on the daters' profiles, so that profiles stay fresh, and give a naturalistic window into a life.
"It's a really good way to see more information about your potential dates," said Purington. "It'll show you where they like to go get coffee in the morning via Foursquare, movies they're renting on Netflix, books they're reading on Goodreads."
The site also features a newsfeed on the homepage that shows what's going on with your dates and friends, keeping track of social media updates, or matches by wingmen.
Why you'd use it: For those who've tried out online dating, the common problems should be familiar by now. Strange messages from strangers you're not interested in, dates where it becomes clear the other person has lied substantially on his/her profile, and the overload of options that makes picking out a significant other seem like rummaging through the bargain basin at K-Mart. Clique goes a significant way towards eliminating the lingering creepiness factor of online dating.
"We try to make it feel more like it's your own network and it's got less of this feeling of desperation that a lot of dating sites used to have around them," said Purington. "If you trust a friend, you'll trust who they're friends with."
Purington believes that having friends as the common denominator is a more natural way of matching potential dates than simply matching based on algorithmic compatibility.
"The filter of just having a friend feels much more significant than just having similar interests," she said. "Even people who go out on a Clique date, if theres no spark, the date is still really great. They're not these horror stories of these complete strangers with nothing to talk about. At least you can talk about the friend."
And Clique is betting on the idea that any stigma online dating retains will soon be vanished.
"In ten years from now it won't even be a question if you are dating online," she said. "If you're single, you'll be an online dater."
How to get it: Just sign up at cliqueinnyc.com. Though the site is currently only available for users in New York City, plans to enter other metropolitan areas are in the works.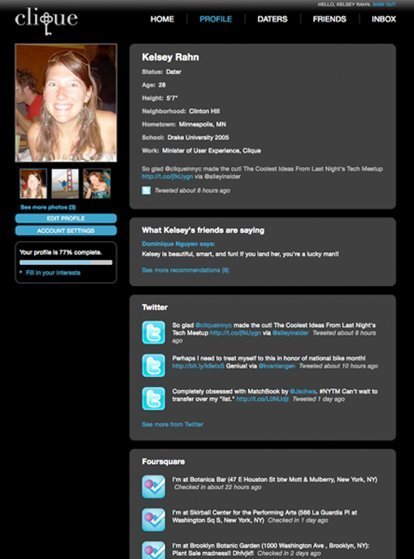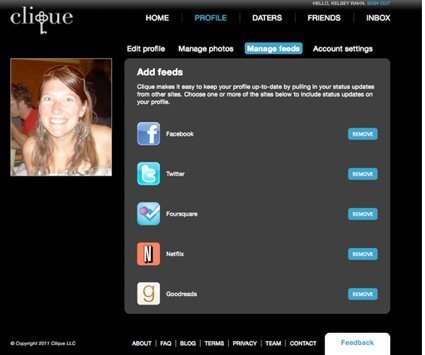 Popular in the Community