Aug 8 (Reuters) - A Connecticut police officer has been indicted on a charge he violated a tasered suspect's civil rights after being caught on videotape appearing to stomp the downed man's head and neck, federal prosecutors said on Friday.
Clive Higgins, a 12-year veteran of the Bridgeport Police, was due in court on Friday to be arraigned on the felony charge of using unreasonable force during the 2011 arrest, the U.S. Attorney's Office for Connecticut said in a statement.
If convicted, Higgins, 48, faces a maximum sentence of 10 years in prison and a $250,000 fine.
In May 2011, two Bridgeport police officers were chasing Orlando Lopez-Soto's van on suspicions that he had a gun. The officers called for backup, and Higgins responded, the U.S. Attorney's Office said.
Lopez-Soto ditched his car and fled into a nearby park, where he was tasered by one of the pursuing officers.
In a widely circulated amateur video, the two officers, Elson Morales and Joseph Lawlor, can be seen kicking the victim repeatedly while he is on the ground. Then Higgins arrives in his cruiser, gets out and appears to stomp the downed suspect around the head and neck.
Morales and Lawlor pleaded guilty in June to misdemeanor civil rights charges stemming from the assault. As part of the plea deal, they agreed to resign from the police force.
"The use of unreasonable force during an arrest is not only a clear violation of an individual's civil rights, but also gravely undermines the community's trust in law enforcement," U.S. Attorney Deirdre Daly said at the time.
In January 2013, Lopez-Soto filed a civil lawsuit against all three officers. The parties settled out of court, Lopez-Soto's attorney Robert Berke said. The Connecticut Post reported that the city agreed to pay Lopez-Soto $198,000 over the incident.
The Post also said that Lopez-Soto was serving five years in prison after being convicted on weapons and drug possession charges, as well as for failing to appear in court. (Reporting by Curtis Skinner in New York)

Related
Before You Go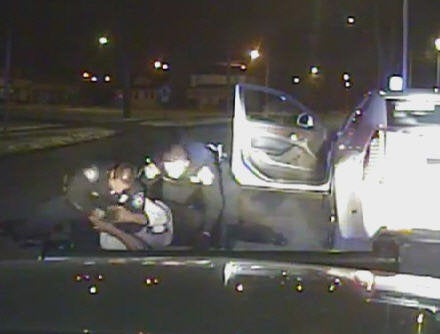 Police Brutality Incidents
Popular in the Community